Top Kitchen Style Trends For 2019 And How To Work Them
Natural grains, stone and bolder colour choices will all star in kitchens next year
Posted on
16 October 2018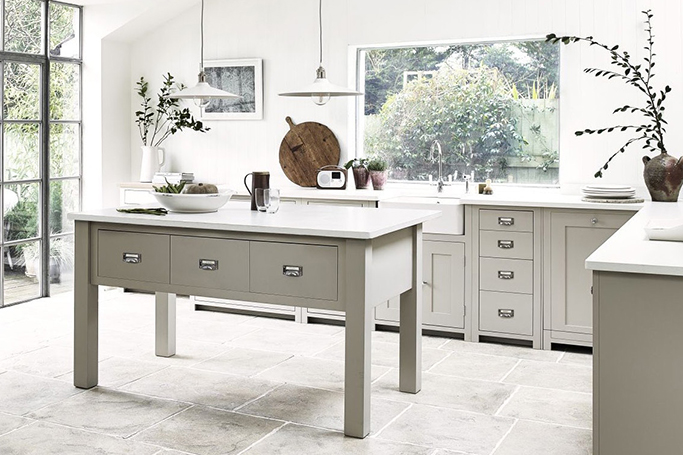 All credits: Press Association
It's the heart of any home –especially now that it's where many of us congregate not only to eat but also to catch up and socialise –which is why choosing the right kitchen style is so important. So what's on the menu for kitchen trends in 2019?
"Industrial style is very much in vogue and still will be next year," predicts Rachael Burgess, creative director at Contour Kitchens, based in the United Kingdom.
"One of our most popular finishes is concrete, as it offers a cool, grey colour palette along with a textured finish. We're going to pair this with steel doors in our new collection next year."
"There's also a real trend for concealment, where a run of fitted cupboards can mask machines and utility areas and allow the area to be an uncluttered zone, perfect for entertaining."
Here are three more winning recipes for gourmet kitchen style…
Make it bold, open and interesting…
"Greys and darker blue shades are still a very popular choice when planning the colour scheme for a more modern-looking kitchen and work brilliantly, especially when combined with a clean, contemporary work surface," says Melissa Klink, head of design at Harvey Jones.
"That being said, we've also seen a rise in homeowners who want a bolder focal point in their design. Choosing to apply a more vibrant colour to their kitchen, whether a brightly coloured island, accessories such as stools or appliances, or painted cabinetry, is a fantastic way to make a statement.
"Interesting textures are a growing trend and this can be achieved with work surfaces in sandblasted timber, polished concrete, or even with an unpolished natural stone slab," she adds.
DECOR TIP: Kitchens are the perfect area for experimenting with colour. When deciding on a shade for cabinetry, consider your space first. Bolder, darker colours work particularly well in large, well-lit areas, while vibrant shades for accessories, such as lighting and kitchen gadgets, can be sufficient to lift a more enclosed space.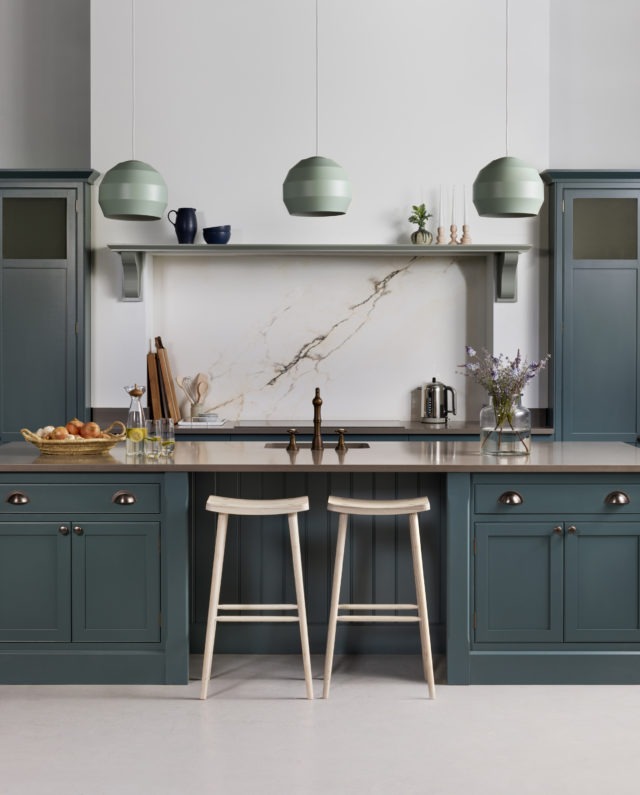 Max out on materials
"Contrasting materials and bold shades have a strong presence in contemporary kitchen design. A kitchen island is the perfect place to be brave with a colour or finish and to embellish with luxury materials" says Nick Bell, sales and design director at Mark Wilkinson Furniture.
"We'll see a trend in kitchens gravitating towards more natural colours, textures and materials, such as bronze, burnt brass and timber. Next year, colours will begin to warm and soften," he adds, "and contrasting patterns and textures will be more prevalent, reflecting a contemporary twist on classic design."
DECOR TIP: Shimmer and sheen are all that's needed for a luxe look. Metal finishes, such as bronze, steel and copper, are making their mark on everything from furniture and tiles to accessories, and can also soften the look of an edgier industrial style space.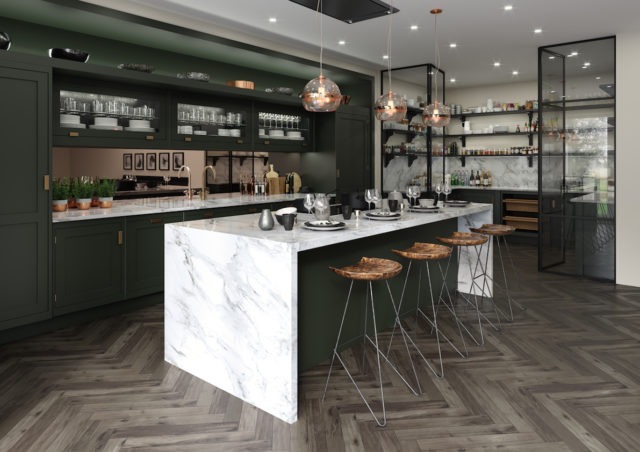 Shine a light
"A lighter colour palette works well in most kitchens, because a variety of surfaces and textures reflect light and brighten it, giving the illusion of more space," says Fred Horlock, design manager at Neptune.
"A blend of two, three at most, complementary light shades creates a calm and sophisticated space. Our colours, pale green Sage, subtle Old Rose and taupe Driftwood, work well individually or combined.
DECOR TIP: While whitewashed woods are in tune with the enduringly fashionable Scandi style, there's a growing trend for showcasing the grain of different woods, which brings drama and character to a scheme. Exposed timber can add warmth to a pale scheme, contrast well with smooth surfaces, and is a natural balance for painted cabinetry.