The World's Most Expensive Coffee Maker Is Coming To The UAE And Saudi Arabia
How much would you pay for the perfect cup of coffee?
Posted on
22 January 2018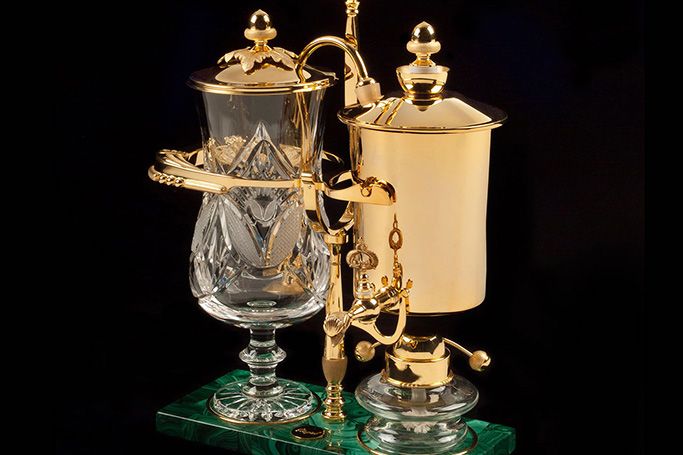 All image credits: Royal Coffee Makers
Royal Coffee Makers are bringing their bespoke 24K gold brewing machines to the UAE and Saudi Arabia, as the Middle East prepares to spend on the most extravagant coffee makers we've ever seen!
There is already a demand for the handcrafted makers which use the finest Baccarat crystal, silver, copper and precious stones in their designs, as retail prices start at a huge USD $15,500. Catering for true coffee connoisseurs, Royal Coffee Makers strive to meticulously craft the ultimate cup of coffee, as they ensure perfection at every stage of the brewing process.
Sealing aromas and flavours like no other, this coffee maker certainly has to be special to warrant its price tag. However, the Middle East isn't afraid to spend on luxury items and with a rich history of coffee we're sure the region will welcome the Royal U.S. brand in the next few months.

Maria Tindemans, the coffee enthusiast behind the brands move to the UAE and KSA, explained "The Middle East has a strong connection with coffee that stretches back through generations to the rich, strong drinks brewed over desert campfires by Bedouins."
"This connection with not only the drink but the ritual of preparing and enjoying a great cup of coffee, makes the region the ideal place to fully appreciate the time, craft and attention that goes into creating a Royal coffee maker. They are a perfect fit with the region due to their style and the extraordinary coffee they produce."
With each coffee maker built by a team of artists, sculptors, metallurgists and engineers, you can't deny the craftsmanship that goes into making the perfect cup of coffee.
Yet, we're still a little overwhelmed at the world's most expensive coffee maker which will soon be available in the Middle East, as we don't think we can afford one anytime soon!