7 Of The Most Luxurious Cinemas From Around The World
High-end cinema is on the rise...
Posted on
13 December 2018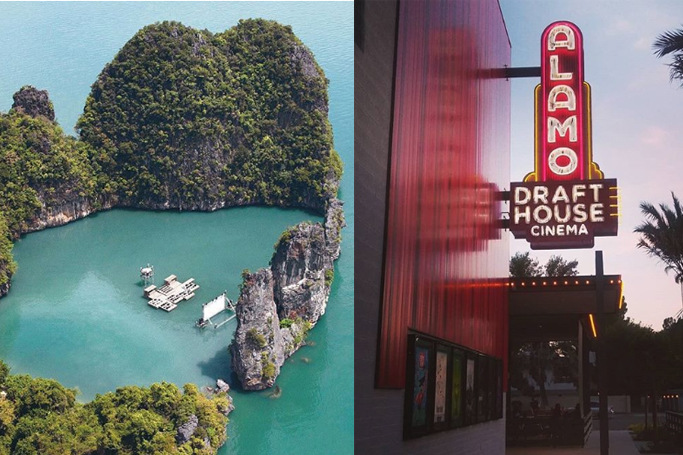 With the decline of the high street and the rise of online streaming, modern technology has seen many cinemas fall on hard times.
But some are shaping up in an effort to avoid shipping out, re-branding their services and focusing more on the 'experience' than the film.
The Odeon cinema in London's Leicester Square has caused outrage by charging £40 per ticket for its new high-tech auditorium, but the venue is not the only one upping the products on offer as well as the prices.
Here are a few cinemas around the world that offer only the swankiest silver screens.
1. Cinepolis Luxury Cinema La Costa, California
If there is such thing as the 'standard luxury cinema experience', then this high-comfort cinema offers it.
With reclining leather seats, spacious auditoriums and waiters who will serve you food at the push of a button, consider this Mexican cinema chain a benchmark for the more outlandish offerings to come.
Last year also saw the addition of a kids' cinema – another emerging trend – featuring beanbags, play areas, and a vibrant palette of primary colours.
2. Nitehawk Cinema, New York
A schedule packed with gems from the past, traditional 35mm projection, and a list of served-to-your-seat delicacies headed by their signature truffle oil popcorn: Nitehawk Cinema is an indie film lovers paradise.
Nitehawk claims to have single-handedly overturned a prohibition-era state law forbidding the consumption of alcohol in movie theatres, and now takes great pride in its boutique boozy outings.
3. Edible Cinema, London
Hold onto your armrests – things are starting to get kooky.
Guests at the Edible Cinema in Soho are greeted with a tray of numbered goodies carefully calibrated to fit with moments from a film.
The pine forest scene from Pan's Labyrinth, for example, was accompanied by "the burnt woody aromas of pine-smoked popcorn, the 'crunch' mirroring the sound of feet on a pine needle floor".
It's the perfect place to see Charlie & The Chocolate Factory, but perhaps give 127 Hours a miss.
4. The Archipelago Cinema, Thailand
With a lobster fishing raft for seats and a utopian lagoon for an auditorium, this architectural marvel opened in 2012 and screens a variety of films, most of which are outshone by the scenery.
Check availability before you travel – every screening is dependent on the locals allowing the organisers to borrow their boat.
5. Cine de Chef, South Korea
It's not particularly avant-garde to serve food at your cinema, but how about french cuisine cooked by Le Cordon Bleu-certified chefs, supplemented with seasonal seafood and Korean beef tenderloin, accompanied by a 200-strong wine list?
That's the extraordinary USP of Cine de Chef, a boutique movie theatre in the Gangnam district of South Korean capital Seoul.
Shockingly (or perhaps not) enough, it's pretty pricey, and you'll need to book ahead.
6. Raj Mandir Cinema, Jaipur
Scented by a flow of floral perfume from ducts beneath each seat, the ornate chandeliers and gilded stairwells of this Rajasthani gem make it one of the most conventionally luxurious cinemas on Earth.
A regular for Bollywood movie premieres, it's been hosting the great and good of Indian cinema for more than four decades, and boasts four different seating classes each named after a precious stone.
A long-time tourist attraction, the Raj Mandir possesses the perfect blend of elegance and opulence.
7. The Alamo Drafthouse, USA
The Alamo Drafthouse is an unusual entrant on this list. It shows pretty normal films, boasts comfortable chairs and serves beer to your seat – nothing to write home about in the world of cinematic luxury. It's also chain, with 22 theatres operating across America.
But every Alamo Drafthouse offers that most precious of cinematic qualities: silence.
Pure, unadulterated, golden, liberating silence.
Children under six are banned, serial talkers are removed, and woe betide anyone who reaches for their mobile phone.