The Child In You Will Be Obsessed With This Treehouse In South Africa
*BRB, moving to South Africa*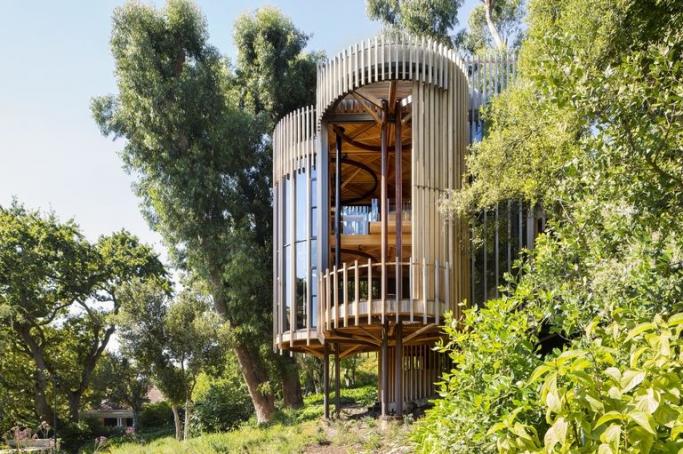 image credit: Malan Vorster Architecture Interior Design + Adam Letch
A South African design company, Malan Vorster Architecture Interior Design, might just have created the ultimate treehouse that the child in all of us will love!
Called the "Paarman Treehouse", the Cape Town home was built out of four cylindrical volumes that are covered in timber slats to help keep it from standing out like a sore thumb in the forest.
Large windows face outward toward the lush landscape, creating bright interiors that are finished with untreated wood and other materials that are meant to weather over time. A spiral staircase winds up one of the towers to connect the four stories.
Take a look at the gorgeous home below.

image credit: Malan Vorster Architecture Interior Design + Adam Letch

image credit: Malan Vorster Architecture Interior Design + Adam Letch

image credit: Malan Vorster Architecture Interior Design + Adam Letch

image credit: Malan Vorster Architecture Interior Design + Adam Letch
image credit: Malan Vorster Architecture Interior Design + Adam Letch
image credit: Malan Vorster Architecture Interior Design + Adam Letch

image credit: Malan Vorster Architecture Interior Design + Adam Letch

image credit: Malan Vorster Architecture Interior Design + Adam Letch