Here's the Talks Programme for the 2019 Edition of Art Dubai
Art Dubai is back for this year from March 20 to 23
Posted on
13 February 2019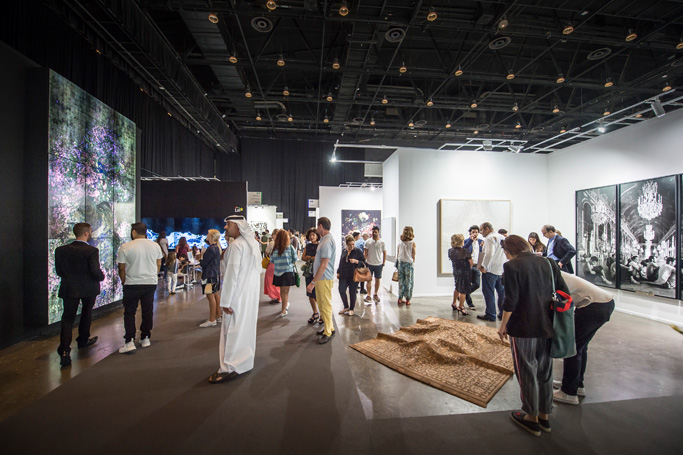 The talks for this year's 13th edition of Art Dubai have been confirmed.
Art Dubai, held under the patronage of His Highness Sheikh Mohammed bin Rashid Al Maktoum, Vice President and Prime Minister of the UAE and Ruler of Dubai, will be held from Wednesday March 20 to Saturday March 23 at Madinat Jumeirah.
Talks and panel discussions have been an essential part of Art Dubai's extensive cultural programming since 2007 and have united fair visitors with over 600 leading artists, curators, and galleries; art historians, art experts and opinion leaders; covering topics such as arts patronage and collecting; art history; and the social-political and cultural factors which influence contemporary art.
Highlights include the return of internationally-acclaimed annual trans-disciplinary arts conference Global Art Forum; a full-day of knowledge exchange at Modern Symposium, which returns in a new format as a series of four one-hour 'masterclasses'; and supporting talks for new gallery sections, Bawwaba.
Global Art Forum - "School is a factory?"
From March 20 - 21
Global Art Forum is an internationally-acclaimed annual transdisciplinary arts conference, which combines original thinking and contemporary themes in an intimate, live environment. This year's two-day forum, the largest of its kind in the Middle East, North Africa and South Asia, is open to the public (including non-ticket holders) and free to attend.
Following on from last year's theme of automation, Global Art Forum 2019 unites a diverse cast of global minds – from renowned curators and critics to educationalists and entrepreneurs – under the theme of 'School is a Factory?' to address some of the urgent challenges and opportunities facing education today.
The 2019 iteration of Global Art Forum is organised by Commissioner Shumon Basar, with Editor and Writer Victoria Camblin, and Curator and Writer Fawz Kabra as Co-Directors. The Forum is supported by the Office of Public and Cultural Diplomacy in the UAE.
Modern Symposium - "Cultural hubs of modernism"
Happening March 22
Art Dubai Modern Symposium accompanies Art Dubai Modern, the fair's gallery section presenting museum-quality works by 20th Century masters from the MENASA region.
Under the title of 'Cultural Hubs of Modernism', this year's Symposium attempts to map out the cultural shifts and trends instigated by modernity in four key cities in the Middle East and South Asia during the 20th century - Baghdad, Beirut, Dakar and Lahore – in a new 60-minute 'masterclass' format.
Bawwaba - Supporting talks
Happening March 20
Curated by French Cameroonian Élise Atangana, Art Dubai's new gallery section Bawwaba was created to shed light on artist interrogations of the notion of the Global South. With a spotlight on the Middle East, Africa, Central and South Asia, and Latin America, its first edition features 10 solo presentations which resonate deeply with narratives around colonisation histories and contemporary experiences.
Running alongside Bawwaba will be two supporting talks: 'Arts Patronage in the Global South,' a discussion exploring the diverse arts patronage models across the Global South, led by Ahmad Abu Ghazaleh, collector of Western, Middle Eastern and Arab art and President of the Mohammad and Mahera Abu Ghazaleh Foundation with participating collectors engaged in impactful arts patronage initiatives.
Mobilities & Imagined Utopias in the Global South' is a panel looking at some of the artistic and non-profit institutional practices across the Global South that deal with notions of migration and nomadism, post-colonialism and imagined utopias. Participating panelists will be Ziba Ardalan, Founding director of Parasol Unit, London; Art Dubai Residents co-curators Fernanda Brenner and Munira Al Sayegh; Bawwaba curator Élise Atangana and artist Chourouk Hriech.
About Art Dubai
This year's Art Dubai, the highlight of the region's cultural calendar, takes place March 20-23, 2019.
As the art fair of discovery, Art Dubai is a leading international art fair as well as the world's leading platforms for Contemporary and Modern art from the Middle East, North Africa and South Asia.
For its 13th edition, works from over 500 contemporary and modern artists from across the world will be exhibited by over 90 galleries from more than 40 countries, as well as lively programme of tours, talks and workshops, special performances and an after-dark music programme.