Here's A Teaser Of What To Expect At Art Dubai 2018
Looking for culture in Dubai? This art fair is where you need to be...
Posted on
22 February 2018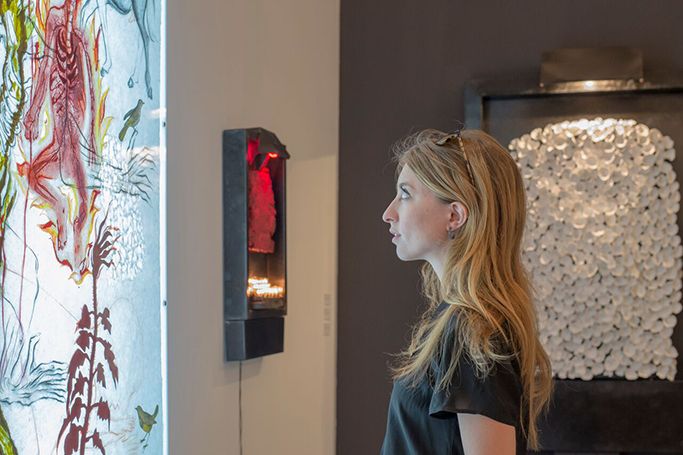 Galleries are coming from across the globe to showcase their latest creative talents in Dubai, as we're looking forward to a culture-filled couple days at the Middle East's most diverse and interesting art fair to date. From imaginative installations to fine art masterpieces, there's just a month to wait until Art Dubai 2018.
Art Dubai is held under the Patronage of His Highness Sheikh Mohammed Bin Rashid Al Maktoum, Vice President and Prime Minister of the UAE, Ruler of Dubai and will take place at the Madinat Jumeriah from 21st to 24th March.
The creative event will give art enthusiasts the chance to immerse themselves in interactive daily performances, captivating talks and most importantly –a vast range of the world's most stunning pieces of art, both contemporary and modern. Even if you're not an art connoisseur, the original art is definitely worth a browse for fashion lovers, interior design admirers and travellers looking for culture in Dubai, as the event will be full of inspiration for all.
Here's a sneak peak of what Art Dubai 2018 will entail…
Ticket Details
From family-friendly activities to evening entertainment, it is clear that Art Dubai is more than just another art fair. For a full preview of the event visit our Guide To Art Dubai 2018 or the official event page www.artdubai.ae.
With the 12th edition of Art Dubai a month away, tickets for the Art Dubai 2018 are now available with a 30% discount for online purchases at www.artdubai.ae/tickets. Here is the ticket information you need to know:
Day ticket (valid one day, either March 22, 23, 24): 60 AED if purchased online, 90 AED if purchased onsite.
3 Day ticket (valid all days, March 22-24): 100 AED if purchased online, 150 AED if purchased onsite.
So save the date for the highlight of Dubai's cultural calendar, as Art Dubai 2018 arrives this March…