How To Make A Vegan Stuffed Squash Roast
An impressive centrepiece for your festive table
Posted on
13 December 2018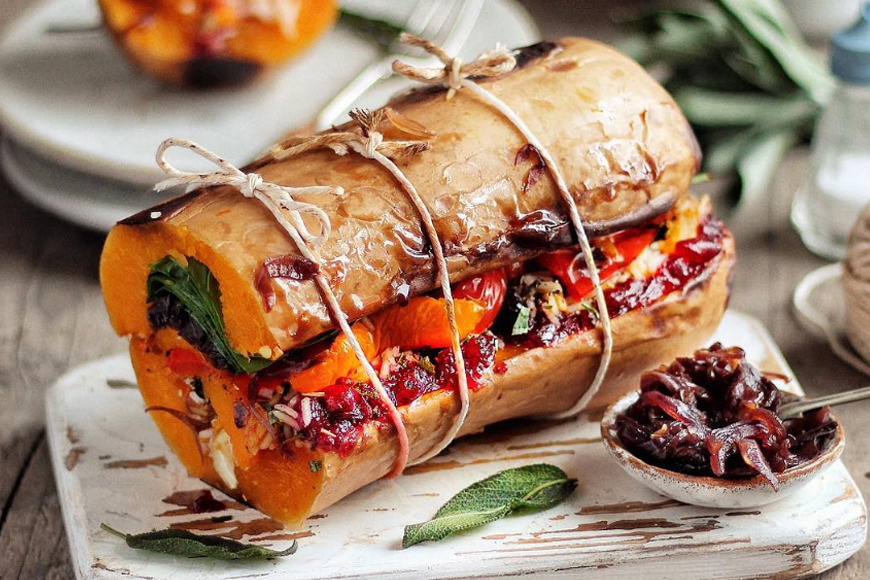 If this is your first plant-based Christmas, chances are you're feeling confused or a bit panicked about what the main event on the dinner menu should be. What do vegans have when turkey is out of the question?
Well, many things – like this stuffed squash roast from Gaz Oakley, aka the Avant-Garde Vegan. "It's so flavoursome and I think it looks beautiful as well, which is what you want on a Christmas table," Oakley says of the dish.
Ingredients:
(Serves 6)
1 large butternut squash, washed
A little olive oil
For the glazed onions:
2 red onions, finely sliced
3tbsp balsamic vinegar
5tbsp organic coconut sugar
For the Christmas rice:
150g wild rice, cooked
150g whole cooked vacuum-packed chestnuts, roughly chopped
75g dried apricots, chopped
150g mixed nuts, chopped
Pinch of cayenne pepper
Pinch of paprika
Juice of 1/2 lemon
Pinch of sea salt and pepper
Pinch of dried sage
For the sautéed mushrooms:
160g fresh mushrooms (I used girolles)
1tsp roasted garlic powder
Sea salt and pepper
5tbsp cranberry and orange sauce
4 peppers, roasted, skin removed
6 sun-dried tomatoes, re-hydrated
2 handfuls baby spinach
Vegan Christmas by Gaz Oakley is published by Quadrille, priced £15 (AED 67). Available online now.