10 Best Face Scrubs for Healthy, Glowing Skin
Want glowing and radiant skin? Don't skip an important step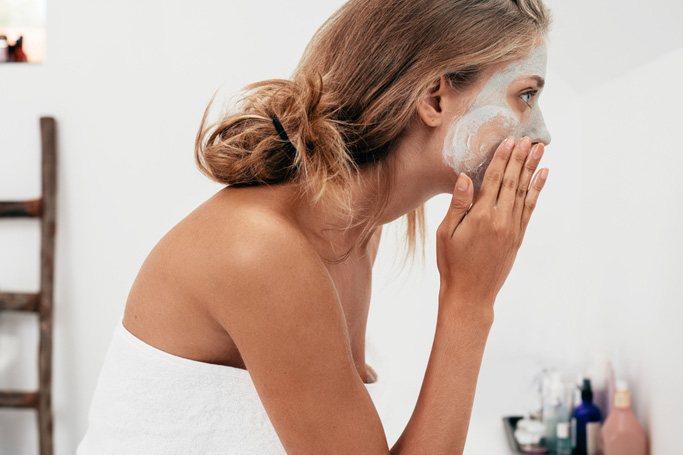 When it comes to achieving radiant, glowing skin - there's one important step that shouldn't be missed: exfoliation.
When dead cells pile up on our face, it makes our skin look dull and dry, not to mention rough. Pores become clogged, which in turn causes oils to be trapped on the surface of our skin... And we all know how that ends: acne.
As we age, our skin's ability to shed these dead cells slows down. By exfoliating, you're helping to get rid of that layer of dead cells, along with any make-up or dirt that sits on your skin.
The result? Rejuvenated, clean skin - with the added benefits of an even skin tone.
SEE ALSO: A beginner's guide to facial oils if you have no idea what you're doing
Plus, after exfoliating, any moisturisers, cleansers and other skincare products you use will be able to better penetrate your skin.
Of course, the search for the best facial scrub isn't always easy; as facial scrubs vary just as much as skin types. Everyone has different needs and sensitivities, and as a result, what works great for you may not work great for others.
To help you in your search for the 'holy grail' of face scrubs, here are the 10 best facial scrubs you can buy and try today.
#1 Acure Organics Brightening Facial Scrub (Pack of 2)
Review: "Amazing. I always feel better after using this. I'm into organic products, and this scrub is completely organic. I know because I always check the ingredients to see exactly what I'm applying to my skin, and I'm purely happy with this brightening scrub. My face looks more clean and bright, and just feels so smooth."
#2 Clinique Exfoliat Scrub
Review: "This is a great product. It's been around for years. It scrubs the face with tiny, gritty particles. It has a cool, tingling feeling as well. When done, face is smooth and feels super clean. Price from seller is the same as the major department stores. But it came fast and I saved a trip to the crowded mall. Buy it, you'll love it."
#3 Daily Microfoliant by Dermalogica
Review: "Love, love, love this product! I am 32 yo female with sensitive, hormonal acne prone skin. If I have some dry, flaky acne that is clearing up it seems to remove the dry skin and make me feel exfoliated, yet tt's so smooth, gentle and calming on my skin. It doesn't feel abrasive whatsoever. After I'm done my skin is smoother and hydrated and it gives me a little glow."
#4 Cetaphil Extra Gentle Daily Scrub
Review: "An excellent daily wash for my face. I have dry sensitive skin due to ms and this wash has helped to keep my eye sockets from flaking when I used. I can even use it twice a day if needed."
#5 Palmer's Coconut Sugar Facial Scrub
Review: "So great, affordable, and I don't feel bad using it more generously because of the price. Great ingredients, too!"
#6 Garnier SkinActive Exfoliating Face Scrub
Review: "My face was so dry that it had flaky patches, and I'd have parts of my face that were so oily at the same time. This stuff helped improve the state of my face almost immediately."
#7 St. Ives Facial Oatmeal Scrub + Mask
Review: "It helps to leave your skin so sooth and clean."
#8 Sand & Sky Australian Pink Clay Flash Perfection Exfoliating Treatment
Review: "Best face product I've ever used hands down. Deep exfoliation but leaves skin moisturized not "overscrubbed." I don't know how they do it. I need deeeep skin cleansing for acne, oil, and patches of dry skin buildup. I also have sensitive skin which leaves my skin red with other high end exfoliants. This product is a game changer for me!"
#9 Philosophy Microdelivery Exfoliating Facial Wash
Review: "I've used this product for years. There have been some minor changes, but they seem to be an improvement. New top seems less likely to clog. Thicker formula doesn't run out of your hands and waste product. Love it even more than before!"
#10 Freeman Facial Apple Cider Vinegar Clay Mask + Scrub (Pack of 2)
Review: "When I first saw this product, I jumped on it immediately because of the Apple Cider Vinegar and Bentonite Clay in it. ACV is a great ingredient for acne-prone skin and I love Bentonite Clay; I've had great results with using these products alone on my oily, acne-prone skin. The second thing that made me really want to try this is the fact that it has four different uses!"
:: All products featured in this story are independently selected by our editors. However, when you buy something through our links, we may earn an affiliate commission.