10 Do's And Don'ts For Perfect Eyebrows
How to ensure your brows are forever on fleek
Posted on
18 October 2018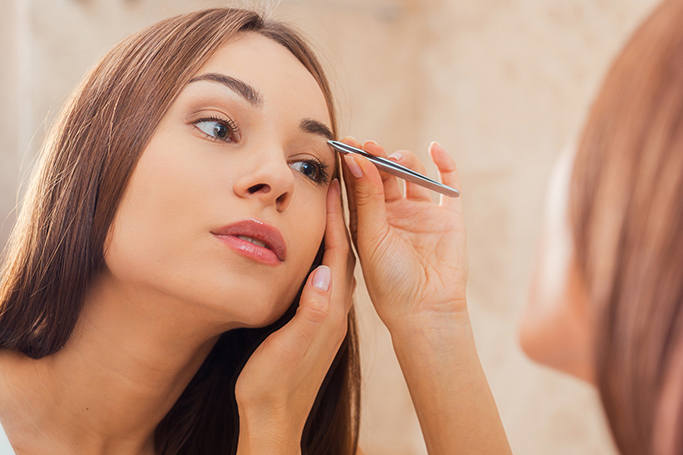 Not that long ago, most people didn't pay a whole lot of attention to their eyebrows, apart from removing stray hairs, whether at home or in a salon.
Now, there's an entire industry that revolves around those expressive arches, and it's growing (sorry) at a rate of knots.
With hundreds of pencils, gels, tints and other products on the market, brows that are perfect – or 'on fleek' to use the modern vernacular – are clearly in demand, but it's easy to make mistakes and end up with arches that are too thin, thick, dark or light.
See Also: A Guide To The Best Brow Bars In Dubai
How do you find a happy medium? Fides Baldesberger, founder of tweezer makers Rubis, says there are certain dos and don'ts that you should follow to ensure beautifully groomed and natural-looking eyebrows every time.
From pencilling to plucking, here are Baldesberger's 10 brow commandments.
#1 Do match your brow colour to your hair roots
This is the most effective colour matching system to achieve a natural look and framing of your face.
#2 Do try a fibre brow gel
Fibre brow gels are designed to hydrate, enhance and define your eyebrows whilst tinting. This makes it a great product for filling in brow gaps whilst still looking natural. Try the newly launched Lord & Berry Must Have Tinted Brow Mascara.
#3 Don't go product-free
Whilst the natural look is fully promoted, a little bit of love and attention before leaving the house will go a long way when it comes to your brows. Even if it's a quick three-second sweep with the eyebrow brush.

#4 Do invest in a good brow pencil
A multifunctional brow tool is a must! Know Cosmetics have launched the No Bare Brows Universal 4 in 1 Brow Fix, which has a double-ended pencil and includes a universal brow colour and invisible taming wax.
There is also a sharpener and brush within the lids for convenience. This is a make-up bag wonder ensuring brows are on fleek at all times!
#5 Don't take inspiration from reality TV
Brows five shades darker than your hair colour is never a good look on anyone. Get your #browsperation from the catwalk NOT from The Only Way is Essex.
#6 Do always take a step back to admire your work
hen grooming your brows it's important to keep taking steps back from the mirror to check your work is even. Bear in mind they shouldn't be exactly identical, think sisters rather than twins!
#7 Don't bleach your brows
No, no and no. No matter how blonde or fair you are, a bleached brow will always wash you out and take away all definition.
#8 Do go professional from time to time
With all the great gadgets and grooming tools available on the market, most of us have taken to DIY brows at home. However, from time to time, it is worth paying a visit to your local salon or threading counter for a spruce-up. This means salon standard brows which you can then maintain a lot more easily.
#9 Don't over pluck
It's always useful to draw your desired brow shape on with a pencil or brow palette so you can use as a guide when plucking. Otherwise it is easy to get pluck-happy and end up with the constantly curious look.
#10 Do set your work
Award-winning Transformulas EyeLifting Gel is a great skin tightener that also, when applied to brows, sets any product in place – leaving you groomed to perfection for the whole day.