7 Totally Bonkers Beauty Trends We Won't Miss In 2019
From halo brow to glitter face, here are 2018's weirdest hair and make-up looks
Posted on
6 December 2018

For most of us, trying something new in beauty might stretch to a different mascara, some false lashes or a new shade of lippy.
But in the world of Instagrammers and catwalks, there's always something far more out-there and 2018 has been no exception – with hair turned into vases and topped with flowers, and eyebrows covering the whole forehead among the looks that emerged.
As 2018 comes to a close, here, we take a look back at seven of the year's biggest viral beauty trends…
#1 Glitter Face
Glitter eyeshadow is always a festival favourite, so it was only a matter of time before people started covering their entire faces with dazzle dust.
We were still surprised to see models on the Preen AW18 catwalk with faces sprinkled with glitter, but to be fair, it was a subtle smattering rather than a thick layer.
Still, no matter how hard you try, any make-up look that involves glitter is going to result in you finding flecks of the stuff for weeks to come – and for that reason alone, we can't get on board with full-face sparkle.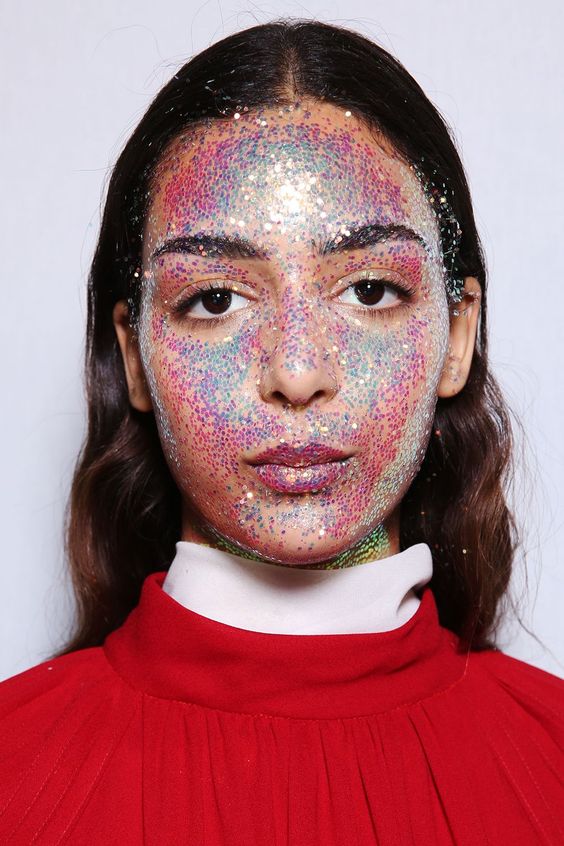 #2 Neon mascara
Yet another symptom of the Great Nineties Renaissance, coloured mascara was back in the shops and on the catwalks this year.
Navy blue and bottle green we could just about cope with, but neon yellow, red and pink lashes, as seen at the Dries Van Noten AW18 show and all over Instagram? A step too far.
Can we go back to black now please?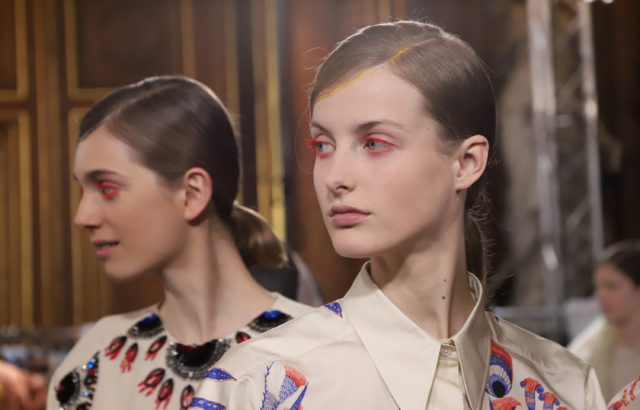 #3 Floral eyeliner
OK, this one is actually really pretty, but you basically have to be an expert artist to achieve it, because it involves painting a tiny, very detailed floral arrangement on your eyelids.
All power to those who have hands steady enough to ensure their floral eyeliner look doesn't end up a smudgy mess, but if that's not you, don't even think about attempting this intricate technique.

#4 Eighties blusher
Just when you'd mastered the perfect contour, highlight and blush, the models at the Lulu Guinness London Fashion Week presentation sparked a trend for bright, 'blown out' blush in less than subtle shades.
This Eighties-inspired look, combined with eyeshadow of the same colour, sees blusher blended from the temples down to the cheekbones. And while it looks fab on the catwalk and in editorial shoots, in real life, there's a strong chance you'll end up looking like you're having a serious hot flush.

#5 Fishtail eyebrows
The first weird eyebrow trend of the year came in February, when fishtail brows started trending.
The trend involved creating the illusion of a fishtail at the end of a brow, by covering the real with hair concealer and drawing the tail on top.
As brow trends go, this is no way near the strangest we've seen and on certain people it kind of works, but others end up looking with a bit of a cartoon villain expression.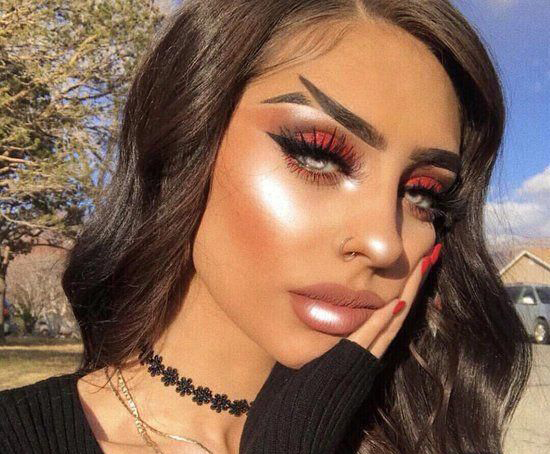 #6 Halo brows
Things started getting weirder the following month, when the 'halo brow' craze began, which involved extending the ends of your arches with a brow pencil to create a halo on your forehead.
Instagram sensation Hannah Lyne, who came up with the idea, said she was inspired by the fishtail brow look, but not everyone was impressed.
'This is the beauty equivalent of ketchup on a roast dinner', read one meme.

#7 Flower vase hair
Hong Kong based YouTuber Taylor R was inspired by Beyonce's US Vogue cover, which featured an elaborate floral headdress, when she created her hilarious 'flower vase hair'.
The look involves concealing an empty water bottle in a high ponytail, fashioning hair around it to look like a vase, and then topping it off with an actual bunch of flowers (real or fake).
With stems stretching high into the sky, this hairstyle is far from practical, and you're guaranteed to get some strange looks if you wear it outside. But browsing the #flowervasehair hashtag is such a delight that we can't help but have a soft spot for this one.