Rihanna Hosts The First Fenty Beauty Event In Dubai
RiRi unveiled a new Stunna lip paint on stage in UAE!
Posted on
30 September 2018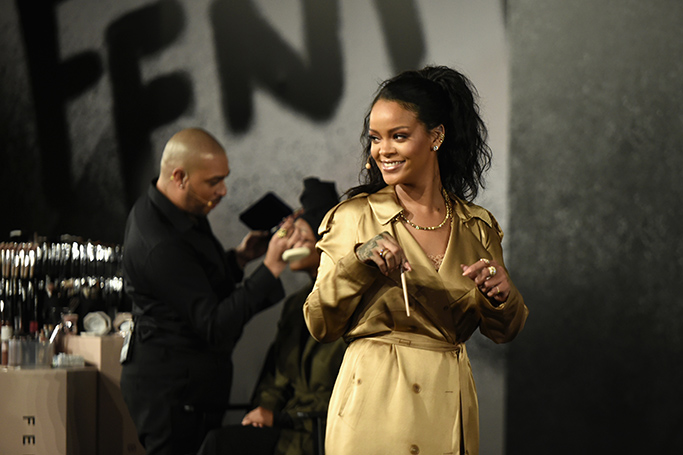 Image credit: Getty images
Rihanna has landed in Dubai –yesterday the hit-maker and beauty mogul hosted the first Fenty Beauty masterclass at the Armani Hotel in Dubai. The workshop-style event was a huge success as fans were treated to beauty tips and secrets from Rihanna herself, as well as global make-up artists Hector Espinal and Priscilla Ono.
A new Fenty Beauty product was also unveiled, as here are all the exciting details from the Fenty Beauty talk in Dubai…
Rihanna in Dubai
Rihanna looked every inch the beauty entrepreneur as she wore a golden silk Burberry trench dress to deliver her Fenty Beauty makeup tutorial (and so much more) in Dubai this weekend. Rihanna discussed how to get the perfect look using her products, took part in a Q&A with the audience and unveiled a new addition to her popular makeup line.
Rihanna discussed everything from how she gets flawless skin, to which Fenty Beauty products she can't live without, and what's next for her brand that is only a year old –who else can't remember life without it?!
On stage there was a surprise appearance from hijab model Halima Aden, who has previously starred in Fenty Beauty campaigns. Aden made the perfect model for a makeup masterclass using the best of Fenty Beauty.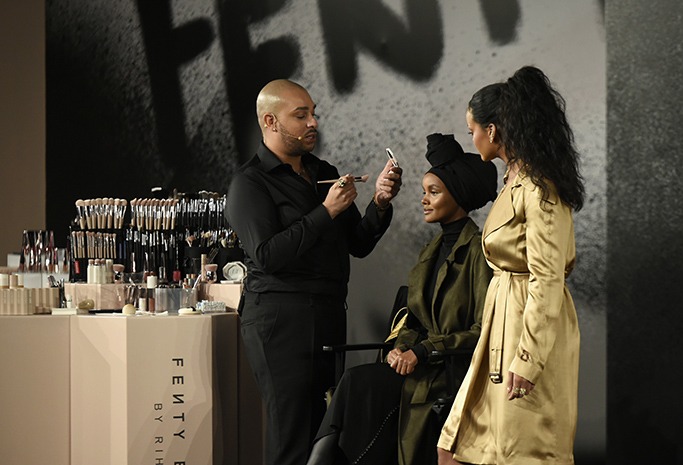 The event was held in collaboration with Sephora and proceeds from tickets were donated to UAE charity Dubai Cares.
The makeup masterclass had a packed-out audience, as fans were eager to get selfie with Rihanna and delve into her beauty secrets. Since its launch in September 2017, Fenty Beauty has seen huge success as a makeup line dedicated to inclusion of all skin tones –as we were delighted to welcome the first Fenty Beauty masterclass here in Dubai.
New 'Uninvited' Stunna Lip Paint Reveal
Fans who attended Rihanna's beauty event in Dubai were also lucky enough to see the latest addition to the Fenty Beauty family. Unveiled just in time for Halloween, Rihanna announced a new black Stunna lip shade named 'Uninvited.'
The limited edition soft-matte shade is rule-defying, sets off any look and compliments every skin tone. It doesn't have to be October to pull off a black lip, as this shade is sure to change the game. It's only available to shop online at fentybeauty.com or Sephora –and also comes with super cool glow-in-the-dark packaging!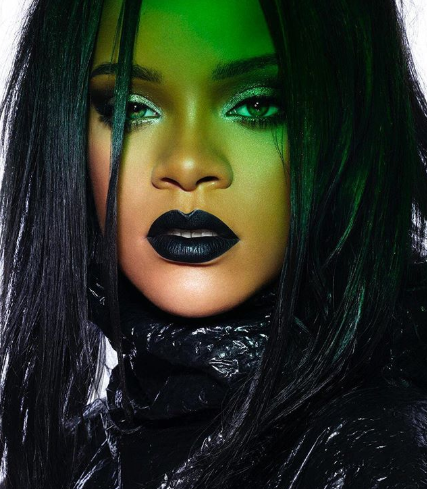 Instagram @fentybeauty