Should We All Be Using Vegan Beauty Products?
The benefits are manifold
Posted on
5 November 2019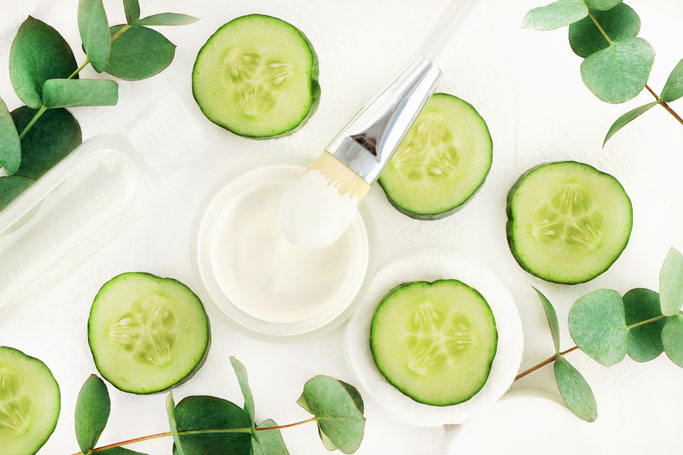 It's World Vegan Day, which kicks off a month-long celebration of all things plant-based.
Maybe you've been considering going vegan, or maybe you've already started cutting down on the amount of meat and dairy products you eat, whether it's for environmental or animal cruelty reasons.
But have you considered that it's not just your diet that needs attention if you want to avoid animal-derived products?
Your bathroom shelf or make-up bag could be full of animal ingredients you didn't even know about.
"Although you might not think of beauty and personal products containing animal bi-products in the first place, skincare, make-up and fragrance often contain certain ingredients that have been derived from animals," says Fiona Campbell, head of product and innovation at cosmetics brand MUA.
MUA has announced it will be 100% vegan from November 1 and has commissioned a Vegan Beauty Report.
"Not to be confused with cruelty-free – which means the product or its ingredients have not been tested on animals – it's still possible for a product to be vegan, but not cruelty-free," she adds.
"According to the Vegan Society, a product can be classified as vegan if it has not been made with any animal-derived ingredients, and has not been tested on animals at any point," says Susie Ma, Tropic founder and CEO.
"We're proud to be certified by the Vegan Society, offering our customers the most robust form of reassurance that our products are, and always will be, vegan."
Look for the Vegan Society's sunflower symbol on products to show they're certified.
"You'd be surprised at the number of ingredients that are derived from animals," Campbell continues.
"For example, collagen, a well-known skincare ingredient, is usually derived from the tissue, bone and skin of cows."
Insects are animals too, and some lip and cheek products contain carmine, a colourant made by crushing cochineal beetles.
"Commonly used beauty ingredients such as beeswax, lanolin, and carmine are derived from animals," says Marc Reagan, global creative director at Hourglass Cosmetics, which has pledged to become fully vegan by the end of 2020.
"We're working on either reformulating or discontinuing all existing non-vegan products, but without sacrificing the performance of products in doing so," he explains.
Nowadays, there are plenty of natural or synthetic ingredients that are just as effective – if not more so – than their animal-derived counterparts.
"Olive squalane, for example, which we use in our intensely nourishing Skin Dream, is a far more stable plant-derived alternative to squalene, which comes from shark liver and is a by-product of the cruel practice of shark hunting," Ma says.
"Another example is wild mango wax, which is an incredibly nourishing and moisturising alternative to beeswax.
"The harvesting of beeswax has a detrimental effect on bee habitats and populations, which are already endangered; as we know, the bee shortage could lead to devastating effects on food production, so it's something we have always taken a standpoint on."
So what are the benefits of using vegan beauty products?
"The most obvious benefit of using vegan beauty products is to animals; if you care about what you buy being cruelty-free, why would you not want it to also be vegan?" asks Campbell.
"The only way to put a stop to animal cruelty is to stop buying products that exacerbate the problem; quite simply, buying vegan beauty will reduce the demand for products containing animal ingredients."
Plus, if you don't want to eat animal ingredients you probably don't want to slather them on your skin.
"In terms of benefiting skin, as our skin absorbs around 60% of what we put on it, isn't that reason enough to switch to vegan, otherwise you would literally be absorbing animal by-products into your skin," Campbell says.
Another less well known advantage is that vegan ingredients tend to be more fresh than animal ones.
"Animal-derived ingredients tend to go through a much more intense cleansing process than vegan ingredients in order to remove bacteria," Ma explains.
"We know how much our customers value fresh, clean, natural ingredients which have gone through a far simpler refinement process before going into the final product."
If you have certain skin concerns, switching to vegan beauty could help.
"Vegan cosmetics have been proven to be better for those who have sensitive skin, as they usually contain fewer ingredients," says Fiona Toomey, founder of vegan brand Nessa Organics.
"And they trigger a lot fewer allergies – many animal by-products are known to cause allergies and skin conditions."
There may also be additional environmental benefits.
"Vegan cosmetics are usually made from recyclable materials, vegan brands are known to be very cautions about their packaging design," says Toomey.
Indeed, Tropic is committed to sustainable practices, Ma says: "When it comes to harvesting plant-derived ingredients, we always ensure they are sustainably, ethically sourced, working with co-operative farmers around the world to make sure they are benefiting from the move from animal agriculture towards vegan ingredients."
Click