What's On Beauty Blogger Naya Tillyaeva's Summer Makeup Desk
Make your summer makeup Dubai-proof.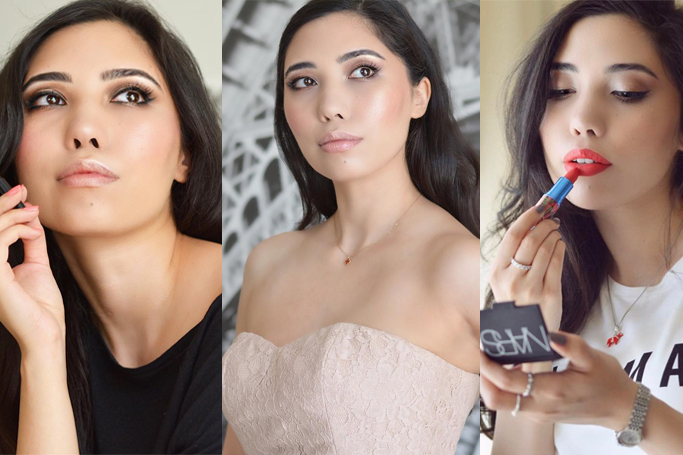 image credit: @thepartyparrotblog/Instagram
It is official. Summer is finally here in Dubai, which means say hi! to frizzy hair, extreme humidity and melting make-up.
But don't you worry ladies, I have a few tricks up my sleeve and in this article, I am going to share my key tips for ultimate summer [make-up] survival along with my absolute must have products!

#1 Skincare
My beauty routine always begins the night before I apply my make-up. I believe that no matter what amazing make-up products you have in your stash if your skin is in a wretched condition, no amount of foundation will help disguise it.
Tip: examine your skin before going to bed.
Depending on your type, you might feel that your skin either needs brightening, exfoliation, hydration or maybe even a little spot treatment. Something we all need to address though is – texture. I use my Dermalogica Daily Microfoliant every other night to gently micro-exfoliate any dead cells. As a result, skin is smooth and polished; this powder exfoliator works for all skin types and additionally battles pigmentation thanks to the mix of Green Tea, Rice Enzymes and Oatmeal.
Tip: sun protection is vital.
With a myriad of sunscreens out there, it is hard to pick one, that won't leave a sticky residue or annoying white stripes all over your face. Layering moisturisers and sunscreens might feel daunting at first; however, it is important to give your skin a bit of both. Good idea here would be to sandwich your products in thin layers.

Photography by Naya Tillyaeva
I love Caudalie Soleil Divin Anti-Ageing Face Suncare for a number of reasons; for starters, it has a wide UVA/UVB spectrum, sets to a clear satin finish and never feels greasy. Plus makeup applies really well on top of it. Win-Win!
Tip: refresh
Whenever I feel like I went ham on my powder or my skin feels a bit dehydrated and dull, I refresh it with a bit of Caudalie Beauty Elixir. Unlike many other setting sprays, this one contains 100% natural ingredients, including Grape, Rose and Rosemary essential oils to boost skin's radiance. This face mist smells just like spa and is great for long-haul flights too!
#2 Base
Tip: go for long-wearing, water-resistant products
It doesn't matter whether you have dry, normal or combo skin – here in Dubai you will find that we all look pretty much oily and sweaty. (Thank you humidity!)
This is why I tend to keep my summer routine pretty minimal and only stick to those products, which will enhance my features, cover imperfections and add that lovely healthy glow as if I have had three cups of Americano and 8 hours of sleep. So we are basically cheating here, but that's OK!

Photography by Naya Tillyaeva
My favourite summer foundation is MAC Studio Face & Body. I keep two shades of it so that when I get tanner, I simply add a few drops of a darker colour to match my current skin tone. This foundation is a backstage gem for a number of reasons: it has a lightweight texture, radiant finish and great wear. If you are new to it, you might think that its water-meets-gel kind of texture is a bit odd; however, the more you work it into your skin (and fingers are your best tools here) the more "viscous" it becomes. Once it sets, it gives you that natural "your skin but better" finish. It comes in a great variety of shades and works really well in hot, humid climate. If needed, set it with powder.
Tip: spot concealing vs caked-on foundation
Instead of layering and layering your base, go for a high-coverage concealer and carefully cover one spot after the other until you have an even, flawless base. NARS Soft Matte Complete Concealer is great for covering redness, blemishes and spots. Although it says "matte", it feels creamy/cushiony and has a very natural finish. Coverage is buildable.
My go-to under-eye concealer is Becca Cosmetics Aqua Luminous Concealer. It has this beautiful, natural finish and since it is water-based, it will never accentuate fine lines or feel drying. Since we are working with a delicate skin area here, I find that nourishing and hydrating formulations are the best. If you experience creasing, you can set this concealer with loose powder. As for me, I am more of a barbarian, so I just pat it away with a clean finger and call it a day.
Tip: little goes a long way
Instead of powdering your entire face, concentrate on those areas, which really need it. For me, it would be my T-zone. Also, whenever you feel like you get oily, use blotting papers instead of powder. They absorb oil like no other and are small enough to fit into even the tiniest clutch. My current favourite in the powder department is Kat Von D Lock It Setting Powder. It is very smooth and fine in texture; doesn't accentuate pores, won't cause flashback and looks undetectable on all skin tones/skin types. What not to love?

Photography by Naya Tillyaeva
#3 Cheeks
Tip: let it glow
During hot months I can't be bothered with a traditional bronzer, so what I actually use is a darker shade of the same Aqua Luminous Concealer by Becca Cosmetics. Since it was designed to match an actual skin tone, it looks very natural on the skin (so long Oompa-Loompa!) plus it never looks blotchy or powdery. I simply dot it where I would normally apply my bronzer and blend it with a damp make-up sponge.
MAC just came out with these gorgeous luminous Extra Dimension Blushes. I have one in the shade "Into The Pink" and it is this beautiful mix of glistening pink and champagne pearl. Radiant blushes like this give your skin almost a wet look in the most flattering way. Again, there are a tonne of shades to choose from and they just scream summer to me.
To accentuate your cheekbones, even more, apply a highlighter. I swear by Becca Cosmetics Shimmering Skin Perfectors and the shade "C-Pop" has a cult following for a reason. The texture of this powder is so buttery smooth and it makes your skin glow like no other. Compliments guaranteed! Works on a plethora of different skin tones too.

Photography by Naya Tillyaeva
#4 Eyes & Brows
The last thing I want to do during hot summer months – is blending a dozen of eyeshadows. If you are going out, then fine. But if you are hanging out by the beach, go to the pool or just spend some time at the mall – there is really no need for a complicated eye makeup.
Tip: go waterproof
Recently I have discovered something so bulletproof I just had to mention it: MAC Liquidlast Liner is the beast. This is what Adele's make-up artist uses for the singer's infamous cat flick. This product is a bit thick for liquid eyeliner, to be more precise - it feels like tar. At first, it appears glossy, but the minute it sets – it sets. I have never tried anything even remotely similar to Liquidlast. Considering I am a professional swimmer, I did test it for hours at the pool and guess what? Not even a smudge. So girls, if you are serious about your eyeliner game – check it out!
This product can be easily removed with any oil-based makeup remover.

Photography by Naya Tillyaeva
Although we don't play the eyeshadow game, it is still important to define lower lash-line in the most effortless way. I love my KIKO Long Lasting [Eyeshadow] Stick for it. I use one it in the shade #05 and it is the most flattering rosy brown colour, which is so good for every complexion and eye colour. Plus it won't budge. Like, at all.
Summer is a great time to try out some colourful mascaras; I love MAC's latest Extra Dimension Mascara collection. You get a tonne of shades to choose from all the way from white, red to dark green. I love shade "Feel My Pulse"; it is a nice mix of brown, burgundy with a hint of purple, which makes all eye colours pop. For my bottom lashes I use MAC Extended Play Gigablack Lash; while it does nothing to your top lashes, it works wonders for bottom. Never smudges, never flakes. Genius.

Photography by Naya Tillyaeva
Lastly, if you don't have much time to fix your brows in the morning, Gimme Brow by Benefit will be your best friend. It is a very long-wearing tinted gel, which has tiniest fibres in it. This product will make your brows look bushier too. And who doesn't want that? Need more? Use Precisely My Brow pencil by Benefit to fill in any remaining gaps.

Photography by Naya Tillyaeva
#5 Lips
With a look that we have already created here (dewy, glowing skin with minimal, yet sultry eye make-up) you can easily use ANY lip product you desire. Nude, red, vampy or even sheer.
I am a big fan of NARS Velvet Lip Glide; this product has a colour of a lipstick, but smoothness of a lip gloss. It is never sticky, gloppy or drying. As a matter of fact, you don't even need a mirror to reapply it and it feels divine on the lips. As an added bonus - your hair won't get stuck to it. My favourite shade is "Unlaced", which is this very flattering baby pink with warm undertones simply perfect for everyday wear.

Photography by Naya Tillyaeva
Final Look!
That's it for my summer makeup essentials! Hope you guys found this piece of information entertaining and helpful. For detailed reviews on these products and more, feel free to check out my blog: http://www.partyparrotblog.com/

Photography by Naya Tillyaeva