6 Alternative Christmas Trees for Small Spaces
Here are some cute options for smaller spaces – or anyone who can't face the faff of a full-size tree!
Posted on
11 December 2018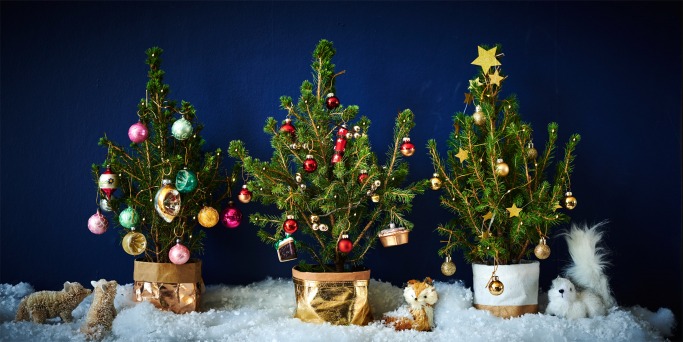 Are you short of space? Can't fit a big Christmas tree into your home, but still want something festive and natural-looking to replace it?
Well, we've got good news for you. There are wall hangings, houseplants and smaller potted trees that'll do the job nicely and bring some festive sparkle into your home, even if you live in the smallest space with just a little walk-round room.
Check out our top picks on how to spruce up your smaller space this Christmas...
1. Nordic Rope Ladder Hanging Christmas Tree, £20 (AED 94), notonthehighstreet.com
A minimalist yet rustic alternative to the classic Christmas tree, this hanging tree is only 80cm tall and can be tucked up neatly against a wall. Add baubles of your choice and drape it with fairy lights to bring it to life.
A great choice for those with very tight space to work with, anyone who can't 'cope' with pine needles – or to decorate other areas of the home.
The wooden slats are rounded natural twigs from the bayur tree, making all of these unique.

2. Mini Letterbox Christmas Tree, from £32 (AED 148.29), BloomAndWild.com
According to a survey by Bloom & Wild, they found that people are downsizing their trees in a bid to cut down on costs and needle dropping – with 79% saying they're opting for a smaller tree this year, while 65% of millennials will be buying a cheaper option.
Their mini letterbox trees, which are real and rooted, arrive with decorations, lights and a pop-up pot in a letterbox-fitting box, and can be planted in the garden after Christmas.

3. Mini Christmas Tree Trio, £25 (AED 162.19), Marks and Spencer
If the windowsill is the only space you can spare this season, then this trio of frosted mini trees in winter embossed tin containers, would make a classy edition.
You'll ideally need to place them in a cool position with some natural light and, while they're fine kept indoors for a few weeks, after that you'll need to move them outdoors if you want them to survive, and plant them either in a outdoor plant pot or the garden and keep them hydrated.

4. Houseplants in Luxury Basket
Who says it has to be a Christmas tree? There are other ways to bring some festive greenery into the home, including houseplants.
If you have the space, why not try gathering some houseplants together along with some white specimens, such as orchids and lilies, to create a 'frosted' look. You could also go for a red and green arrangement to give a room a traditional festive feel, and go as big or small as you like.
You can pick up one of these wicker baskets from most local Garden & Home centres.

5. Plant Terrarium, £66.99 (AED 310.44), crocus.co.uk
Terrariums have become the must-have addition to living areas, and if you haven't got the space for a tree then you could consider planting a feast of festive plants in one of these glass enclosures instead, which should keep going beyond New Year.
Once you've had enough of them, you can easily change the style by swapping in new plants next year. This one's produced from sheet glass and brass, with an antique bronze finish.

6. Pot-grown Tree
Eco-friendly gardeners may prefer a smaller version of the traditional Christmas tree. They can look superb – and this one is pot-grown, so can be planted in the garden afterwards.
Choose a festive coloured pot base to give it a Christmasy glow, then change it out in the New Year!