A Guide To Your Shoe Closet Essentials In The Middle East
Here's why you only need 10 pairs of shoes...
Posted on
5 February 2018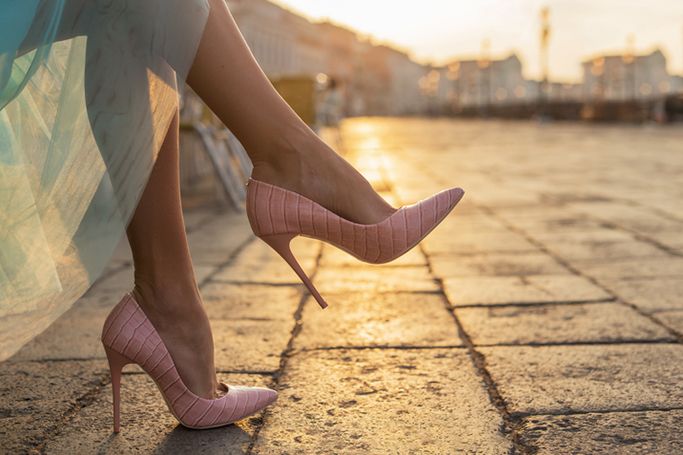 I know that we rely on our shoes for more than just walking around. They're the one fashion accessory that can add a finishing touch to any outfit, completing your look with personal flair. And they can instantly change the mood of what you're wearing.The dream is to have a closet dedicated to shoes, Carrie Bradshaw–style, right?
So it's easy to argue that you need many different styles of shoes. But limited space in Dubai apartments, you can't indulge in closet full of barely worn shoes. The best way to avoid that and, yet, still look stylish? Focus on styles with real staying power like the classics, which cover almost any situation or occasion in the Middle East, from the heat to the fog and the fancy nights out!
There are two types of shoes. The kind that you turn to again and again, year after year, and the kind that are utterly thrilling in their beauty, embellishment or flat-out trendiness, the kind you're just happy to sit and admire, while the latter category certainly elicits more excitement, it's the former that's really going to get you through life.
As tempting as is to stockpile your shoe closet with feathery, sparkly, sky-high heels, we'll grudgingly admit, it's not the most practical strategy! The operative word here is need, not want —you have to be smart and focused on what you actually need. As I plan to highlight the basic shoes to build the perfect shoe closet for the Middle East, a selection that will go with everything you own, to save yourself from what-to-wear moments—and some painful blisters!
#1 Pumps
This particular style, works day and night on every woman and is appropriate in almost any situation as it creates a powerful statement, due to its high heel and the narrowing of the toe. Black/Nude heels are definitely a must-have shoe style that every woman should have in her closet.

#2 Loafers
First introduced by Coco Chanel in her early, prolifically inventive years. Comfortable and classic, the loafers come in every iteration known to man: Quilted, studded, beaded, made from plastic, faux leopard and crafted in any color, loafers are a much relied-upon essential.
Slip into a pair of loafers for a more casual work look or if you're buzzing around on the weekend for a pretty, polished moment. They can also look extremely chic with a short, sweet dress, day or night.


#3 Animal Print High Heel
A lovely style that remains a classic, works transitionally, this high heel, is elegant and classy adding some panache to whatever you're wearing.


#4 Ankle Strap Sandals
An absolute must in every wardrobe is a pair of ankle strapped sandals . The strappier, the better, as this is the perfect time to bare more of your foot. Black and metallics are the most timeless and are, therefore, the best investment because they work with more outfits in your closet.


#5 Flat Summer Sandal
This is a shoe you can almost live in during the hot Middle Eastern summers. Perfect in any casual situation, open summer sandals look great with anything - The gladiator sandal has been around for so many seasons now, it's starting to feel timeless. In brown or nude, the flat gladiator sandal is incredibly versatile and has earned its place in this ranking of shoes every woman should own. Wear a pair with a maxi dress or long skirt and you'll instantly add a dose of trendy edge, making any wearer look more modern.

#6 Stacked Heel Shoe
The stacked heel, which depending on how "stacked" the heel is, can range from a half an inch and up.


#7 Tall Boots
A tall boot, the eternal classic, looks great with a knee length skirt that just skims the top of the boot. Work a low heel boot with your best bohemian dress or tuck in your favorite pair of jeans or simply with tights and a dress come winter.

#8 Ankle Boots
A must have shoe in your cupboard, low or High heels, it is entirely up to you. Both heights can be worn for business day or with a loose dress and a clutch bag for a romantic outing.


#9 Sneakers
Every woman needs a comfy sneaker to kick back on the weekends or wear on casual Friday. We're partial to the clean white sneaker, because while casual, it can have a semi-sophisticated/dressy vibe when paired with more-polished separates.


#10 The Wild Shoe
Every woman also needs a pair of wild shoes in her wardrobe that make her feel like a bombshell. Depending on your personal fashion style, your wild shoes may be teetering stilettos, stacked heels or wedge-style sandals. The only rule is that they have to be at least a little bit outrageous - The cherry on top of the cake. The pair of shoes that can transform an otherwise boring outfit into an interesting one


and…that's a wrap…
Now that I have armed you with the basics on how to build your essential shoe closet, I hope that the next time you want to purchase a pair of beautiful shoes you will consider need over want…
Yours,