How to Master a Matte Red Lip in 3 Easy Steps
Velvet lips were a major trend on the autumn/winter catwalks
Posted on
11 November 2019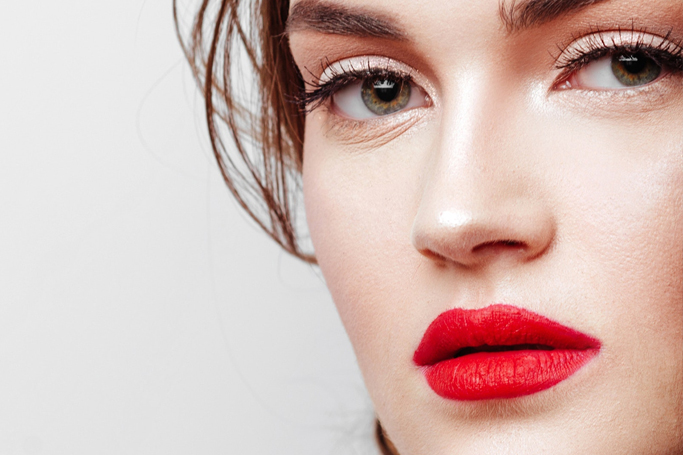 The matte red lip is making a comeback this season.
While make-up trends often push things forward with crazy colours and avant-garde designs, at the AW19 shows, there was a renewed focus on classic techniques, and what could be more classic than matte red lips?
"A bold red lipstick is a classic look that started its real journey in the early 1900s and since then, has always been seen as a powerful, dominant look," says Sascha Jackson, lead make-up artist at Stila.
"It has always been a look we can turn to without being 'off-trend', but this season, we saw it making a huge comeback across the catwalk.
"A matte red lip was teamed with polished skin and minimal make-up to keep the look fresh and light, but with a punch."
The AW19 look is all about being well-defined, so here, Jackson explains how to create the perfect bold pout, plus we give you the inside scoop on how to create five catwalk lip looks…
#1 Prep
"To truly rock a red lip, you need to start with a good base. Firstly, I like to exfoliate the lip.
"I like to make my own lip scrub, using a little coconut oil and some sugar. Mix them together and work into the lip to sloth off any dryness.
"Once done, remove all the excess scrub – you don't want the coconut oil to upset the staying power of the lipstick."

#2 Line
"Next, I will take a little of the liquid lipstick I'm using onto a fine lip brush, and use this to line the lips.
"My favourite ever red is Stila Stay All Day Liquid Lipstick in Beso – it's a 'true' red. The formula locks in and lays down smooth, and won't bleed or feather.
"Using a small amount as a liner first enables you to create the desired shape of your lips i.e. build slight natural volume by working it just over the bridge of the lip line."

Glo Skin Beauty Precision Lip Brush, AED 43.19, Amazon.ae
#3 Fill
"Next step is to fill in, working the product across the lip. A little goes a long way, so you do not need too much – the less product you use, the more comfortable the finish will be.
"Let your lips dry, and don't 'smoosh' them together, just let the formula lock-in and it will last up to 12 hours."

Maybelline New York Super Stay 24H Matte Ink Lipstick, AED 51.98, Amazon.ae
:: All products featured in this article are independently selected by our editors. However, when you buy something we may earn an affiliate commission. All prices are accurate at the time of publishing.