4 Unusual Ways to Style Your Christmas Poinsettia
Don't leave your festive poinsettia plonked on the sideboard at Christmas. An expert offers styling tips to make it a showstopper.
Posted on
16 December 2019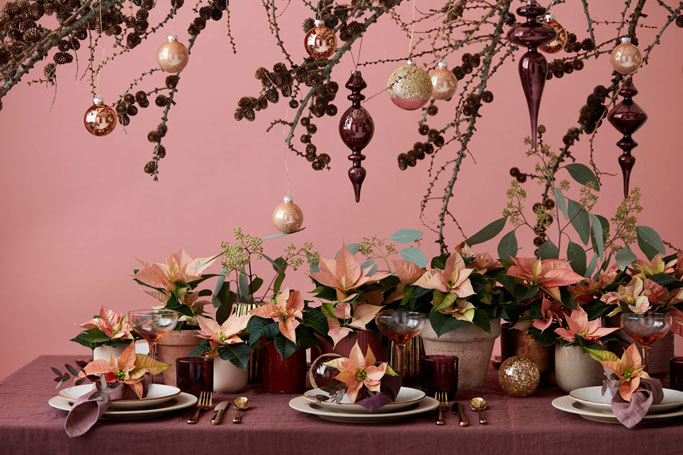 Rather than bung your festive poinsettia in a boring pot and wait for it to wilt, why not add the colourful bracts to Christmas table decorations, place settings and hanging ornaments?
Celebrate throughout the festive season by doing something different with them.
More colours are now available, from the traditional red to salmon pink and cool white, meaning the number one houseplant over the festive season is more versatile than it used to be.
SEE ALSO: Want To Create A Bottle Garden Full Of Luscious Houseplants? Here's How To Do It

"The key is to choose a colour that you love and group them together to create impact," says Ian Drummond, houseplant expert and author of At Home With Plants. "You can be very creative with poinsettias, because providing you buy them from a reputable supplier – never from an outside stall as they hate draughts – they are more durable than you think."
Drummond, the creative director of Indoor Garden Design, offers the following styling tips…
1. For a natural effect
"Try removing the lower stems and filling the base of the pot with co-ordinating baubles, or arrange pine cones and twigs around the base."

2. To create table colour
"Simply cut the stems and place the cut end into hot water for a few seconds, and then immediately into cold. This stops the flow of sap and they can last for up to two weeks in water if prepared this way. The stems can be grouped together or displayed singly in bud vases for a gorgeous pop of colour, ideal as a place setting for the Christmas table."

3. To create hanging interest
"Get really creative and hang a branch with re-purposed baubles used as tiny vases to display the cut poinsettias. You can even hang the colourful bracts on your Christmas tree instead of bows, or wire it into an indoor Christmas wreath for an added splash of colour."

4. As the finishing touch to Christmas wrapping
"If you want to cut back on plastic bows but make your Christmas wrapping look beautiful, using traditional red poinsettia stems instead offers that personal touch."
How do you keep poinsettias looking fresh?
Buy your plant from a garden centre or reputable store, not from outside stalls as lower temperatures on display will reduce the shelf life of the plant, Drummond advises.
If possible, check your poinsettia's compost before buying. It should be neither dripping wet nor totally dry. Dense foliage and yellow-green budding flowers in-between the coloured bracts are a sure sign of quality. Protect it from the wind and cold and transport it quickly to its warm new home.
Keep it in a bright, warm spot (around 20 degrees C). It can be close to a radiator but not in direct sunlight or near draughts, so keep it away from open doors, windows and fireplaces.
Water only when the compost is starting to change colour and become lighter, and do not allow to sit in water.