8 Small Space Problems & Their Genius Solutions
When you have no space, you create it.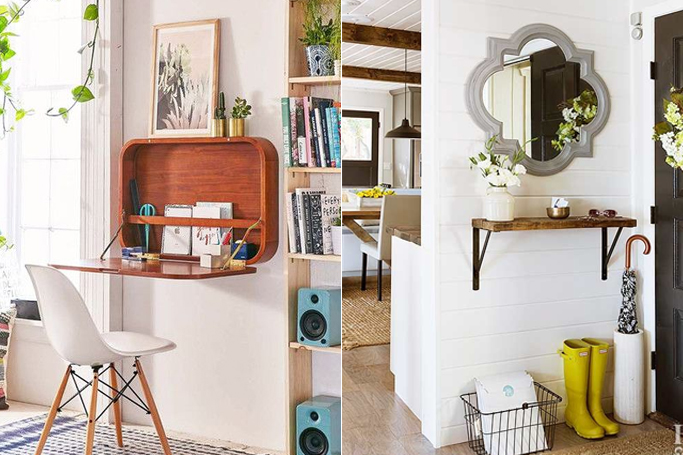 Living in Dubai teaches you many lessons; surviving the summer, avoiding Shaikh Zayed Road during peak hours and most importantly, living large in small spaces.
Marie Kondo and all other minimalist gurus can de-clutter all they want, but living in 600 sq.ft studio that serves as a bedroom, living room and dining room, is an art that every struggling Dubai-ite has mastered.
SEE ALSO: 5 painfully hilarious Pinterest DIY fails
If you're new to the city or simply looking to add some personal touches to make your humble abode a little bit more exciting, we've got you covered.
Here are some easy solutions to some of the most common small space problems.
1. No entryway
Not having a proper entryway to place keys, wallets and other important to-go stuff is not just frustrating but aesthetically unpleasing too.
But the good thing is, you can create a faux entryway by placing a mirror or a shelf with a bar-table. Add some hooks for your umbrella jacket or other outerwear and you've just created yourself a functional and attractive place to drop your stuff when you get home.

image credit: Pinterest
2. No separators
If you live in a studio apartment, you can easily create the illusion of separate rooms with curtains, furniture pieces or shelves that break up space and provide you with some privacy.

image credit: Pinterest
3. Bad lighting
A cramped space usually comes with dark corners and no windows. Lamps with long cords or side table lights will only take more space and create harsh lights.
Your best shot is to add mirrors and overhead lights to create an illusion of space.

image credit: Pinterest
4. No tables/workspace
Want a luxury vanity table, a custom closet space and a home office? We all do but enough with the day-dreaming.
You can create space by adding a narrow desk as a nightstand and make the table work double-duty for you. This will be much better for your productivity than working from the sofa—or bed!
Fold-down tables with a shelf on top will work great too.

image credit: Pinterest
5. No bedside storage
By now, you may be used to of putting your night-time stuff like remote controls, books, mugs under the bed but we have a better solution.
Add some custom made plywood pieces on either side of the bed and you're good to go.

image credit: Pinterest
6. No garden
A small house doesn't mean you can't enjoy nature. You can utilise any empty wall for a vertical garden to add some greenery in your life.
There are loads of DIY garden hacks on Pinterest that can help you with painting pots to seeding flowers.

image credit: Pinterest
7. Not enough closets
If your sofa is serving up as a temp closet, it's high time you invest in floating shelves. Along with creating much-needed room for storing sweaters, shoes, linens, baskets, and more, you can place them just about anywhere on your wall; no closet necessary.

8. Not enough storage units
From storing spare bed sheets and pillows to books and suitcases, there are few things that a good flexible storage bed can't hide.
The key to small space living is to invest in furniture that's multi-purpose and portable.