7 Places That Make South East Asia The Perfect Spot For A Digital Detox
Leave your phone at home...
Posted on
18 February 2018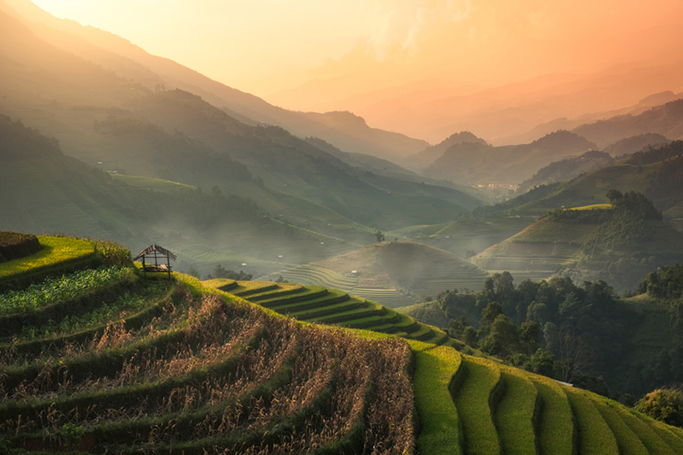 Feeling the need for a digital detox?
Whether you're planning your mental escape to South East Asia or in the middle of your trip and wondering where next - here are my top 7 places to take a time out from day-to-day life, and your phone! Not the most visited nor the most mentioned but guaranteed to leave your heart happy! Who knows, you might even "find yourself"…
#1 Koah-Sok National Park, Thailand
Not only is this national park absolutely stunning, you can stay on floating bungalows! After you take the 1-hour boat ride from mainland into the 165-square kilometre Cheow Lan Lake, your surroundings will enchant you with miles of forest and mountains.
Your days will include waking up in your floating bungalow (ranging from AED 40 per night to AED 500 per night), canoeing, catching your dinner to make fresh from the lake and spotting wild monkeys that roam wild in the forest. Prepare for no phone signal as your visit will be a complete shutdown from the digital world… your Instagram will cope!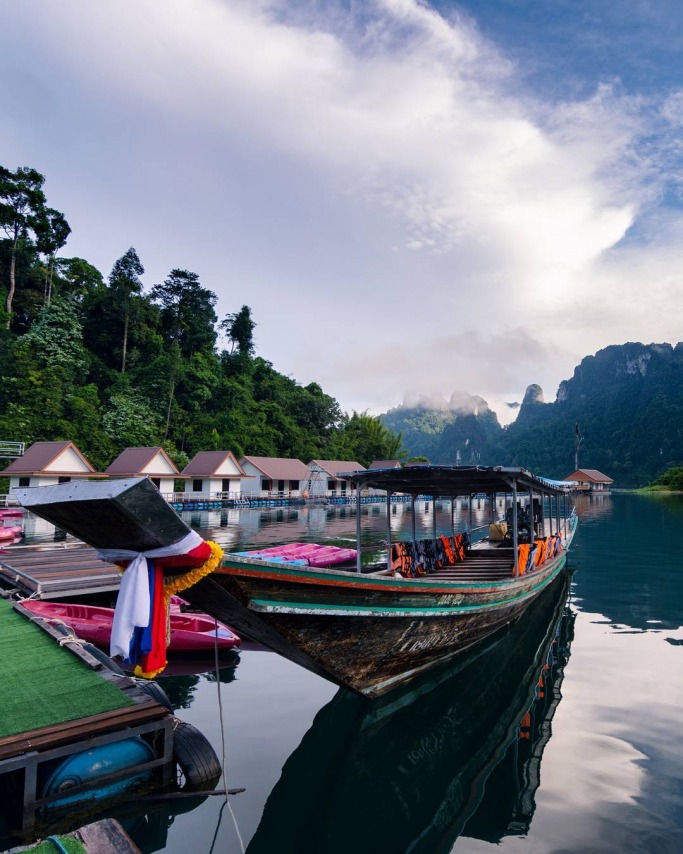 Instagram @andrewkellogg
#2 Luang Prabang, Laos
As the ancient city of Laos, Luang Prabang can only be described as the heart of Laotian culture. Although not the quietest and often visited by tourists, I had to include it because it left me feeling well… really, really content. By day, visit the famous Kuang Si Falls, get involved in the Alms giving Ceremony, roam the beautiful streets by bicycle and take part in rooftop riverside sunset yoga at the serene Utopia Lounge.
By night, visit the markets where you'll be completely spoilt for choice (though admittedly very touristy), explore the endless riverside restaurants or if you want to meet other travellers head to the bowling alley. Yes, the bowling alley! Around 10.00pm hostels empty out and head to the infamous spot as the only place in Luang Prabang that stays open till late. Music and banter included - you can can enjoy drinks with new friends late into the night.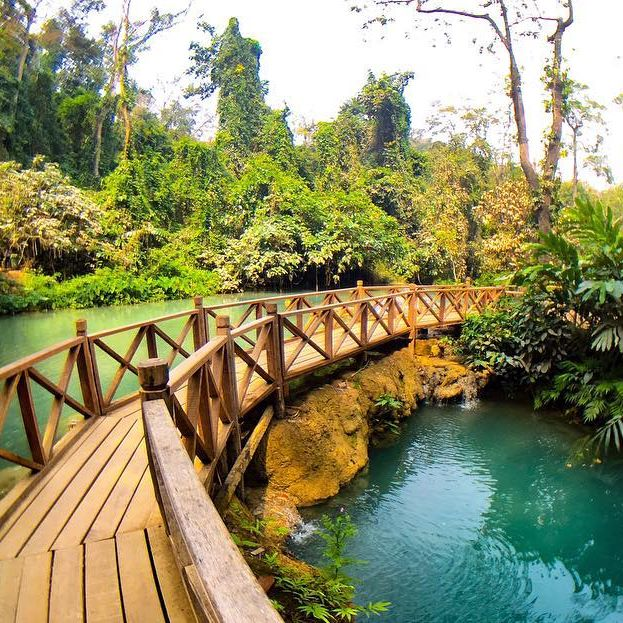 Instagram @menekeh
#3 Sa Pa, Vietnam
On the North-Western edge of Vietnam, this is a must visit. Although there isn't much to see in the town itself, the real gem of Sa Pa lies beyond the central town and into the rolling beautiful surroundings. The rice terraces take the eye for miles and make Sa Pa a popular hiking destination. Famous for its home stays, where tourists can stay with local tribes in the heart of the mountains, Sa Pa amounts to a really authentic couple of days.
My advice is not to book your home stay though an agent in Hanoi where you will be in a big group and the agent pays the guides very little. Go direct with a local, like ZI ZI Tours and you will not only have an amazing guide to lead you through the terrain, you will also be funding the tribe community directly.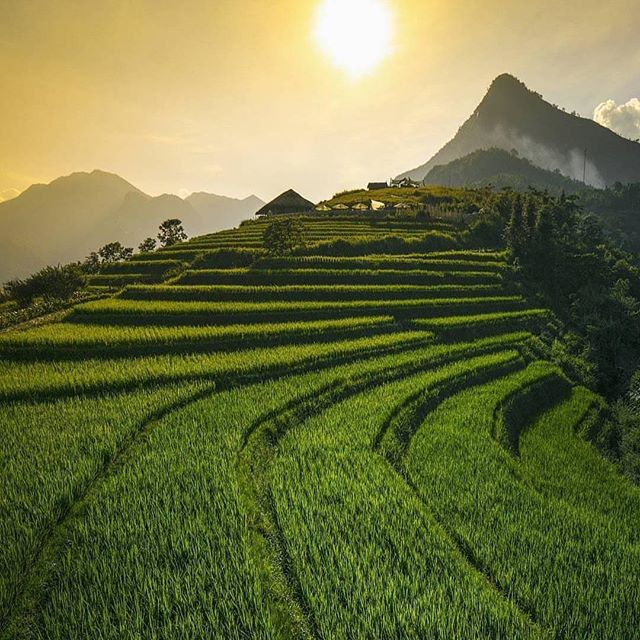 Instagram @henry_do
#4 Muang Ngoi Nuea, Laos
If you were lucky enough to travel to this remote village 10 years ago, you wouldn't have been met with roads, internet, and would have struggled to find a single guest house to stay in. Nowadays, although not as "off the beaten track" as it used to be, Muang Ngoi Nuea is a must visit if you want a well-earned break and appreciate Laotian culture.
Accessible only by boat from Muang Khoa, expect an uncomfortable ride but great views with the village making the trip all the worthwhile - with a few guest houses, very basic restaurants and surrounded by steeped mountains, caves and impeccable scenery. If you do really want to see an untouched village, from here head to Huay Bo, a small village 1.5 hours away by foot (be ready to get lost, cross rice fields, lose hope and then find hope again when walking to this village!)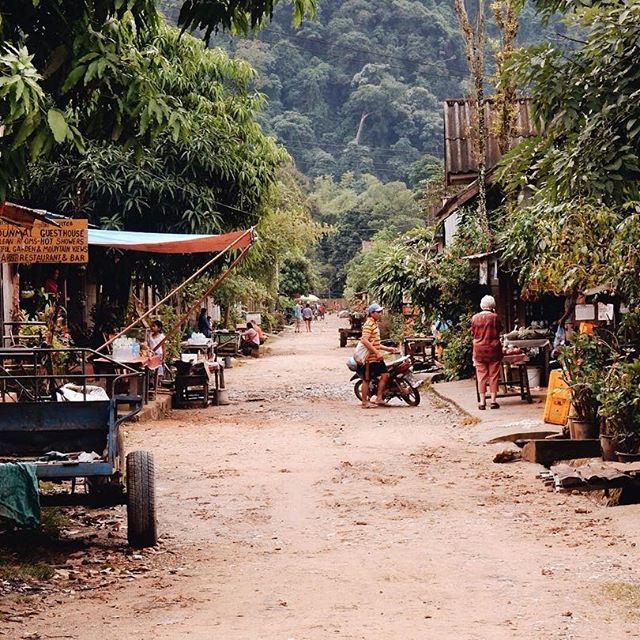 Instagram @jackyvanleeuwen
#5 Tam Coc Bich Dong – Ninh Binh, Vietnam
Prepare to feel like you're David Attenborough in a new geographical documentary at all times! Nicknamed "Halong Bay on land" due to its three caves, Tam Coc is a must visit when in North Vietnam. However, despite the advice out there, I would avoid actually going to see the caves. Beautiful from afar as they are, there are much better caves in Vietnam where you should spend your time and money.
The real draw is the temple on top of the mountain - worth the walk I promise! Tua Coc rice fields, being the main reason why tourists flock to Ninh Binh, make this trip worth wile. My top tip is, instead of taking the boat down the river (which I've heard is a hot spot for tipping/pressure scams), hire a bike and cycle along the paddies. Cheaper, more adventurous and you'll get those endorphins flowing. Digital detox, cycling through rice fields among wildlife and beautiful mountains? Arr yeah.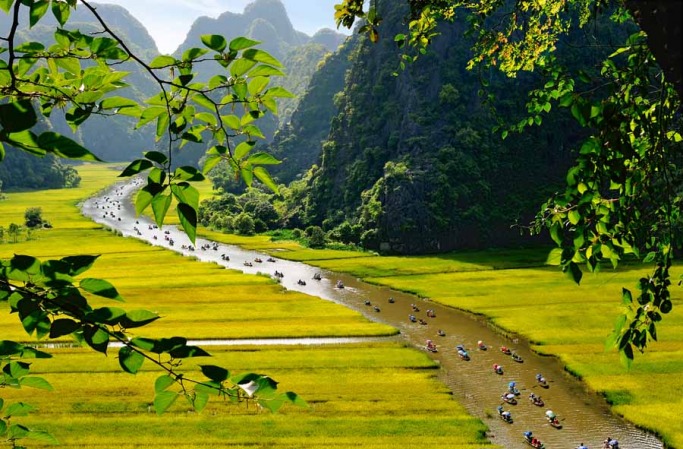 #6 Koh Rong Sonloem, Cambodia
Often overlooked by backpackers by its lively neighbour Koh Rong, this island really is the ultimate destination where you can sit back, relax and take in the scenery. This is the only beach destination I have included in this post and it's for a reason. Unfortunately, a lot of Asian beach islands, although stunning, don't allow you to really switch off. Koh Rong Sonloem is an exception.
With 9km of unspoiled white beaches, this island fits the digital detox script down to a T. It's not the smallest or most secluded, but with enough guest houses and restaurants for you to enjoy, it's worth a stay for more than a couple of days. Spend your days lazing in hammocks, paddle boarding, snorkelling and enjoying the islands locally sourced fish. In the evening, you will find a few places open to grab a bite to eat and a cocktail. Accommodation ranges from a few 5* resorts to basic bungalows on the beach.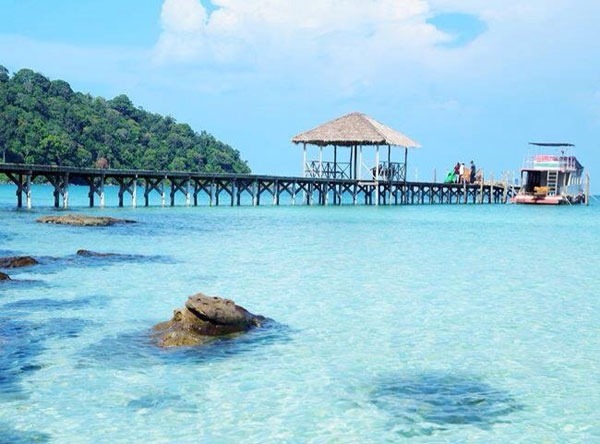 #7 Twin Lakes, Northern Bali
Tamblingan and Buyan Lake, also known as the "Twin Lakes" have a real mystical feel about them. In the mornings a thin mist hangs over the lakes, adding to this mystical and beautiful appeal. The lakes are split in the middle by a rainforest and there is a temple at the top of the hill where you will get unbelievable views of both lakes.
The surrounding area is still green and fresh with groves trees and you can also kayak on the lake if you fancy something a bit more adventurous. Not to forget, the forest surroundings are also home to very, very friendly monkeys who will come and say hi! The Twin Lakes are only a day trip but really are worth it - their mystical atmosphere is like nowhere else!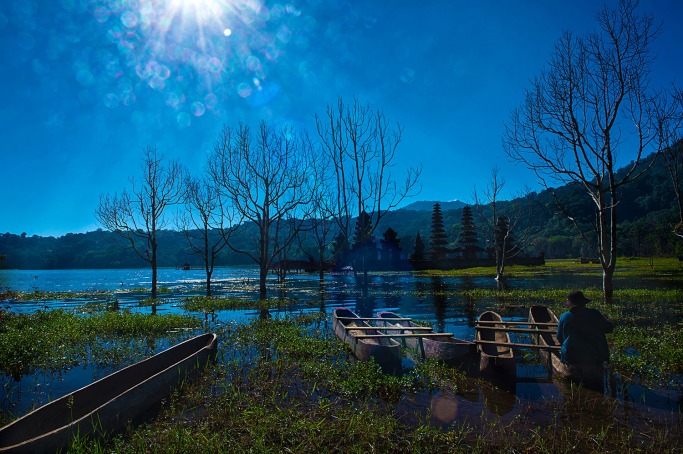 Bali Hello Travel