Discover the Artists Taking Residency For Art Dubai This Year
The second edition of Residents is dedicated to solo presentations from invited artists
Posted on
19 February 2019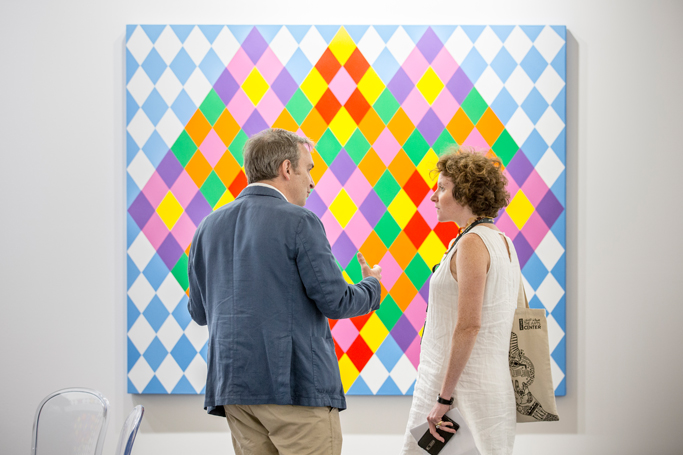 Art Dubai 2019 will feature the second edition of Residents this year.
It will be dedicated to solo presentations from invited galleries whose artists will take part in 4-8 week residency in the UAE. For the 2019 edition, Residents will focus on Latin America.
SEE ALSO: Here's the talks programme for the 2019 edition of Art Dubai
The programme encourages artists to immerse themselves in the local art scene and create a body of work which merges their distinct artistic practice with their surroundings. Participation in Art Dubai Residents is by invitation only, and Residents is supported by the Office of Public and Cultural Diplomacy in the UAE.
The section has been curated by Brazilian Fernanda Brenner, Founder and Artistic Director of São Paulo-based contemporary art space Pivô and Emirati curator Munira Al Sayegah, a well-established name in the UAE art scene.
Discover the artists who will be on display during Residents in Dubai and throughout Art Dubai 2019:
#1 Laura Lima
Laura Lima is a Brazilian artist, whose artistic research is focused on geometric portraits and drawings, in addition to developing installations using the same concept. She has presented solo shows in important museums and galleries across the world.
#2 Verónica Vázquez
Verónica Vázquez relies on an artistic process that sees her finding and collecting materials and turning these discarded objects in to creating visually striking sculptures and wall reliefs. Her work is mostly inspired from Uruguayan history and Constructivism as well as the legacy of the Italian Arte Povera.
#3 Nicanor Aráoz
An Argentinian artists that produces objects, installations, drawings and sculptures utilizing references from comics, visuals from the Internet and romantic mythologies taken from gothic art. His work features a montage of dissimilar elements, which take frantic forms to depicting nightmares, in which pain and pleasure are mostly merged.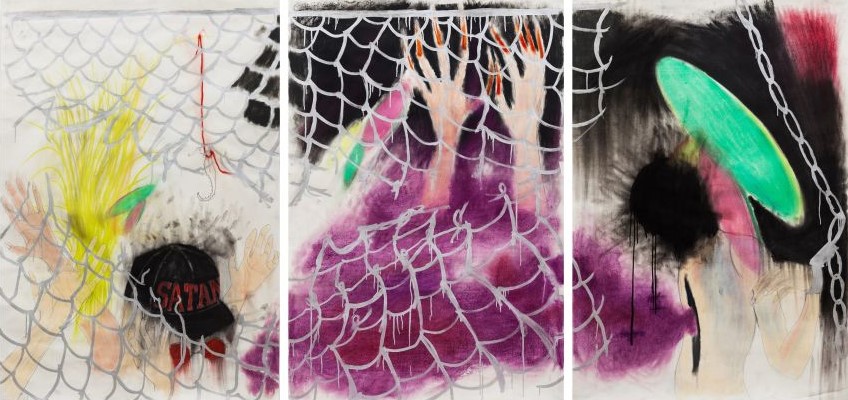 Artist: Nicanor Aráoz, 2017
#4 Rodolpho Parigi
Rodolpho Parigi paintings appeal both figurative and abstract to one's eye. They feature hyperactive, vibrant surfaces, challenging a normal perspective and adding a dilemma of resting one's gaze. There's an explosion of colours further giving life to innate abstarct designs. The history of art, design, advertising, pop culture, botany, zoology and anatomy are the objects of his inspiration.

Artist: Rodolpoho Parigi / La Danse / CASA TRIANGULO
#5 José Manuel Mesías
José Manuel Mesías artistic approach stems from research and historical consultation. Relying on an extensive study of the figure of Agramonte, the artists gives life to human being's environment, depicting their anguish, pains and emotions, as it were effortless to draw the reality of it.
#6 Mazenett Quiroga
An artistic duo that has been together for the past nine years. What brought them together was their central interest of the temporality of the matter. They are known to work organic components like tar, pitch, coal and a variety of minerals. They don't look for symbolism in these components rather than focusing on the earthly energy provided by them. They work towards connecting humans to past geological eras.

Artist: Mazenett Quiroga / De Mas alla del Mar
#7 Luiz Roque
Luiz Roque's work is heavily inspired by the power of imagery, particularly the sensations that take life from visionary sense. His inspirations cross over many different territories, science fiction, legacy of Modernism, pop culture and queer bio-politics. His short stories take you through the on-going conflict between technological advancement and contemporary micro and macro power relations.

Artist: Luiz Roque / Geometria Descritiva
#8 Flora Rebollo
Flora Rebollo's work defies the expansive definitions. The artistic approach is either because of or in spite of the following categories of the field of the words - onomatopoeia, valium, palindrome. Thus these dynamics are through which the artists's visual production is perceived.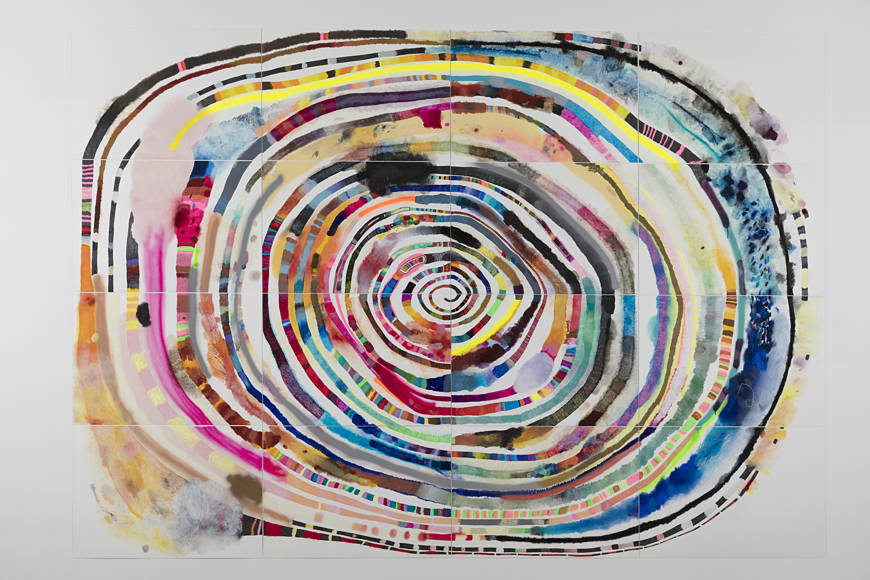 Artist: Flora Rebollo, 2017
#9 Jerry B. Martin
Jerry Martin, since 2088, has been using a typewriter as his tool to create final images by over-typing line by line or word by word, even letter by letter. The process gives way to lights and shadows that form a final image that is recognizable. He proposes a research on the distinctiveness of shedding light on Dubai's culture for the Art Dubai's residents program.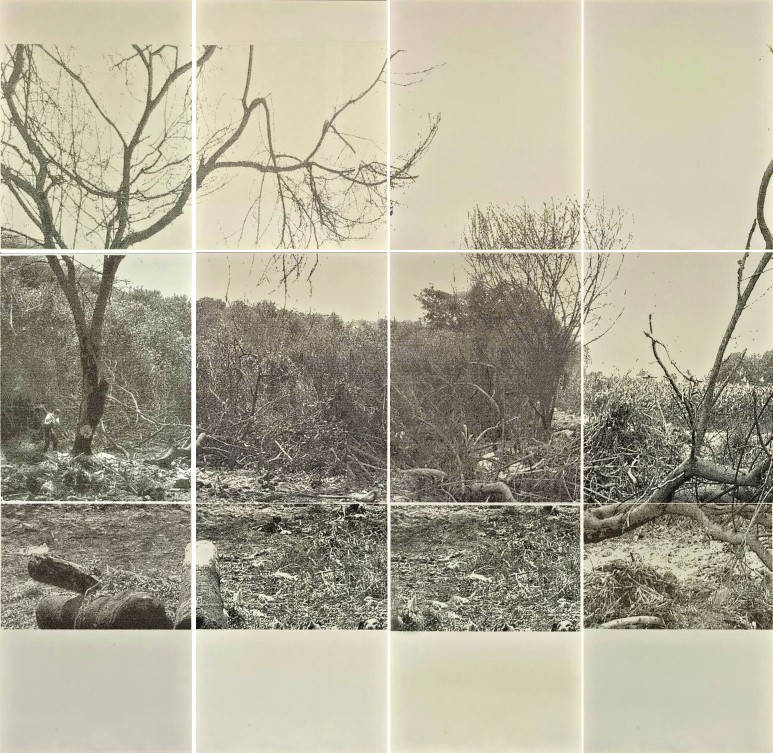 Artist: Jerry B. Martin, 2013 - 2015 / Intended Landscape
#10 Luis Enrique López-Chávez
Luis Enrique López-Chávez work is based on the transition of spaces, stemming from physical to psychic spaces. His artistic approach focuses on how a physical space is transferred to the mind and takes shape into a psychic space. His work has been described of an artistic variety that delights itself in particular areas of raw science.

Artist: Luis E. López-Chávez / La conducta doméstica
#11 Alexandre da Cunh
The work of Alexandre da Cunh takes shape by counterpoising and melding objects, materials of various origins and morhps them objects of different varieties. The final result is work created in an intuitive manner that evokes a narrative by focusing on the beauty on the new life given to the materials and shapes.
#12 Luciana Lamothe
Luciana Lamothe is an artist that mainly works with sculpture, performance and activation. She talks about similarities amongst the body and the architecture to gain a collaboration of these two elements, which account for the violence that projects through them. The differences between the textures of the elements, soft and hard, weak and strong are easily seen in her pieces.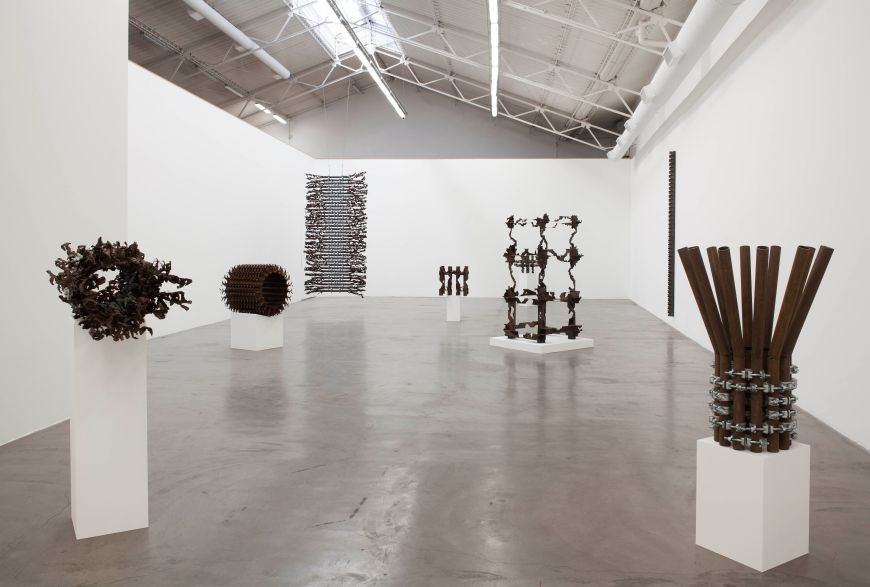 Artist: Luciana Lamothe / Ensayos de abertura