Inside Richard Branson's Favourite Balearic Retreat
What's it like to stay in a billionaire's holiday home?
Posted on
24 October 2018

From Necker Island to South Africa and Verbier, Sir Richard Branson has homes all over the world.
And yet, there's one place he holds particularly close to his heart –Son Bunyola, a luxury retreat on the north-west coast of Mallorca, which is open to the public as a Virgin Limited Edition property.
But how often does the busy business magnate actually get to visit the sprawling 680-acre estate with three villas nestled amongst seemingly endless rows of trees? General manager Lee Bowes reveals her boss rocked up to stay twice this year, and on his most recent visit, he even challenged some guests to a game of tennis.
Eager to sample the place for ourselves, we head over for a long weekend.
Location, location, location
The founder of Virgin group first visited Mallorca as a child, and he later took his own children to the Spanish island for summer holidays. In fact, the Bransons are such fans of this region, his son, Sam, even named daughter Eva-Deia after the town Deia, which is a 45-minute drive from Son Bunyola.
Surrounded by the Tramuntana mountain range, jutting out from the lime green coastline to the azure sea, Son Bunyola is close to plenty of hiking and cycling trails and is perfect for an adrenaline junkie like Branson. It's also peacefully unspoilt.

The Serra de Tramuntana (Thinkstock/PA)
A property with a story to tell
On the helter skelter of a drive down from the main road, you'll gasp at the central 18th century finca building, typical of the grand farmhouses that can be found all over Mallorca and Spain. Rows upon rows of crumbling terraces lead down from it, making patterns on a landscape dotted with vines and towering olive trees.
Amazingly, some members of the team who work at Son Bunyola today actually lived in the finca as children in the 1970s. Back then, the estate was used as farmland and harvested alfalfa, almonds and vegetables.
As for the future? Plans are in the pipeline to transform the finca into a villa, and olive oil will be produced on the estate within a year.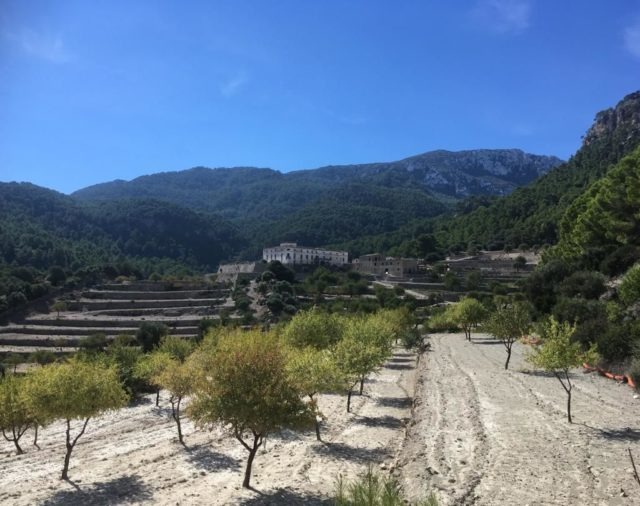 Hiking through the grounds with a view of the finca (Thinkstock/PA)
Holidaying in the lap of luxury
Perhaps it's the secluded location, with no other buildings in view for kilometres, or the fact guests have their own team and chef on hand to cater for every need –but we've never stayed somewhere so tranquil.
There are three individual villas to choose from -Sa Terra Rotja, Son Balagueret and Sa Punta de S'Aguila– and each feels very different.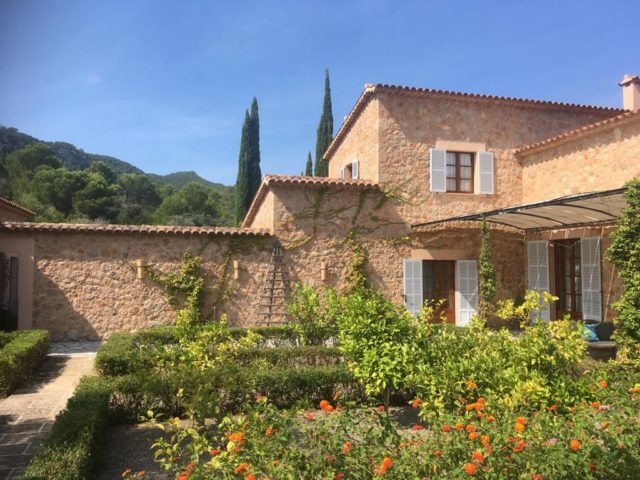 Son Balagueret (Georgia Humphreys/PA)
With handcrafted terracotta flooring and local Binissalem stone used throughout, the vibe is undoubtedly traditional –and yet, there's a clever contemporary contrast thanks to pops of bright artwork.
We stay in Sa Punta de S'Aguila, which translates as 'Eagle's Point' –a five-bedroom villa located along a track above the coastline.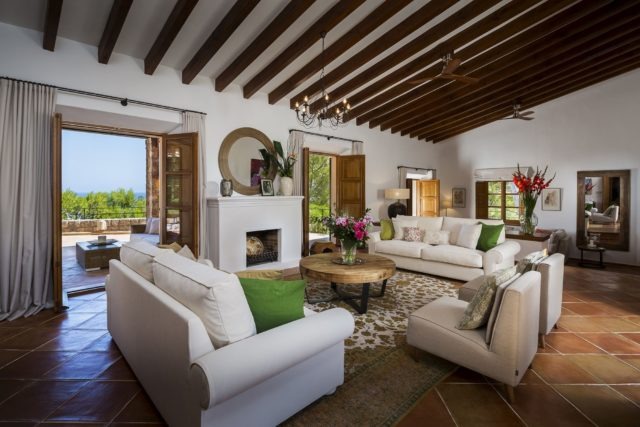 The lounge at Sa Punta de S'Aguila (Jonathan Cosh/Visual Eye/PA)
Our room feels light and airy, thanks to the exposed beam ceiling, large windows and traditional dark green shutters opening out onto a terrace.
We have access to a private heated swimming pool with a great choice of fun inflatables, and relaxing with the mountains in view is a picture-perfect holiday memory.
Relax and unwind
Mornings begin with downward dogs at sunrise on my terrace overlooking the sea. Jay from Earth Yoga, a studio in Deia, comes to lead classes tailored to experiences and preferences.
Spa therapists from Mountain Wellness also venture onto the estate to rejuvenate with an outdoor massage. The sound of birdsong means there's no need for relaxing spa music.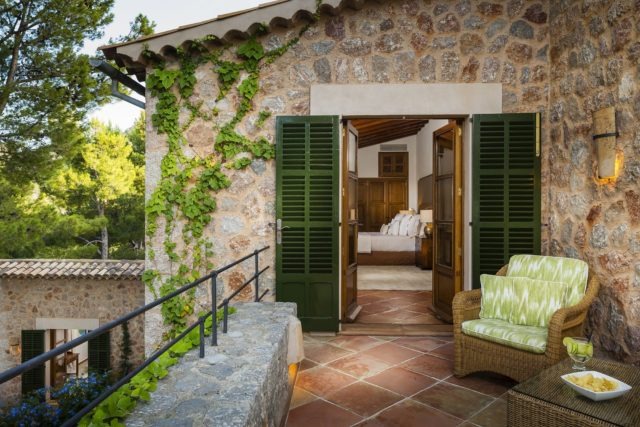 Terrace at the master suite at Sa Punta de S'Aguila (Jonathan Cosh/Visual Eye/PA)
Out and about
Branson loves hiking around the estate, and a walk not to miss is the one down to Son Bunyola pebble beach, which takes 40 minutes from Son Balagueret. Ask the team for a pair of aqua shoes, so you can clamber over the rocks pain-free, and float in the ocean with an uninterrupted view down the wild terracotta-red coast.
How to get there
A seven-night stay Sa Punta de S'Aguila costs from €23,150 per week, sleeping up to 10 people and including all drinks and meals.