It's a country that has been a popular destination for job-seekers in the ESL sector. Are you interested? Here's some advice...
Posted on
27 July 2016
|
Last updated on 19 October 2017
South Korea has long been one of the most popular destinations for teachers looking for jobs in the English as a Second Language sector. I never imagined that I, too, would be part of this community of foreigners teaching abroad. After teaching English in China, I decided that I needed a change and moved to South Korea to start a promising position at a private English academy teaching kindergarteners and elementary school children.
If you also want to follow the path towards this exciting and adventurous international career, here are some things to consider.
Why is South Korea a top ESL destination?
There are many reasons why approximately 25,000 foreigners are currently working in South Korea as English teachers.
The main reason why South Korea attracts so many teachers is the high salaries in great benefits in the region. South Korea's teacher salaries are among the highest in the world averaging $2,000 and include attractive benefits, such as paid housing and round-trip airfare, health insurance as well as severance pay upon contract completion.
On top of that, are the cost of living in South Korea relatively low and teachers are able to save up a significant amount of money each month, sometimes even more than half of the monthly salary, depending on the lifestyle.
---
You might also be interested in:
---
Life in South Korea also means living in an exciting country that is rich in history and natural beauty. You can find peaceful beaches and majestic mountains all over the country while the big cities offer all the comforts that you are used to from back home. Find out why I love teaching in South Korea so much. 
It's not hard to see why South Korea is such an attractive destination for TEFL teachers. Here is how I landed a teaching position in Korea and got my ESL career started...
Plan Early!
Moving to South Korea isn't something you can do in a matter of days, let alone weeks. It takes quite a bit of preparation to have all the necessary paperwork in order. It took me roughly half a year to be ready to board the plane and start my new life in Korea. That's due to the amount of paperwork necessary to secure a job and a work permit there.
Necessary Documents
At the moment, Korean immigration regulations require everyone who wants to obtain a E2 work visa and work as a teacher to submit the following documents:
Completed Application Form

An Apostilled Copy of a Bachelor's Diploma

Original Sealed Transcripts

An Apostilled National Level Criminal Background Check (CRC)
There are also other nationality-specific regulations you can easily look up on the Internet. Simply search for "documents necessary for Korean E2 visa" and you will find a lot of information.
The reason why you have to prepare for working in Korea up to 6 months in advance is to get all the paperwork in time. Apostilles can take several weeks and the criminal background check takes up to 3 months depending on what country you live in.
Check Job Postings and Contact Recruiters
There are several methods how to find a job in South Korea. One of them is to apply directly to job offers on online forums or websites. A great resource is Facebook groups for teachers in South Korea as many schools look for employees there.
Another great way, and also how I found my job, is by contacting recruiting agencies. These work completely free of charge for the teachers and will offer you several suitable job postings. The great thing about this method is you can tell them your preferences for location, student age groups and salary. Most agencies will also help you with your paperwork as much as they can. I
If you are looking for a position in the public school sector, the government-sponsored program EPIK is a great way to land a job. Here, you simply go to the corresponding website and fill out the application. However, you cannot choose your preferred location and competition is fierce.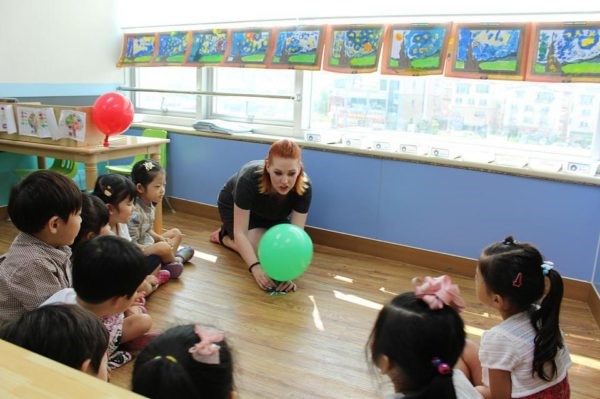 Gain Practical Teaching Experience
I had an easier time finding a good job in South Korea as I already worked as an English teacher in China. There, I taught children ages 2-12 as well as adult classes. Therefore, my school in Korea, where the age range is 5-13, hired me happily. If you do not have any prior teaching experience, don't despair! There are many ways how you can get experience while still in your home country, such as volunteering or tutoring. Basically any kind of experience with "teaching" or passing on information is welcomed.
Enhance Your Professional Portfolio
If you are in for the best jobs in South Korea and the highest salaries, you should have an impressive resume. Obviously, the more experience you have, the better. This also includes any corporate/business experience, as many schools are in need of Business English teachers. Teachers possessing a Master's degree will also have more opportunities and can even find jobs at universities that are extremely sought after due to the small amount of teaching hours, high salaries and great number of vacation days.
SEE ALSO: An expatriate guide to living in South Korea
However, if you are new to teaching and a recent graduate, you can also enhance your portfolio to stand out and secure a better job position. I did the same and got my internationally recognized TEFL certification while my documents were processing. It took me about 3 months to hold the certification in hand. After that, I also completed two specialized teaching certificated in teaching English to young learners and business English. These types of certificates increase your opportunities quite a bit.
Prepare For Your TEFL Interview
Once you got interviews lined up, prepare yourself. There is a set of questions frequently asked by employers that you can easily prepare for in advance. These questions might include your strengths and weaknesses, the reason(s) why you want to work in South Korea and your prior travel and/or teaching experience.
Also keep in mind that some employers want to see a mock lesson of you teaching. I also had to prepare an introduction video about myself for my recruiter for potential employers. It goes without saying that you should look professional even for video interviews.
Welcome to Korea!
Once you've overcome all these obstacles, you are ready to board the plane! South Korea is a beautiful country with lots of exciting attractions. You can be sure that you will have the time of your life teaching in South Korea while being able to live a comfortable lifestyle and saving up a bit of money. When are you coming to Korea?
---
About the Author
Linda is a German/American girl in her 20s loving life in Asia. She first moved to China in 2012 and moved back after graduating in San Diego in 2014. Since 2015, she happily lives in South Korea with her husband Jeongsu! She is a passionate traveler with 19 countries visited so far and counting. On her blog www.lindagoeseast.com, she writes about life, love and travel in Asia and around the world.