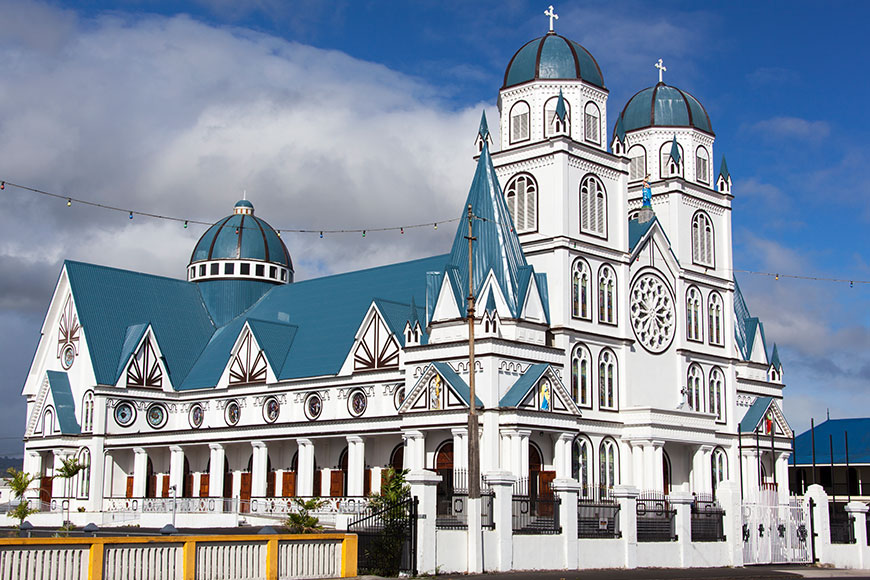 The wake of the 2009 major tsunami left Samoa with homeless residents and damaged landscape and terrible casualties. But despite this, Samoans picked up the pieces of wreckage and started rebuilding. An Island paradise, foreigners can only find in tucked hideaways of the pacific, Samoa's beaches, forests and mountains are set for those willing to rough it out. Expats will also find welcoming smiles and warm hospitality from locals. Before you meander down the beaches of Apia, have look at some important information we've got for you.

---
Expat Clubs
---
Pan-Pacific and South East Asia Women's Association
PPSEAWA comprises 23 autonomous national member organizations, many having several local chapters. Any group of women in countries within the Pacific and South East Asia areas which is committed to the purposes of the Association may apply directly to the International Council for membership. Members in member organizations may be individuals or representatives of women's organisations with common objectives.
Email:
[email protected]
Website:
www.ppseawa.org
---
International Schools 
---
These are the known primary schools in Samoa
Marist Brother's School, Mulivai
Saint Mary's School, Svalalo
Peace Chaapel School, Vaimea
Apia Baptist School, Aai o Niue
Seventh-day Adventist Primary School, Lalovaea
---
Local News in English
---
Savali News
Website: 
http://www.savalinews.com/
---
Country Information 
---
Location: Pacific
Capital City: Apia
Currency: Tala
Language: Samoan, English
Calling Code: +685
Internet TLD: .ws
Electricity: The country runs on 240V 50Hz
Emergency Numbers:  995   
Country Information
en.wikipedia.org
---
Embassy Information
---
embassy.goabroad.com/embassies-in/samoa
---
---
There are no visa regulations in place in Samoa and foreigners may enter and stay in the country visa free for 60 days. The only documentation required is a valid passport (6 months).
For extended stays, expats will have to secure a permit from the Immigration Division in Apia or any of their approved diplomatic missions in each country.
These are the types of permits:
Temporary Resident Permit for Business or Investment
Temporary Resident Permit for Academic or Scientific Research
Temporary Resident Permit for Study
Temporary Resident Permit for Cultural or Religious Purposes
Temporary Resident Permit for Employment
Temporary Resident Permit for Family Reunion or Family Support
Ministerial Permit
Purpose Approved by the Minister Permit
For the application form, please visit: www.mfat.gov.ws/visas

---
Accommodation
---
Housing options in Samoa are found mainly in the Upolo island. Savaii is undeveloped as yet. Apia, the capital is in Upolu and is swiftly making its way to modern infrastructure. The international airport is also located here. Apartment rentals in Apia costs about $470 per month for a single bedroom, and $1,500 for a three bedroom.
The major tsunami in 2009 hit Samoa badly, destroying tourism spots and leaving a considerable amount of residents homeless. But since then the country's been at getting back up and reclaiming what was lost. 
---
Driving License
---
Expats will have to purchase a Samoan Temporary Driving license from the Land Transportation Authority in Samoa. This will be valid for 30 days.
In order for expats to fully convert their driving license they will need to show their domestic license from their home country as documentary proof and pay $270 in order to obtain a Samoan license. According to the land and transport authority this is the only requirement and no tests need to be passed. However it is best to contact the Authority upon arrival in Samoa to make sure that the laws have not changed.
Land Transportation Authority
Address: P.O.Box 1607, Apia, Samoa
Tel: +685 26740
Fax: +685 26739
Email:
[email protected]
Website:
www.lta.gov.ws
---
Healthcare
---
Medical facilities in Samoa are adequate for routine and basic treatments. Costs are minimal Hyperbaric chambers are also available for diving-related injuries. More complex cases are usually done elsewhere via medical evacuation. Expats are urged to have a comprehensive medical insurance that can cover or reimburse the expensive cost of this service.
Insurance CompaniesCigna Global Health Options
Cigna Global Health Options specialise in providing expatriate health plans that are designed to give comprehensive overseas medical cover for people who are living and working abroad. They provide medical evacuation insurance cover.
Website:
www.cignaglobal.com
HospitalsMedCen Hospital
Address: P.O. Box 4500, Matautu-Uta, Apia, Samoa (Western)
Tel: +685 26323
Fax: +685 25761