Singapore is one of the ideal places to relax and go for a walk or a run with friends and family, be sure to try it out.
Posted on
25 April 2016
|
Last updated on 28 June 2017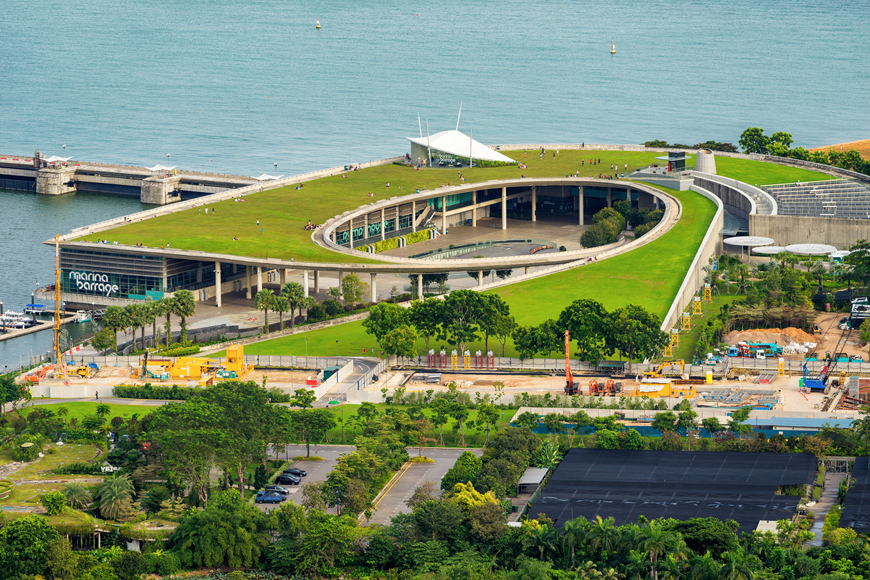 Singapore is blessed with moderate tropical weather which makes it easier to maintain lots of green land, ideal for a quick run, long walk or a family trek even!
My favorite of them is the TreeTop Walk in MacRitchie Nature Trail & Reservoir Park.
This trail takes you to the TreeTop Walk, a 250 mt long freestanding suspension bridge between the two highest points in the Central Catchment Nature Reserve (MacRitchie) and the first of its kind in Singapore.
You can enjoy very scenic views from the bridge and can see all trees below thus the name TreeTop.
This walk does not come recommended for the younger ones, or for those with disabilities, although my then 8 year old thoroughly enjoyed himself, save a few complaints of course! 
If time is a constraint you might want to avoid this one, a minimum 90 min to 2 hours is needed depending upon the agility and speed to do the tree top and back. Word of advice - Do carry water and ensure proper footwear. Keep a mosquito repellent handy or wear long pants!
---
You might also be interested in: 
---
For a less strenuous version without having to compromise on the views and serenity, the Mac Ritchie Reservoir offers scenic walking trails for families to enjoy the slower pace, with the most popular hours being between 4-6 pm.
And if you are not "sold" yet, you can even rent kayaks at the Paddle Lodge for some fun in the water. There are designated areas for beginners and for experienced paddlers.
Singapore is an island yes, but we have smaller islands off the mainland too.
Pulau (island) Ubin is an island just off the north-eastern coast and often considered the last 'kampung' (village) in Singapore.
It is a 10 minute boat ride from the Changi village jetty, requiring a minimum of 12 passengers to move which takes you back to the 1960s to enjoy the simple pleasures of life.
Spend the day walking or pedaling through rustic roads, exploring shady trails or checking out the secluded beaches. Ubin gets you back in touch with nature where air is fresher and sights and sounds more refreshing.
No trip to Ubin is complete without a visit to Tanjong Chek Jawa (or Tanjung Chek Jawa or simply Chek Jawa), a 100-hectare wetlands located on the south-eastern tip of Ubin.
Chek Jawa is among the last few places left with a natural rocky shore and is either accessible by foot or cycle (available for rent). Do stop by the provision stores and eateries for some local delights which comes at a much smaller price tag!
I know I said MacRitchie is my favorite, but perhaps the most scenic trails in Singapore are at The Southern Ridges.
It comprises of 10 km of green, open spaces that connect various parks like the Mount Faber Park, Telok Blangah Hill Park, Hort Park, Kent Ridge Park and the Labrador Nature Reserve, with Hort park being the easiest access point.
The Ridges are not only a haven for walking enthusiasts, they attract history buffs, photographers, nature lovers, bird watchers and families looking for some fun outdoor activities too.
The Henderson Waves Bridge connecting Mount Faber Park to Telok Blangah Hill Park it is the highest pedestrian bridge (standing 36 meters above Henderson Road) in Singapore and is regularly visited for its artistic, distinctive wave-like structure. Definitely on my list for the next visit!
SEE ALSO: Beaches and parks
We have our very own Coney Islands in Singapore!
The Coney Island Parks located in the north east of Singapore, is home to a wide variety of habitats, with many interesting and diverse flora and fauna, including several that are threatened, and many different species of birds.
With so much to offer this park is frequented by bird watchers, photography enthusiasts and cyclists.
The walking trail spread over 50 hectares has many rugged areas in order to maintain the natural rustic environment which may then be unsuitable for the younger children.
A park closest to nature, they do not have electricity and piped water supplies, so a visit to this park requires planning! Carry your own water, wear long pants and do not stay past the sunset! 
 
And now I miss Singapore!
---
About the Author
Just a regular person born and raised in India, married to a Singaporean and now living an expat life in Dubai - yup just a normal regular "global citizen"! With an innate love for travel, fashion and all things "healthy", am often referred to as a "junkie" - a tag I wear proudly! My name is Harshika Daryanani and I am an addict - to loving, to laughing, to living! Follow me at Only One Way to Find Out.