Little India is an ethnic neighbourhood found in Singapore that is a tourist attraction and that has Tamil cultural elements.
Posted on
3 February 2014
|
Last updated on 28 June 2017
Little India is an ethnic neighbourhood found in Singapore that has Tamil cultural elements and aspects of other cultures. Little India lies to east of the Singapore River - across from Chinatown, located west of the river- and north of Kampong Glam. Both areas are part of the urban planning area of Rochor. Little India is more commonly known as Tekka in the local Tamil community.

Little India is, as the name promises, the centre for the large Indian community in Singapore. While a rather sanitized version of the real thing, Little India retains its distinct identity without degenerating into a mere tourist attraction and is one of the most colourful and attractive places to visit in Singapore.
Little India's primary attraction is the town itself. Here too you can find the gaily painted shophouses that are an icon of Singapore, but now most of the Tamil signs (almost) disappear to be replaced with Hindi, Bengali and other Indian scripts. Stores hawk saris and gold bangles, spices and incense waft in from the doorways and Bollywood's latest sound tracks blare from every other alleyway.
Annual Events:

The most extreme thing to do in Little India is to join the festival of Thaipusam, held yearly during the full moon in the lunar month of Thai (usually Jan/Feb). Male devotees attach ornate shrines to their flesh with piercing hooks known as kavadi and walk across town in a day - long procession.

Female devotees would usually just carry a pot of milk on their head and join the procession. The procession starts from Sri Srinivasa Perumal Temple in Serangoon Road and proceeds to the Sri Thandayuthapani Temple at Tank Road.
A more low-key event happens every Sunday evening when a half-million workers from the subcontinent turn up in Little India to hang out on their day off. Most of the crowd is friendly enough, but inevitably a few get into drunken fights and there's a heavy police presence about to keep an eye on things.
Around Deepavali, the Hindu festival of light, Serangoon Road is festively decorated (with lights, of course!) and open-air markets are set up to sell Deepavali goodies. Like Thaipusam, the exact date is set by the lunar calendar, but it takes place in October/November and is a public holiday. Near the beginning of Deepavali, the fire walking festival of Thimithi is held, where many male devotees will walk across a platform of burning coal. Though the actual fire walking takes place at the Sri Mariammam temple in Chinatown, the procession starts at the Sri Srinivasa Perumal Temple in Serangoon Road and makes its way to Chinatown early in the morning where the fire walking commences.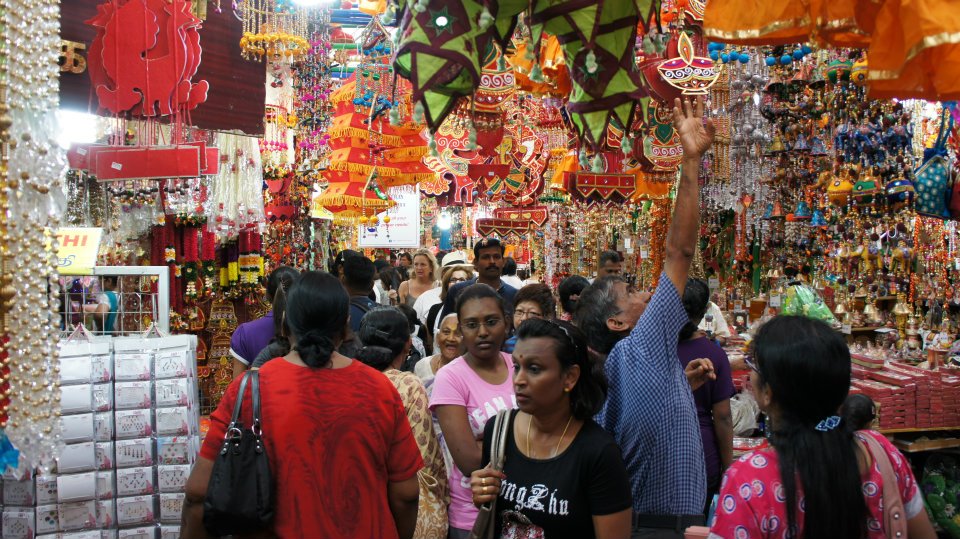 Food & Eating:
The thing to eat in Little India is obviously Indian food. Both southern and northern cuisines are well represented, food is cheap even by Singaporean standards, portions are generous and vegetarians in particular will have a field day. Note that these are authentic Indian places and people around you will be eating the way Indians do, namely with their hands - it's best to shed your inhibitions and dig in, although cutlery can be provided on request.
Drink:
Race Course Rd has some funky pubs and bars. Desker Road is Singapore's dingiest quarter of ill repute and best avoided, especially on Sundays.
Little India has quite a few sarabat stalls offering local drinks, especially teh tarik ("pulled tea", a Malaysian variant of sweet, milky Indian chai), also available in iced. A particularly popular one can be found at the intersection of Perak and Dunlop Rds, next to the mosque.
The area is served by the following MRT stations: Little India,and Farrer Park.