We went off for a week in Singapore and enjoyed the sun and fun and all the great attractions that it has to offer.
Posted on
15 May 2014
|
Last updated on 28 June 2017
My best friend moved to Singapore from Dubai and once she had settled in I couldn't wait to go and visit this amazing place. Armed with my guide to Singapore, I made up a list of all the places I wanted to see on the trip and managed to do them all!
Arriving in Singapore I was amazed at the heat and humidity, even compared to Dubai. The weather stays the same all year round with very little variation in temperatures throughout the year. The only relief is that it rains a lot. It pays to carry an umbrella and your sun glasses with you at all times when in Singapore!
I booked a 2 day ticket on one of the many tourist tour buses available, including a river cruise, to ensure I managed to see all the sights and get my bearings. The buses are hop on/ hop off and have two routes; a cultural route and a city route. I decided to go on both for the whole loop and decide where I wanted to go after that; hopping on and off at the various tourist spots. I was actually quite surprised at how compact Singapore is and the only place on my list that was actually a fair distance away was the Singapore Zoo.
All signs are in English which was a great help with my exploring and if I got lost people were very helpful, although I had soon established fixed landmarks to make finding my way around easier. I also ventured onto their metro system, after my tour tickets had expired. It was very quick and easy to navigate and would recommend this as a very affordable option compared to taxis. It's best to avoid rush hours though so you don't get caught up in commuter traffic.
Let's take a closer look at the places I visited:
 
Singapore Botanic Gardens
Admission to the gardens is free and it was wonderful to wander round the expansive green garden. To go into the National Orchid Garden there is a small charge but it is well worth it.
They had hundreds of varieties of orchids and specialised habitats such as a mist house and a cool house. I seemed to spend a lot of time in the cool house to escape the humidity! The gardens are a great place to relax, wander and enjoy a picnic.
 
The Merlion
The Merlion is a mythical creature with the head of a lion and the body of a fish, used as the mascot of Singapore. Its name combines "mer" meaning the sea and "lion". The fish body represents Singapore's origin as a fishing village when it was called Temasek, which means "sea town" in Javanese.
The lion head represents Singapore's original name, Singapura, meaning "lion city" or "kota singa". The statue is situated in Merlion Park, located near Marina Bay. The park is a really popular tourist attraction. There are 2 Merlions here, the large one that spurts water into the river and a baby one too!  There are lots of cafes and restaurants here as well as docks for the river cruises.
 
Temples

I had never been to an Asian country before so found myself fascinated by the many temples. The architecture and decorations were amazing and as I was there during Deepavali there was so much going on.
Sri Veeramakaliamman Temple is a Hindu temple located in the middle of Little India in the southern part of Singapore. The building is constructed in the style of South Indian Tamil temples common in Tamil Nadu. It is extravagantly decorated and I sheltered from the afternoon rains in its confines watching the devotees who live there go about their tasks; they were getting ready for a fire walking ceremony to be held later that day.
Founded in 1827, the Sri Mariamman Temple is Singapore's oldest Hindu temple. Located, in the downtown Chinatown district, the temple serves mainly South Indian Tamil Hindu Singaporeans. Due to its architectural and historical significance, the temple has been declared a National Monument and is a major tourist attraction. You can see from the photograph how amazing this temple is. You have to remove your shoes before entering the temple and a donation is welcomed.

Also in China Town is the Buddha Tooth Relic Temple. This inside of this temple was very opulent and resplendent in gold's and red's, with thousands of Buddha statues.
You have to cover your legs and shoulders to enter this temple and they do have pashminas on hand if you're not dressed appropriately.  The temple is a living, cultural monument inspired by the Golden Age of Buddhism in China during the Tang Dynasty.
 
China Town
Singapore's Chinatown is an ethnic neighbourhood featuring distinctly Chinese cultural elements and a historically concentrated ethnic Chinese population. It is a warren of streets containing hidden treasures of temples, markets and street food joints.
I really enjoyed wandering around this area and bought silk kimonos and tourist gifts at really reasonable prices. I got "trapped" here during a monumental downpour and took shelter in one of the many eateries.
The food here was so tasty; I tried Singapore's famous chilli crab as well as the old favourites of spring rolls and crispy duck. I would highly recommend China Town for doing all your souvenir shopping; I got some amazing Chinese decorative lanterns that now have pride of place on my balcony and a beautiful jade ring.
It is a lot cheaper here than in the shopping malls and other tourist zones.
 
Raffles Hotel
No trip to Singapore is complete without a visit to Raffles Hotel!  Opened in 1887, it was named after Singapore's founder Sir Stamford Raffles. I went here with my friend and we decided we simply had to have the afternoon tea, as well as sample the legendary Singapore Slings.
It is advisable to book the afternoon tea in advance as it gets full up very quickly, as it is one of the quintessential Singapore experiences. We also raided the gift shop for some great mementos and presents for me to take home.
We sampled the famous Singapore Slings in Long Bar and joined in the age old tradition of throwing peanut shells on the floor.
The chatty bar tender told us the story of how Raffles Hotel is reputedly where the sole surviving wild tiger in Singapore was shot and made extinct. You could almost imagine how it would have been during colonial times!
 
Singapore Zoo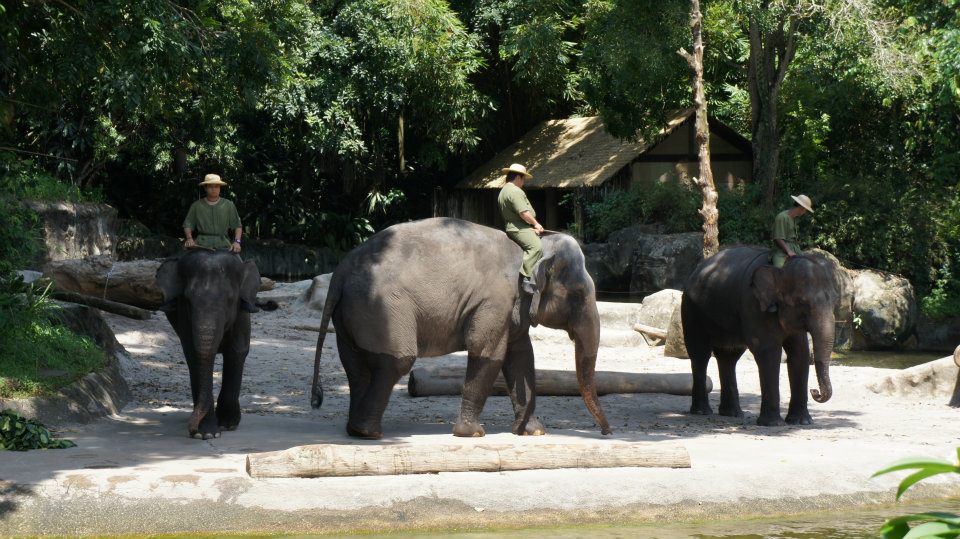 The zoo sits in 28 hectares of land and is a haven to more than 300 species of animals. It houses a huge reservoir that provides water for the wild roaming animals throughout the forest. It is also home to many of the rare endangered species such as the Malayan Tiger, the White Rhino and Cheetahs.
You can walk round the zoo or buy a ticket for the hop on hop off train. I did my usual get on the train, do the loop, get your bearings and then wandered round the whole zoo. I managed to catch a couple of the shows that they put on and join in with feeding times. I could have spent the whole day here as it was fascinating but had to make sure I didn't miss out on any of the other places. The night safari is also one of Singapore's main tourist attractions.
 
Clarke Quay
Clarke Quay was named after Sir Andrew Clarke, Singapore's second Governor and Governor of the Straits Settlements from 1873 to 1875. The Singapore River has been the centre of trade since modern Singapore was founded in 1819.
During the colonial era, Boat Quay was the commercial centre where barge lighters would transport goods upstream to warehouses at Clarke Quay. At the height of its prosperity, dozens of bumboats jostled for mooring space beside Clarke Quay. Nowadays you will find the quay bustling with cafes, restaurants and bars and is the nightlife hub of Singapore. The river boat cruises take you through the area and stops to let you off too.
 
Little India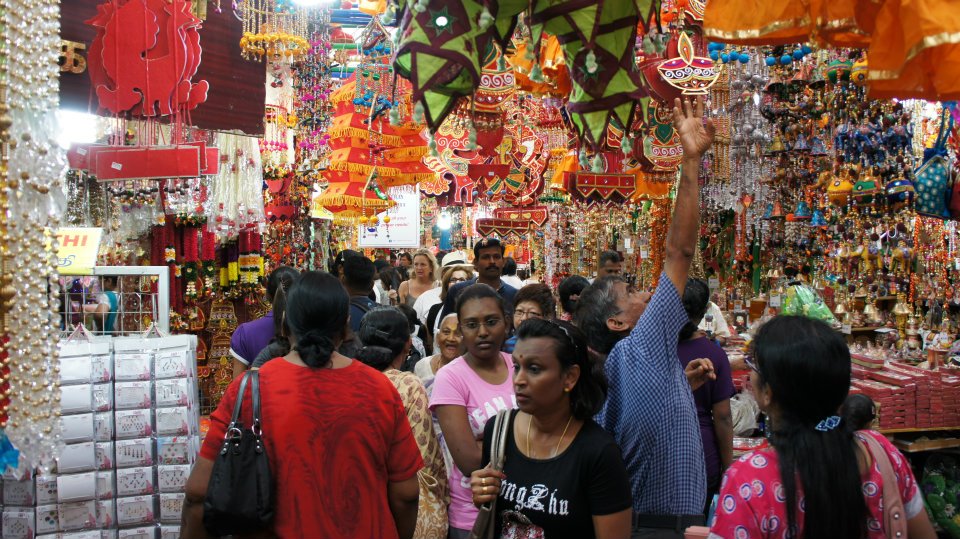 Little India's primary attraction is the town itself. Here you see find gaily painted shophouses, that are an icon of Singapore. Stores hawk saris, gold bangles, spices and incense waft in from the doorways and Bollywood's latest soundtracks blare from every other alleyway.
Around Deepavali, the Hindu festival of light, Serangoon Road is festively decorated (with lights, of course!) and open-air markets are set up to sell Deepavali goodies. I had great fun wandering round the markets although they were a bit hectic and crowded!
Other Things To See & Do
Sentosa Island is another top tourist attraction in Singapore but my friend had been and said it was great for families and as I was a solo traveller and not that fond of amusement parks I didn't visit but it is highly recommended.
Orchard Road is Singapore's shopping haven but as I was on a more of a cultural and historic trip I decided not to go down the shop till you drop route! I did drive through it on the tour bus and it looked amazing.
You cannot fail to see the impressive Marina Bay Sands hotel complex whilst in Singapore and it would not look out of place in Dubai! For a start off, it has a boat with an observation deck on the top of it!
Stretching longer than the Eiffel tower laid down, the Marina Bay Sands SkyPark's gravity-defying cantilever is one of the largest of its kind in the world. From the observation deck, hundreds of visitors at a time can feast their eyes on the panorama view of Singapore. Inside the complex is a museum, skating rink, loads of restaurants, a casino, shops, a theatre and spas.
At a height of 165m, the Singapore Flyer is the world's largest giant observation wheel and also one of Asia's biggest tourist attractions. Its panoramic view captures Marina Bay's skyline with a glimpse of neighbouring Malaysia and Indonesia. Featuring fixed capsules the size of a bus, each capsule has can hold 28 people and each revolution takes approximately 30 minutes.
I would highly recommend a trip to Singapore, it's only a 7 hour flight from Dubai and many airlines fly there. It has whetted my appetite for further flung travels into Asia and I discovered I really enjoyed visiting temples so am looking forward to maybe trying Thailand, Malaysia and more far flung places next. Singapore felt very safe and is perfect for solo women travellers and families alike. If time is of the essence the major sites could be seen on a 2 or 3 day stopover, staying a week meant I had more time to enjoy everything Singapore had to offer without frantically running about.
 

Singapore's History
Founded as a British trading colony in 1819, Singapore has become, since its independence, one of the world's most prosperous countries and has the world's busiest port. Combining the skyscrapers and subways of a modern, affluent city with a medley of Chinese, Malay and Indian influences and a tropical climate, with tasty food, good shopping and a vibrant nightlife scene, this Garden City makes a great stopover or springboard into the region.
The first records of Singapore date back to the 2nd-3rd centuries where a vague reference to its location was found in Greek and Chinese texts, under the names of Sabana and Pu Luo Chung respectively. According to legend, Srivijayan Prince Sang Nila Utama, landed on the island in the 13th century and, catching sight of a strange creature that he thought was a lion, decided to found a new city he called Singapura, Sanskrit for Lion City. There have never been any lions anywhere near Singapore so the mysterious beast was more probably a tiger or wild boar!
His descendants ruled Lion City for five generations until the last ruler was forced to flee when the Javanese attacked. By the 19th century, seafarers who roamed the region created a few settlements on the island, and some enterprising Chinese migrants established plantations.
The arrival of Sir Stamford Raffles changed everything. To counter the Dutch trading monopolies in the East, Raffles signed an agreement with the Sultan of Johor, Malaysia. This allowed the British to establish a trading port in Singapore. This marked the beginning of Singapore's modern era. Sir Stamford Raffles turned the island into a thriving trading post between the East and the West. The foundations were setup for Singapore's remarkable growth.
---