5 Autumn/Winter Nail Trends You'll Actually Want to Wear
These are the nail hues to choose this season
Posted on
21 October 2019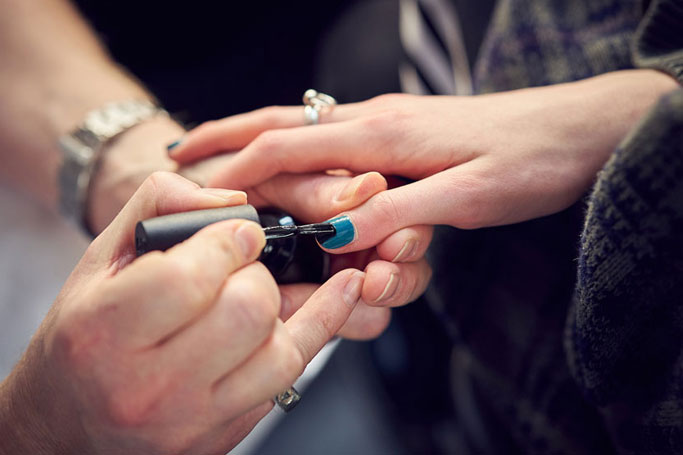 Surveying the AW19 backstage beauty trends, when it comes to nails, there were some bonkers – but brilliant – designs on show.
From curved, two-inch talons at Rick Owens to shiny golden fingertips at Lanvin, these lavish creations are not exactly ideal if you need to use your phone, rummage in your bag or make it through the day without harming yourself or others.
1. Pearls
Once the preserve of grannies and ladies who lunch, pearls have made a massive comeback in fashion recently, seen on everything from bags and hair accessories to knitwear.
Now, they're on nails. At the Adeam AW19 show, models had pearl beads of varying sizes dotted on top of a metallic blue base, while at Yuhan Wang, tiny pearls were peppered all the way down the fingers.

Sounds like this fits in the 'not very wearable' category? To make it both pretty and practical, instead of using beads, paint dots with a pearlescent polish instead.

OPI Chopstix and Stones, £8.95/AED42.53, Nail Polish Direct

OPI It's in the Cloud, £7.95/AED37.78, Nail Polish Direct

Peacci Candy Nail Polish, £10/AEd47.52

Sensationail Nailtural Reliable Rose, £6.99/AED33.22, Boots
3. Green nails
Slowly but surely, in response to consumer demand, the beauty industry is taking steps to become more environmentally sustainable, and that includes nail varnish.
Barry M has launched a Green Origin collection of vegan polishes made from 70% ethically-sourced natural ingredients, including potato, corn and wheat.
Inspired by nature, the eight wearable shades include Evergreen, a green as deep as pine needles, and Mushroom, a soft grey-brown.

Barry M Green Origin Nail Paint Evergreen, £3.99/AED18.96, Superdrug

Barry M Green Origin Nail Paint Mushroom, £3.99/AED18.96, Superdrug
4. Seventies shades
From heritage tweeds to leather trousers and swishy skirts, Seventies fashion is a major trend for AW19, so you'll need the perfect polish to match.
Enter Mavala's Retro collection. This six-piece line-up has all the shades you need, from creamy ivory and slate grey, to burgundy and pale peach.

Mavala Tunis Nail Polish, £5.20/AED24.71, Nail Polish Direct
Mavala Maputo Nail Polish, £5.20/AED24.71, Nail Polish Direct
5. Deep blues
Got the blues? You'll want them when you see the stylish but simple nail art at House of Holland, where OPI technician Robbie Tomkins started with a base of teal and added a thick stroke of black at the tip to create a bold aquatic effect.


OPI Is That a Spear in Your Pocket, £13.50/AED64.16
OPI Lady in Black, £13.50/AED64.16

Nailberry Moonlight, £14.50/AED68.91