6 Beauty Trends You Need To Know For Spring Makeup Looks
Pastels are SO last spring, we're into neon's now!
Posted on
22 February 2018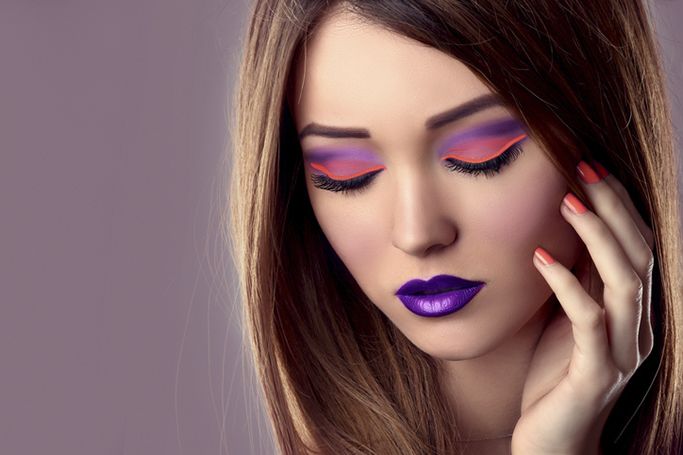 All below image credits: Pinterest
Fashion weeks are currently showcasing the latest makeup trends we'll be following for spring in Dubai, as the cat-eye flick (has it ever gone away), glossy skin, and neon shades are just some of the beauty trends that are back for the season ahead.
So if you're currently searching for inspiration for your spring beauty buys, then we have the makeup bag must haves that will complete any spring look. As the Dubai weather heats up, it's out with winter's rose gold shades and classic matte red lip looks and in with bold new picks of blue eyeshadows and disco grunge glitter perfect for a night out in Dubai.
Surprisingly the spring favourites of pastels and florals are NOT the beauty pick of makeup artists for the season, as you can save them for your wardrobe instead! Spring 2018 beauty trendsare turning alternative, as we have the 6 makeup trends that you need to know before we're in March…
Prepare to glow this spring with neon eyelids ewmoda can't wait to copy and paste!
#1 The Feline Flick
We've said it already, but seriously when did this beauty trend ever stop?! Nevertheless OTT eyeliner was a hit at New York and London Fashion Weeks, as we're still searching for the best winged eyeliner method that will make our cat-eye flicks look like identical twins (not sisters who have little resemblance)!
Look to Adele, Hailee Steinfeld and Lily Rose Depp for celebrity beauty inspiration on your winged eyeliner looks and invest in Charlotte Tilbury's Feline Flick (yes she made an eyeliner specifically for cat-eye flicks, what a babe) for creating an old-Hollywood cat-eye in one swoop, easy!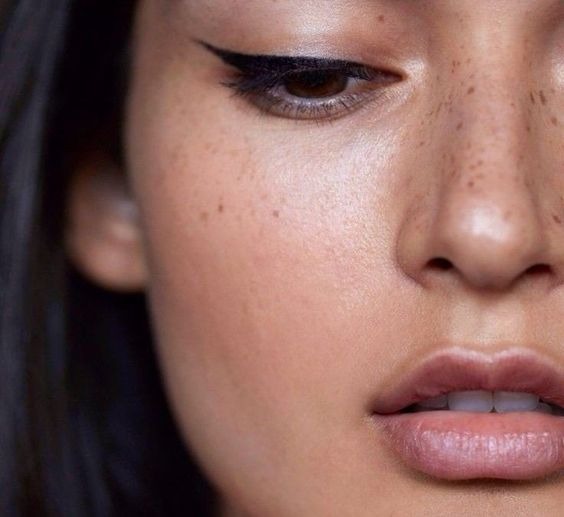 #2 Glazed Skin and Glossy Eyes
It's all about that spring glow! High shine and high beam products are in demand, as our daily go to for spring has got to be the Benefit Cosemetics High Beam Highlighter which is available in Dubai from Sephora.ae. Highlighters accentuate the cheeks, give the ultimate contour definition and subtly leave your skin glowing for spring sunshine in Dubai.
A big beauty trend this season, the glossy and glazed makeup look uses shiny top coats and holographic finishes with lots of pigment. As we're also getting into liquid eyeshadows and creams for spring.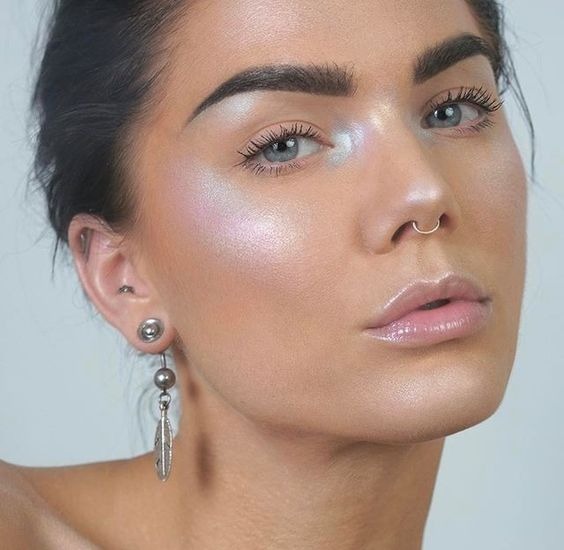 #3 Blue Shades
Certainly not a typical colour for spring, but blue eyeshadow has dominated fashion week beauty looks so far and if you think about it a turquoise eyeliner with mermaid vibes is totally acceptable for spring in Dubai, right? As we're also obsessing over Make Up Forever's Eyeshadow Aqua Cream and Maybelline's Color Tattoo Eyeshadow in 40 Tenacious Teal, oh and MAC's Satin Eyeshadow in Electric Eel, there are too many to name at the moment as this is the "it" shade.
Don't be afraid to be bold with blues, as it's another big beauty trend for spring and a makeup look you have to experiment with this season.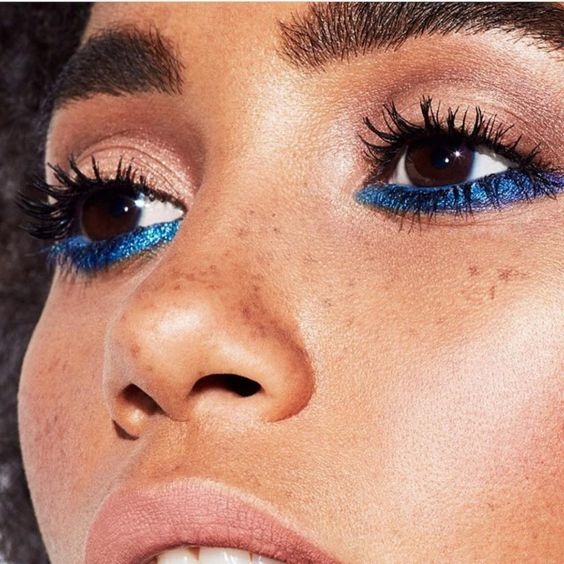 #4 Disco Grunge
You may have thought that the glitter eye look is strictly for festive occasions and summer festivals, however there's a new way to style your glitter makeup as we're calling this glitter with an edge. Think disco grunge, punk vibes and smoky shadowed eyes that still sparkle!
This makeup look is still great for concert looks this spring and dressy occasions, as its alternative glamour might surprise you. We recommend Projekt Glitter Biodegradable Glitter Set for grunge glitter that lasts the whole party.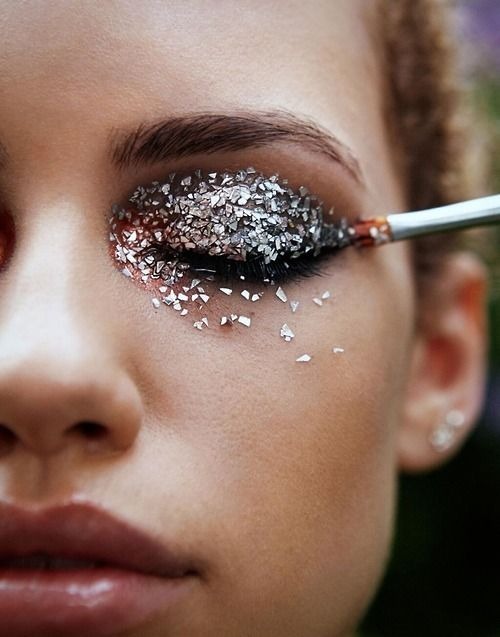 #5 Neon Glow
Pastels may be in for your spring wardrobe, but are being replaced by neon shades when it comes to beauty. Outrageous oranges, sharp yellows and luminous limes are about to be your new favourite shades for spring, as we can't help but love this refreshing new beauty trend which will make you glow in an alternative way.
Perfect for standing out from the crowd, or trying to find your lost friend on the dance floor, this new eyeshadow palette is bright and vibrant and on trend at fashion weeks this February. Try the NYX Ultimate Shadow Palette in Brights, as there's a neon shade for every Dubai occasion.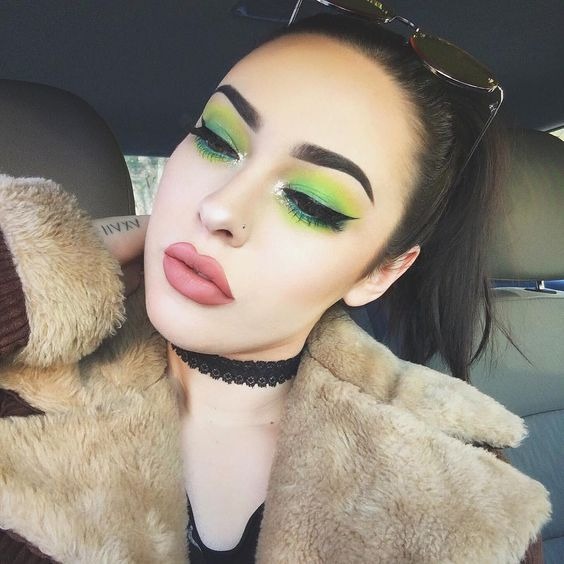 #6 Reinventing the Red Lip
For so long now we've been crushing over the matte red lipstick look, it's become a date night classic and a symbol of old-school glamour. However spring 2018 beauty trends are all about glossing over everything! From your eyes to your skin, the glazed makeup look is also being used to create a new red lip look we love just as much as matte.
A glossy top coat is what you need to touch up any red lip look, as we need to invest in the Givenchy Vinyl Interdit Gloss for spring nights at one of Dubai's sundowner spots.