How To Get And Maintain Icy Blonde Hair
It requires a fair amount of upkeep, but it's definitely worth it.
Posted on
29 November 2018

A new season often makes us want to mix up our look. If you're still wondering what change you should make, luckily Hilary Duff is here to give you some hair inspiration.
Duff is the latest celebrity to don the 'winter white' look, with an icy blonde hue that is perfect for wintertime.
But, before you transform your hair from dark to platinum blonde –you should know, it isn't the easiest change to make. We spoke to the experts to find out everything you need to know if you're also looking to make a seasonal hair switch…
Instagram @hilaryduff
Make sure you have the right kind of hair
Before you start colouring have a full consultation with your colourist. For this sort of colour work, hair needs to be in the right condition (it needs to be strong), so you might need a course of pre-treatments so that it's easier to maintain the condition of the hair afterwards.
Consider whether your hair is already coloured and if it is originally dark, because this could mean you need to do more than one application of the dye.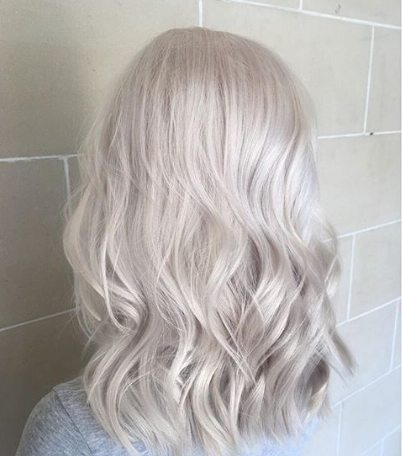 Instagram @hairby.marin_
Know what you're undertaking
As far as hairstyles go, this isn't an easy one to maintain so you should be well aware of how much work is involved. Statement winter blonde is always great to see, but the transformation process is quite long and the upkeep is hard work.
The process itself
Hair will need to be bleached or coloured with a highlift blonde to a pale yellow and then toned, depending on your undertones. This means it's probably not a short or easy process – Duff says herself she spent quite a long time in the salon for her new 'do. The key part of this sentence is 'salon.' You shouldn't attempt this look at home, because there are a lot of factors to consider.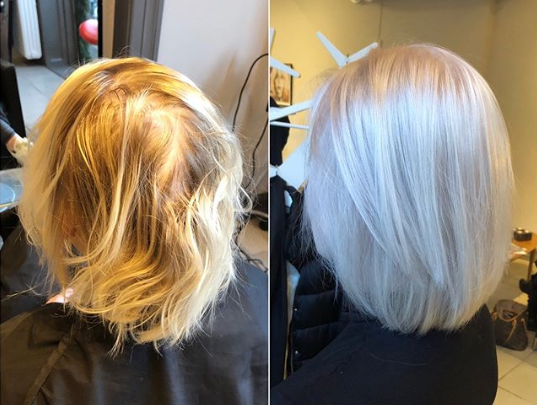 Instagram @nikkilee.frisor
Aftercare is important
Once you've got the long appointment out the way and have your winter white hair, upkeep is important so you can keep your new look and don't wreak too much damage on your locks. Treatments are essential as this is a stressful procedure on your hair, but is possible to pull off if you are patient and prepared to look after it.
We recommend touching up your roots every three or four weeks so you don't have to do a long and costly regrowth applicator. After a bonding service I would recommend a glaze to seal the hair and add that super important gloss. At home care is also super important, and keratin restore bonding shampoo and masks will keep your hair at its best.