NYFW: The Disney Villain-Inspired Nails That Took 500 Hours To Make
Nails fit for an evil queen!
Posted on
9 September 2018

All image credits: Getty images/ Madison Voelke/ Instagram
So far Spring/Summer 2019 shows at New York Fashion Week have told us that next season's nails are going to be minimal –think neutral and nude tones, with simple designs. Yet, there is always an exception to the rule, and The Blonds Disney villain-inspired show was definitely the exception.
Nail art brand CND collaborated with Disney to create the most embellished nails for The Blonds Spring/Summer 2019 runway. Fit for an evil queen, the nails payed homage to the darkest of divas, from Ursula to Cruella de Vil and Maleficent.
Jan Arnold, co-founder of nail brand CND revealed that "The nails took around 500 hours from start to finish." This included initial discussions with The Blonds teams, sculpting time, designs and the final touches to each individual nail.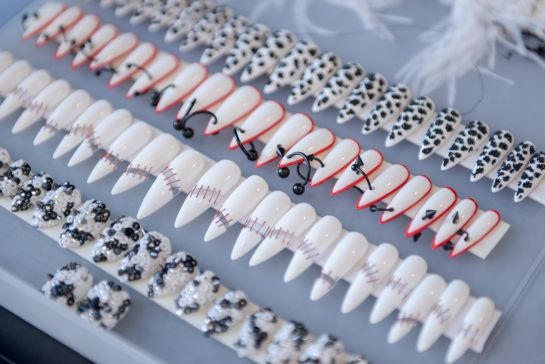 The nails were elaborately decorated with the most intricate details, from the Evil Queen's shards of broken glass mirrors to Ursula-esque tentacles and Dalmatian spots with red Swarovski crystals –there was definitely no holding back.
Whether you're a Disney fan or looking for Halloween beauty ideas, these villain-inspired nails are sure to impress –if only for their insane detail.


The Blonds Disney villain-inspired collection at NYFW was a must-see from start to finish, but the sinisterly sharp nails were arguably the star of the show.
"These villains use their nails to do their evil deeds," Arnold continued, as the weapon-like nails added an even darker dimension to The Blonds menacing showcase.