9 Rules To Live Large In A Small Space
Small house, big living.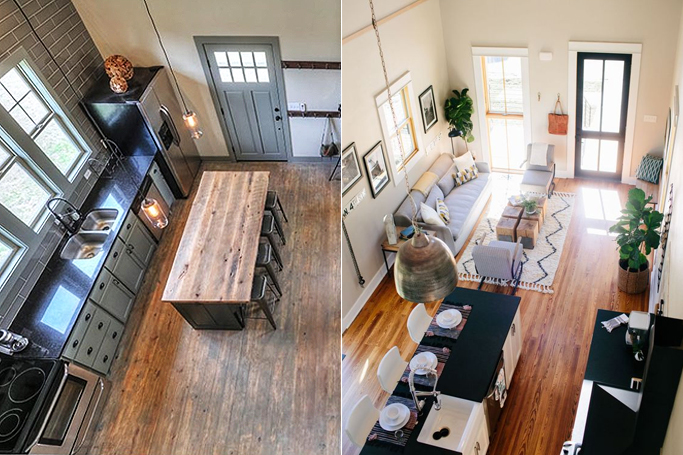 This goes out to more than half of Dubai's population: Just because your house is small doesn't mean you can't live large.
It makes sense to ignore décor or ambience when your bedroom is barely big enough to fit your bed and your living room serves as an office, dining area and sitting room — all at the same time.
But does that mean you should live in cramped clutter? We say, not at all.
Living in a small space comes with many challenges but there are plenty of easy solutions to make your tiny apartment look classy and airy. Scroll down to see tried and tested tricks that are really all about making smart choices.
1. Invest in multi-functional pieces.
Rule 1: Mess that doesn't show isn't really a mess.
If your idea of getting rid of the old stuff is to pile up everything and put it in a box then do yourself a favour and sneak in some multi-purpose furniture. These handy items such as Ottoman beds, convertible sofas and folding chairs can really help stretch your space.

image credit: Pinterest
2. Use mirrors to give an illusion of space.
This is one of the oldest tricks in the book. Placing mirrors strategically across from a window is the best way to reflect light and make the room feel bigger in size.

image credit: Pinterest
3. Space out your furniture.
Never push furniture against the wall as this gives the illusion of a cramped space.
Also, instead of buying boxed furniture, try to buy furniture with exposed spaces. It's not only easier to clean underneath but it also leaves some breathing space.

image credit: Pinterest
4. Don't cover your kitchen windows.
Natural light is your source of brightness so let it flow with curtain-less windows. If you're worried about privacy then opt for blinds instead of fabric curtains.

image credit: Pinterest
5. Use the space behind the couch to add visual depth.
And of course, to put some more stuff.

image credit: Pinterest
6. Go upwards.
Whenever you're adding any new piece of decor or shelves — think vertical. Instead of placing everything on te floor, add hanging shelves, especially in the kitchen and bathroom area where you need to put a lot of stuff in front of you.

image credit: Pinterest
7. Get creative and build your own space.
Let's face it: You'll ALWAYS have more clutter and less space so be thrifty. Don't let useful spaces (behind the sofa, near the entryway and alongside edges) go to waste.
These sweet spots will save you from a lot of trouble of finding specific places for books, crockery, magazines etc.

image credit: Pinterest
8. Paint with light hues.
Blacks, greys and browns aren't really known to cheer up a room so think in a colour palette that's light and neutral — colours that will expand your space to the naked eye.

image credit: Pinterest
9. Ditch walls in favour of sliding doors.
Cause they look chic and can be used when required. Plus, they take way less space than a wall.

image credit: Pinterest