Travelling to/from Qatar from some places is challenging, but not impossible
Posted on
9 December 2019
|
Last updated on 9 December 2019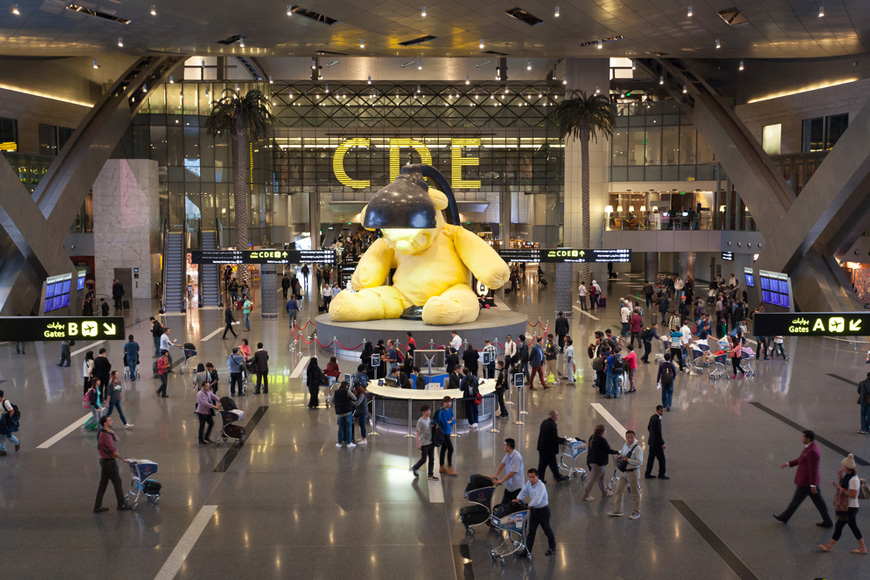 With the current embargo still enforced, travel between Qatar and UAE can be a challenge.
Qatar Airways no longer flies directly to the UAE, Egypt, Saudi Arabia or Bahrain. Add to the complexity of booking, Qatar centric websites are often blocked in these locations so you likely cannot access Qatar Airways or travel companies that provide services.
If you find that direct sites are blocked, it is suggested that you first look through a global travel aggregator like Travelocity or Booking.com. These sites will provide you with insight into options for carriers and flight itineraries. Once you determine your preferred carrier and flights, you can opt to visit the carrier directly to confirm that the information is accurate and check the market pricing.
Travelling From UAE to Qatar, via Oman or Kuwait
The most popular route for traveling from Qatar to the UAE, and vise-versa, is via Oman. Muscat International Airport (MCT), formerly Seeb International Airport, is the main international airport in Oman and is situated 32 km from the old city and capital Muscat within the Muscat metropolitan area. The airport serves as the hub for flag carrier Oman Air and Oman's first budget airline Salam Air features flights to several regional destinations as well as some intercontinental services to Asia, Africa, and Europe. Terminal 2 was built and opened in 1970 and has been expanded several times. In March 2018, the newly constructed and state-of-the-art Terminal 1 was opened with the goal of Phase 1 to handle the capacity of 20 million passengers per year. It is a beautifully designed terminal with global and local food options and vendors.
Another option for transit between Qatar and the UAE is to transit via Kuwait. Kuwait International Airport (KWI) is an international airport located in Farwaniya, Kuwait, 15.5 km south of Kuwait City. It serves as the primary hub for Kuwait Airways and Jazeera Airways. Terminal 4, inaugurated in 2018, is dedicated to Kuwait Airways flights and operations. Terminal 5 is attached to Terminal 1 but has dedicated entrance/exit points also opened in 2018 as Jazeera Airways' dedicated terminal.
As a passenger, you may transit through Oman and Kuwait easily, however, if you wish to exit the airport a visa is required for several nationalities. You may apply for a tourist visa for Oman through the Royal Oman Police.
Pictured: Muscat International Airport
Qatar-Oman Joint Tourist Visa (on Arrival)
This visa is issued upon arrival and is valid for 30 days for the State of Qatar and the Sultanate of Oman. It allows for multiple entries to both countries and is extendable for an additional 30 days for a fee. Citizens of the following countries are eligible for the joint visa:
Andorra
Australia
Austria
Belgium
Brunei
Canada
Cyprus
Denmark
Finland
France
Germany
Greece
Hong Kong
Hungary
Iceland
Ireland
Italy
Japan
Liechtenstein
Luxembourg
Malaysia
Monaco
Montenegro
Netherlands
New Zealand
Norway
Poland
Portugal
San Marino
Singapore
South Korea
Spain
Sweden
Switzerland
United Kingdom
United States
Vatican City
Kuwait eVisa for Visitors
For Kuwait, a tourist visa is available. The Kuwait eVisa allows visitors to enter and travel around Kuwait for touristic purposes. Those eligible to apply for a Kuwait eVisa (all foreign nationals and residents in GCC Countries: Saudi Arabia, Bahrain, Qatar, United Arab Emirates, Oman, regardless of their citizenship) can complete an online application which only takes a few minutes.
It is necessary to check if you are eligible for an eVisa as eligible countries are subject to change. If you do not qualify for an eVisa, a Kuwait visit visa must be sponsored by a Kuwait company or by a relative that is a resident foreigner staying in the country. Some nationalities are banned from entering Kuwait so ensure you check before planning a trip via Kuwait.
Pictured: Kuwait International Airport
Entry Into Qatar
Nationals of more than 80 countries are eligible for visa-free entry into the State of Qatar, with varying allowable lengths of stay. Nationals of the eligible countries do not require any prior visa arrangements and can obtain a visa waiver upon arrival to Qatar, upon presentation of a valid passport with a minimum validity of six months and a confirmed onward or return ticket.
For nationals of the countries listed below, the waiver will be valid for 180 days from the date of issuance and entitle its holder to spend up to 90 days in Qatar, during either a single trip or on multiple trips.
Antigua and Barbuda
Argentina
Austria
Bahamas
Belgium
Bulgaria
Croatia
Cyprus
Czech Republic
Denmark
Dominican Republic
Estonia
Finland
France
Germany
Greece
Hungary
Iceland
Italy
Latvia
Liechtenstein
Lithuania
Luxembourg
Malaysia
Malta
Netherlands
Norway
Poland
Portugal
Romania
Serbia
Seychelles
Slovakia
Slovenia
Spain
Sweden
Switzerland
Turkey
Ukraine
For nationals of the countries/regions listed below, the waiver will be valid for 30 days from the date of issuance and entitle its holder to spend up to 30 days in Qatar, during either a single trip or on multiple trips. This waiver may be extended for a further 30 days.
Andorra
Australia
Azerbaijan
Belarus
Bolivia
Brazil
Brunei
Canada
Chile
China
Colombia
Costa Rica
Cuba
Ecuador
Georgia
Guyana
Hong Kong, China
India
Indonesia
Ireland
Japan
Kazakhstan
Lebanon
Macedonia
Maldives
Mexico
Moldova
Monaco
New Zealand
Panama
Paraguay
Peru
Russia
San Marino
Singapore
South Africa
South Korea
Suriname
Thailand
United Kingdom
United States
Uruguay
Vatican City
Venezuela
Electronic Travel Authorisation
Individuals who are not eligible for visa-free entry, but who hold a valid residence permit or visit visa to either Schengen countries, Australia, Canada, UK, USA or New Zealand, can obtain an Electronic Travel Authorisation (ETA) free of charge* by completing an online application prior to travelling.
The form is easy to fill in. You will be asked to provide:
proof of accommodation in Qatar (e.g. hotel booking, or your host's address)
details of your return (or onward) travel
a copy of your passport (with a minimum validity of six months)
a copy of your residence permit or visa to any one of the eligible countries stated above (with a minimum validity of 30 days).
Once your request has been approved** you will receive an Electronic Travel Authorisation (ETA) allowing you to obtain a visa-on-arrival to Qatar, which in turn allows you to stay in the country for up to 30 days during a single visit. The visa may be extended for an additional 30 days, to be used during the same visit. If you leave the country and wish to return, you will need to apply for the new ETA before travelling back to Qatar. Apply for an ETA here: www.qatarvisaservice.com.
Tourist Visa
Individuals not eligible for visa-free entry or ETA can apply for a Tourist Visa online. Visitors to Qatar travelling onboard any airline may apply for a Tourist Visa through the Qatar Visa Service. The cost of the Qatar Tourist Visa is QAR 100. Tourist Visa holders are allowed to stay in Qatar for up to 30 days on a single trip.
To submit a request for a Qatar Tourist Visa, visitors are required to:
complete an online form
upload required documents (including passport scans & personal photographs)
provide an airline booking reservation
make an online payment using a valid Visa or Mastercard
Regulations are fluid and continually change so please ensure to check regulations prior to booking travel.