The city is becoming more and more tolerant of pets in public places
Posted on
21 October 2019
|
Last updated on 28 January 2021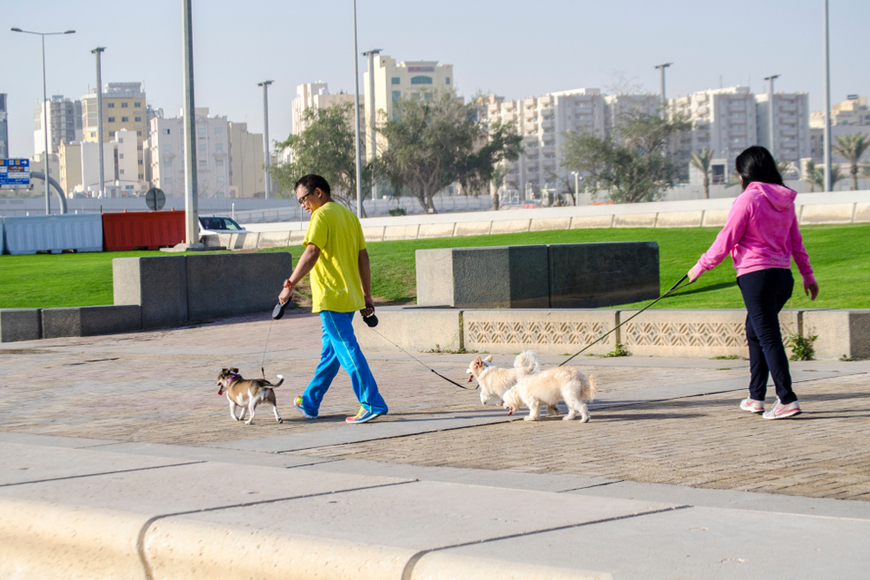 Wanting to get out and explore with your furry friend in tow? Head to one of these dog-friendly locations in Doha.
Finding pet-friendly parks, beaches, restaurants, and hotels in any Middle Eastern country can be a challenge. Due to searing temperatures during summer, a lack of green spaces, and strict laws for dog-owners, it can be difficult to find somewhere that will welcome your dog, too.
Despite this, Doha is thankfully becoming more tolerant of pets in public places and is developing an infrastructure to support pet owners and their furry friends.
SEE ALSO: Importing a pet into Qatar - a complete guide for expats
Here is a selection of pet-friendly places in Doha where you can spend some quality time with your pooch.
1. Cafe 999 at the Fire Station
If you crave a cup of coffee or a hearty breakfast before taking your dog to Al Bidda Park, be sure to enjoy sitting outside on the terrace at Cafe 999. Otherwise, you are welcome to pop in for lunch, in the cooler months, and enjoy a salad, wrap or burger with your dog at your side.
2. Oxygen Park
Located in Education City and spread over 130,000-square-meter of land, Oxygen Park is popularly known as the Green Lung of Education City. The park is designed for families and it is equipped with all required facilities including entertainment, sports facilities and play areas for children.
3. Al Bidda Park
Dog owners rejoiced in February 2018, Qatar National Sports Day, when Al Bidda Park became the first pet-friendly park in Doha. Extending over an area of about 2 million square meters, Al Bidda Park includes a number of public service facilities and an area with underground parking spaces for approximately 6,000 cars.
The park also features a human maze, large gymnasiums, including one for women, in addition to outdoor exercise equipment, sports, open-air playgrounds, an open theatre which can seat 850 spectators, as well as tracks for bicycles, horses and camels, water areas, and other recreational and service facilities. It is a great way to spend a day outdoors with your pooch.
Al Bidda Park became the first pet-friendly park in Doha in early 2018
4. The Pearl
Pets are allowed on the main roads and parks on The Pearl. The biggest of three pet-friendly parks at The Pearl is called the Grand Park. However, during any events at parks, you are advised not to take your pet with you. Moreover, pets are not permitted to the beaches, swimming pools or common areas.
5. Maroona or 'French Beach'
Situated approximately an hour north of Doha, just before Fuwairit Beach, French Beach is a little slice of heaven for your family and furry friend. With turquoise green water and white sand, this is an idyllic place to spend the day with your dog. There are no facilities located at this beach, however, there is a nearby stop of approximately 10 minutes away. Pack a picnic and shade and head out for a relaxing beach break.
6. 'Dog Beach' at Al Wakra Beach
There is a portion of Al Wakra Beach where dog owners can bring their dogs to socialize, run off the leash and swim. Come during low tide and the dogs can run for a few kilometers in shallow water.
Although the beach itself isn't remarkable, it is an excellent chance for your dog to release some pent-up energy while you socialize with the lovely group of dog owners enjoying the beach with their dogs.
Doha's Al Wakra Beach is loved by both dogs and their owners
7. Purple Island
There are no certain laws to prohibit pets from visiting Purple Island and people usually do take their pets for a nice long run. Located in Al Khor, Purple Island is a great place to have a fantastic time with your dog, but as the causeway to the island was demolished, the island is only accessible at low tide.
Editor's update (January 2021): Purple Island no longer permits dogs.
8. Radisson Blu Hotel
In Salwa just off of the C Ring Road, the Radisson Blu boasts a pet friendly policy. The Radisson Blu offers a choice of 9 on-site restaurants and 4 all day dining cafes and bistros or simply order room service for you and your pampered pet.
9. W Doha Hotel & Residences
Doha's first lifestyle hotel by Marriott is located in West Bay and offers an ultra-chic environment for you and your pet to stay. Ideally located on the on the Corniche, the W Doha offers easy access to the bustling city center and several of Doha's treasured points of interest.
Editor's note: W Hotel has a weight limit of around 15kg / 35 pounds for your pet, and may charge an additional daily rate and an end-of-stay deep cleaning fee.
Inside the W Doha Hotel, a pet-friendly hotel in the city
10. The Dromedary Club
Located near the Radisson Blu Hotel, the Dromedary Club allows pet owners to bring their pets for dining on the weekends (not allowed during the week). Pets are allowed to accompany their owners on the outside terrace which is covered and is air-conditioned in the warmer months. While visiting ensure to learn more about its origin, since it started out as a leather crafting company and its wide range of activities and learning workshops.