We take a look at some popular residential areas in Bahrain, including Manama, Saar, Isa Town, Amwaj Islands and Riffa.
Posted on
29 August 2013
|
Last updated on 4 August 2019
Bahrain is a small country and essentially everything in the whole country is nearby. However, the country is divided into towns with different areas. The main towns are Manama, Riffa, Sanad and Isa Town. Many expats choose where to live according to where they are working or where their children are going to school. Some expats also make their housing budget a priority. Here we have a short description of each of the areas in Bahrain where expats reside.

Manama
Manama is the capital city of Bahrain and the largest city in the Kingdom. Historically, Manama has been restricted to what is now known as the Manama Souq and the Manama Fort (now the Ministry of Interior) to its south. However, the city has now grown to include a number of newer suburban developments as well as older neighboring villages that have been engulfed by the growth of the city. A two-bedroom will cost you around 600BHD per month. 
View apartments for rent in Manama
Adliya
Adliya is a busy and multicultural area in Bahrain. It is a popular residential and commercial area and it is known as the bohemian area due to its many cultural aspects. Many young families, expats and Bahrainis live in Adliya's apartments and villas. The area is popular due to many cafes, shops, galleries within the heart of the neighborhood, including a pedestrian square that makes socializing easy. A two-bedroom apartment in Adliya will cost approximately between 500 and 700BHD per month.
View apartments for rent in Adliya
Juffair
Juffair is a bustling area located in Manama city that has many hotels, shops, restaurants, apartments and villas. It is popular with expats and the commercial retail in the area reflects this with restaurants, such as MacDonalds, Nando's and Starbucks. The Bahrain school and the Modern Knowledge School are both located in Juffair. The area attracts young expats and Bahrainis. The prices of apartments vary greatly and a three-bedroom apartment can cost anywhere between 600 and 1300BHD per month.
View apartments for rent in Juffair
Saar
Saar is a suburb of Bahrain, alongside a village located northwest of the island. The area is typically inhabited by affluent families, ambassadors and expatriates residing in compounds, large villas or gated communities. Originally a farm land, Saar is greener than urban residential areas in Bahrain with less traffic movement in its neighborhoods. A four-bedroom villa in Saar costs anywhere between 800 and 1500BHD per month.
Amwaj Islands
Amwaj Islands is a group of man-made islands built for the purpose of being a residential gated community. Amwaj Islands have a complete sea view and are popular with expats as they can purchase a home here with 100% freehold land ownership of villas and apartments. The island contains residential, commercial, service apartments and retail spaces, as well as a marina. Amwaj is a true community with facilities that include a private school, a hospital, a fuel station, a fitness center and a lagoon side dinning and cafe district. A two-bedroom apartment on one of the Islands will cost around 450-750BHD.
View apartments for rent in Amwaj Islands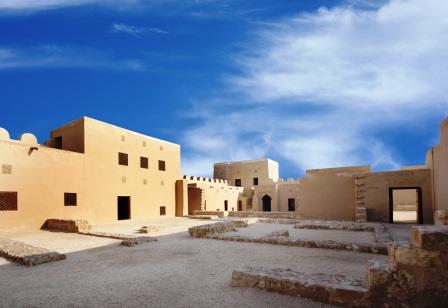 Riffa
Riffa is one of the fastest growing towns in Bahrain and is divided into two areas, East Riffa and West Riffa. 
East Riffa is a popular residential area among expats, especially the newly developed Riffa Views, which includes artificial lakes and an international school. A four-bedroom villa will cost between 1100BHD and 1500BHD per month. East Riffa is home to the prestigious Royal Golf Club, which is popular with expats and visitors to the region. 
West Riffa is predominantly a residential area. Most of the ruling family, ministers and business investors live there. His Majesty King Hamad Bin Isa Al Khalifa of Bahrain lives there, as well as the Prime Minister, Sheikh Khalifa Bin Salman Al Khalifa. Riffa's famous clock tower is located in the center of West Riffa.
West Riffa and East Riffa, each has its own football club and stadium.
Sanad
Sanad is a town in Bahrain that is resident to mainly Bahraini nationals; however, a small number of expats also live there. Sanad is an area with mansions, gardens and restaurants and has been home to many famous faces, including Michael Jackson (for a short period). It is divided into four regions and the Estiqlal highway runs through it. This highway connects Sanad to Isa Town and Riffa. A three-bedroom villa rental in this area will set you back between 800 and 1400 BHD.
Madinat Issa
Isa Town is home to many middle class Bahrainis and comprises mostly of villas. There are not many expats who live in Isa Town; however, it has one of the greatest concentrations of private schools in Bahrain, including Ibn Khuldoon National School, St. Christopher's School and the University of Bahrain. Isa Town is famous for its traditional market and is a tourist hotspot for the purchase of frankincense, spices and traditional artifacts. Besides this, Isa Town is also home to the Bahrain National Stadium, the Ministry of Education and the Bahrain TV & Radio broadcasting station. A two-bedroom apartment will set you back 200BHD per month.
View apartments for rent in Madinat Issa
---