The Bahrain tourist guide offers travelers an insight into what they can do on their Bahrain holiday.
Posted on
27 August 2013
|
Last updated on 19 June 2017
The Kingdom of Bahrain has many different attractions to cater to a myriad of interests. For history lovers, there is the rich heritage of ancient civilizations, which date back to over 5,000 years, with many temples and burial mounds to explore. A good place to start With is the Bahrain National Museum where you can learn about Bahrain's rich history throughout the millennia.
Forts at Riffa, Arad and of course the Bahrain Fort itself are remarkable examples of ancient architecture. Closer to the present, historically speaking, you can visit the restored houses of Muharraq which depict Bahraini style of homes as they were during the last century. Or you can learn about the history of pearl diving at the pearl museum. More recent landmarks well worth the visit include Oil Well No. 1 and the 25 km King Fahd Causeway which links Bahrain to Saudi Arabia.
Nature lovers may visit the Al Areen wildlife sanctuary where they will see flamingos, ostriches, camels and the renowned Oryx; or take a trip to the centre of the Island and gaze in wonder at the Tree of Life which has survived for hundreds of years in the middle of the desert. If your interest is sports, then take a Friday trip to race course at Sakhir. And whilst you're there, why not pop across to the Bahrain International Circuit for some motor sports fun, or enjoy the nearby water sports at the Lost Paradise of Dilmun Water Park, the largest and most advanced water park in the Middle East.
Stamps and Currency collectors will have a field day at the stamps and currency museums. And for those of you interested to knowing more about Islam, then head for the Al Fateh Mosque in the new Juffair area where friendly guides are ready to enlighten you.


MUSEUMS
Bahrain National Museum. A rich collection of Bahrain's ancient archaeological artifacts is on display at the Bahrain National Museum. The museum covers 6,000 years of Bahrain's history. The complex includes four halls: one devoted to archaeology and the ancient civilisation of Dilmun, while two halls depict the culture and lifestyle of Bahrain's recent pre-industrial past, and the fourth is devoted to natural history, focusing on the natural environment of Bahrain featuring specimens of Bahrain's flora and fauna.
Oil Museum and the First Oil Well. As the name suggests, this is the first oil production well in the Arabian Gulf and is located in Bahrain. The museum showcases the history of the oil industry in Bahrain for over a century. The Oil Museum houses some fascinating exhibits, including drilling equipment, documents, old photographs and a working model of an oil rig.
Museum of Pearl Diving. The Museum of Pearl Diving's building is regarded one of the most important and historic buildings in Bahrain. Its importance derives from being the first official location of the Bahrain Courts prior to becoming museum.
Bait Al Qur'an. This landmark building, meaning House of the Qur'an, was built to accommodate a comprehensive and valuable collection of the Holy Qur'an and related manuscripts, a collection unique in the Arabian Gulf. All visitors are welcome, and the complex comprises a mosque, a library, an auditorium, a school and museum consisting of five exhibition halls.
Currency Museum. The museum displays a comprehensive collection of the currency used in Bahrain from the beginning of Islam until modern times. The collection is priceless and includes some very rare coins. The museum is located on the Bahrain Central Bank premises.
Stamps Museum. A remarkable collection of all the stamps issued and used in Bahrain are in display. The museum is located in the Ministry of Transportation building.
Rashid Al Oraifi Museum. This museum is an adaptive re-use of the Al Oraifi family's private residence where artwork, inspired by the Dilmun culture and history by one of Bahrain's most talented artists, Rashid Al Oraifi, is on display.
TOURIST ATTRACTIONS
Al-Fatih Mosque (also known as Al-Fatih Islamic Centre/Grand Mosque) is Bahrain's largest mosque. Besides being a place of Islamic worship where people of all faiths are welcome to visit, it is one of the major tourist attractions.
Khamis Mosque (left) is believed to be the first mosque in Bahrain, built during the era of the Umayyad caliph Omer II (Omar bin Abaulaziz). It is considered to be one of the oldest relics of Islam in the region with the foundation of the mosque believed to have been laid as early as 692 AD.
Arad Fort is a 15th century fort in Arad built in a typical Arab style. Close to the Bahrain International Airport, the fort has been extensively renovated and presents a magnificent sight when it is illuminated at night. Little is known of the history of the fort and there is no firm evidence of the precise date of construction; however, comprehensive excavations are in process in order to discover its past.
Bab Al Bahrain means 'Gate of Bahrain' and is located in Manama's central business district. Built by the British in the 1940s, it housed the government offices.
Manama Souq is a bustling market place with numerous traditional as well as modern shops. The souq market place is located in the heart of the city, near Bab Al Bahrain. All kinds of spices, fabrics, kaftans, handicrafts, souvenirs, dry fruits, nuts, and just about everything one can imagine are on view and available for purchase.
Gold Souq. The Gold Souq is well worth a visit, and all the gold on display is of the highest purity and hallmarked as 18 carat and 21 carat. The Bahraini pearls available for sale are the only natural pearls in the world today and every one unique.
Barbar Temple is an important archaeological site located in the village of Barbar. The most recent of the three Barbar temples was discovered by a Danish archaeological team in 1954. A further two temples were discovered on the site with the oldest dating back to 3,000 BCE.
Bahrain Fort is an archaeological site composed of an artificial mound created by human habitation ranging in age from 2,300 BCE up to the 17th century CE. Archaeological evidence indicates that the site once served the capital of the Dilmun civilization, and most recently as a Portuguese fort. Due to its archaeological importance it was designated as a UNESCO World Heritage Site in 2005.
Dilmun Burial Mounds. The Dilmun Burial Mounds is a necropolis dating back to the Dilmun era. A Danish group excavating what they considered a city of the Bronze Age came across artifacts dating back to around 4,100 - 3,700 BCE within the tumuli.
The Tree of Life is a 400-year old mesquite tree in Bahrain considered a natural wonder. This lone tree rises from the desert and nurtured by a source of water the origin of which remains a mystery as no aquifers are known to exist at the tree's location.
Siyadi House This is one of the most impressive examples of a 19th century house built by the pearl merchant Ahmed Bin Qassem Siyadi, and has many fine features to look out for, including ornate ceilings, stained-glass windows, carved screens and a large safe set into the wall of a small, upper reception room.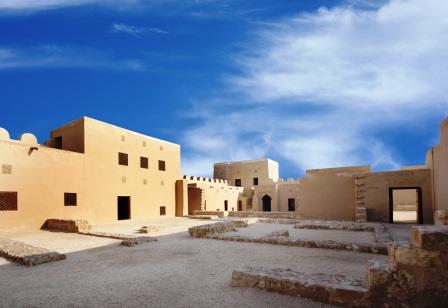 Salman bin Ahmed Al Fateh Fort Standing on a low escarpment overlooking the valley between East and West Riffa, the fort held an ideal strategic position during the 18th century. In more recent times, it was used as a private dwelling, but it has now been restored and is open to the public. A section in Arabic calligraphy, including a beautiful display of illuminated Qur'an and other religious documents, is breathtaking, and course of visit would not be complete without viewing the traditional trades and crafts which have been cleverly displayed in a reconstruction of a typical souk of the 1930s.
Al-Jasra House The house was built by Shaikh Hamad bin Abdulla Al Khalifa in 1907, and was the
birthplace of the late Amir in July 1933. When the family moved to Riffa later in the 1930s the building fell into disrepair, but was restored in 1986 and is now open to the public.
Shaikh Isa's house in the old town of Muharraq was once the home of Shaikh Isa Bin Ali Al Khalifa, the ruler of Bahrain at that time. It provides a fine example of local architecture, complete with wind tower, wall carvings and lattice work, and is representative of traditional 19th century life.
Bahrain International Circuit In a unique desert venue, the Bahrain International Circuit is undoubtedly the most technologically advanced and architecturally stunning race track in the world. It is not only an exciting racing circuit, but it also offers unparalleled opportunities and attractions. The Driving Days is fast becoming one of the most popular activities that the BIC has to offer. This intensive program gives a taste of the wide variety of on-track and off-track activities that can be experienced at the award-winning circuit making it a one-of-a-kind experience. The website to visit is www.bahraingp.com.bh
Lost Paradise of Dilmun Water Park Whether it is a relaxing river or thrilling high-speed descent, the Lost Paradise of Dilmun has something for you. Bahrain's first fully themed water park is a perfect blend of top-class water attractions and facilities, stunning architecture and an ambience that makes your day one you won't forget. Over 14 slides and attractions are blended seamlessly to create a desert oasis and garden of paradise for guests to enjoy: spa pools, interactive children's wet play area and family raft ride to name a few. The park also features the Gulf region's largest wave pool, the first in the region with a natural sandy beach. The website to visit is www.lpodwaterpark.com.
King Fahd Causeway is a multiple causeway and bridges combination connecting Khobar, Saudi Arabia with the island nation of Bahrain. The 25 kilometer causeway officially opened to traffic on November 25, 1986.
A'ali Pottery Workshop You can watch the potters at work at the A'ali Pottery Workshop where traditional methods using ancient kilns in a tradition that has been handed down generation after generation.
Al Jasra Handicrafts Centre Located in the village of Al Jasra, you experience the practice of local crafts where the centre is divided into small rooms, each containing craftsmen engaged in the traditional arts of pottery, cloth and basket weaving. Souvenirs are also available for purchase
Textile Weaving Located in the village of Bani Jamra, weavers produce works of arts on their manually operated looms. The looms need excellent co-ordination with nearly 2,600 threads extending for about 30 meters.
The Craft Centre The craft centre is run entirely by Bahraini women and has some of the most exquisite creations you will find, ranging from jewelry, iron, wood and paper products to embroidered and crocheted goods as well as highly artistic Arabic calligraphy.
Dolphin Watching Take a boat trip from the Bahrain Yacht Club and watch the dolphins and manatees playing in the warm Gulf waters. See local fisherman head out in traditional wooden dhows to catch the prized hammour, a member of the Grouper family. www.bahrainyachtclub.com.bh Pearl Diving Bahrain is famous for its pearls, and you can try your hand at pearl diving and maybe take home one of these natural gems of the sea. Bahrain Yacht Club www.bahrainyachtclub.com.bh)
Bird Watching The Kingdom and the Hawar Islands in particular, are a haven for native and migratory birds including flamingos, bulbuls (nightingales), ospreys and sooty falcons. Bird watchers are strongly advised to take the 20 km boat trip to the Islands. Boats depart from Ad Dur Jetty at 10am daily.
SHOPPING
Designer names, international brands, local flavour - whatever your preferred form of retail therapy, Bahrain's got it all. From exclusive boutiques, to modern malls, to bargain hunting at the souk, there's something for every occasion and every wallet.
For modern-style shopping, there are state of the art malls. Of the biggest malls, Al A'ali Shopping Complex and Seef Mall are located in the Seef area, and Bahrain Mall and Dana Mall are located in the adjacent Sanabis area. The newly-opened Sitra Mall is a little further off Sitra bridge.
The Bahrain City Centre mall, opened in 2008, is a fully-equipped leisure complex with a shopping mall, kids' play area, cinemas, two hotels and a water park; other smaller, centrally located malls offer a wide variety of goods. The malls include the Yateem Centre (located in the Manama suq), Marina Mall, Lulu Mall (well known for fabrics), GOSI Centre (specializing in telecommunications products and accessories) and Bahrain Commercial Complex, (better known as the Sheraton Complex due to its proximity to the hotel), which is rapidly expanding.
For a complete shopping in Bahrain visiting the traditional souqs is a must. The biggest and most popular is the Manama Souq. Others well worth a visit are the Muharraq Souq, the Iranian Souq in Isa Town (second hand goods, low cost household items and a bird market), Souq Waqif in Hamad Town (fresh fruit and vegetables), and of course Manama Central Market and the Fish Market, provide a fascinating insight into local trading and produce.
The suburbs are well served by Riffa Mall, Al Alawi complex in Nwaidrat and Isa Town Mall – each serving their local community with a cross section of goods. Other malls, with a food retailer as the anchor store, include Jawad Dome in Barbar, the Najibi Centre at Saar, and Al Jazira Centre in Mahooz.
You can't miss Ramez, a huge multi-purpose store; it is the right place for bargain hunters and families alike, selling a mixture of household. It's the perfect place to stock up in bulk for parties or other celebrations, or simply for those with big families.
It's true to say that Bahrain boasts a multitude of other unique, individual retail outlets, too numerous to mention, scattered around the suburbs of Manama and beyond. There are hand-made chocolates to sample, designer boutiques, local art galleries, antique stores and artifact sellers galore.
Seef Mall
The first mall of its size in Bahrain, Seef mall is host to a large variety of international retails brands, tens of places to eat, and a 16-screen cinema.
Bahrain Mall
Located in the heart of Bahrain's retail district with over 120 international brands, Bahrain's only hypermarket, and exciting events all year round, The Bahrain Mall is the shopping hub for families and visitors from all over the world. It covers an area of 750,000 square feet with ample parking facilities for up to 1,600 cars 

Dana Mall
The mall caters for all its clientele needs offering a variety of exclusive retail shopping outlets with a relaxing umbrella of coffee shops all around. An entertainment theme park grants full amusement to all family members topped with most exclusive cinema complex in the region, offering 12 screens of the highest international caliber and most distinguished in the latest fashion and design. 

Yateem Centre
Comprising more than 10,000 square meters of built-up accommodation, Yateem Centre comprises over five levels; it is the first shopping mall in Bahrain. 

Al A'ali Shopping Complex
A shopping mall with traditional Bahraini motifs and elements, it hosts Bahrain elite shopping brands.
Bahrain City Center The largest mall in Bahrain features an indoor and outdoor water park, 330 retail outlets and 2- screen movie theater.
Moda Mall with a focus on only the most exclusive of brands and boutiques, Moda Mall is the destination for premium designer products.
For more information please visithttp://www.mofa.gov.bh/