If you're looking to stay active, but the gym isn't appealing, we've got more fun ways to go about it! Here are some fun workouts.
Posted on
21 November 2016
|
Last updated on 24 July 2019
We all know it's important to stay active, but for many, the thought of going to the gym might be somewhat dreadful. So we've put together a few workouts for you to do around Bahrain that are nothing but fun!
Aerial Wall Yoga
Aerial Yoga has become quite popular around the world. It's an exercise meant to pull your spine, which creates more space between your vertebrae. It is said to remove compression that causes pain and balances the back. The inclusion of the wall allows you to hold poses between five to ten minutes as you're being supported with belts. Holding the poses for an extended period of time allows your body to remember the posture even without the straps as well as helps you build flexibility and strength very quickly. If it sounds intimidating, rest assured that any beginners can join in.
Where: Namaste, Budaiya Highway
Cost: BHD8 per 90-minute class
Website
The Shakedown Club Swing Dancing
The Swing Era is being reignited! If you want to learn a few moves while getting in a workout, this place won't disappoint. Starting at Café Amsterdam with a dance class on the terrace, Shakedown Club now has its own studio offering classes to all levels. The dance moves are so energetic, it makes it an aerobic workout. In addition to burning calories and improving your cardio, you'll learn coordination, improve your balance and you'll truly get lost in the dance. Aside from the classes, they also host free events where you can just go and get your swing on!
Where: Studio RCT in Sanabis, Orchid Dream, Tower 1, 5th floor
Cost: BHD5 per class.
Website
SEE ALSO: Bahrain beaches
Capoeira
This is a form of Brazilian martial arts that combines fighting, dancing, rhythm and movement. It will help you work on a variety of muscle groups, resulting in building strength, speed, flexibility, balance, rhythm, coordination and concentration. The complex moves can be used for self defense as well as for performance and games.
Where: St Christiopher's Junior School, Saar
Cost: BHD45 per month for children and BHD 60 per month for adults
Website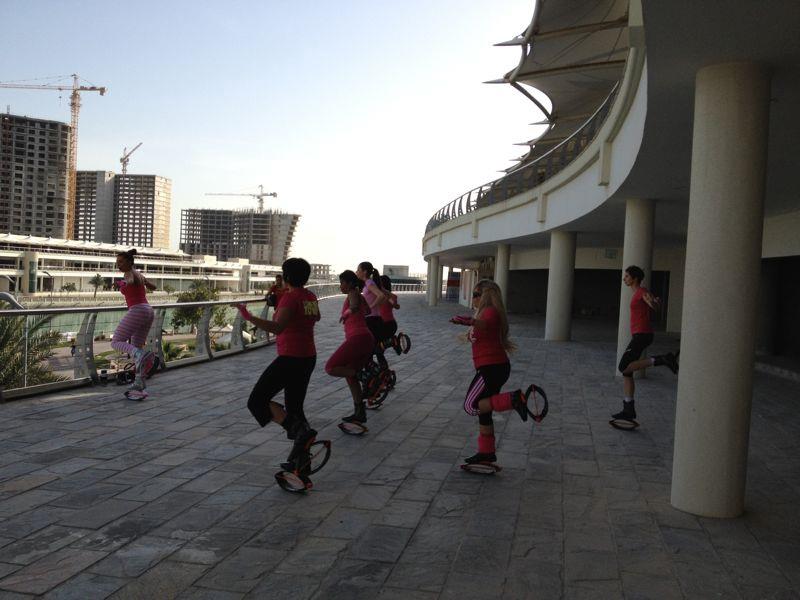 Kangoo Jumps
Kangoo Jumps uses rebound shoes which help reduce the impact associated with vigorous athletic activity.  The patented Impact Protection System in it helps increase impact time as well as reduces the impact stress on joints by up to 80%. It also has many other benefits, including developing body strength, burning calories, increasing endurance, pumping the lymphatic system, improving coordination and building bone mass. You'll also just have lots of fun bounding around in them!
Where: Oxygen Gym, BarBar, / Riffa Views Royal Golf Club / Tala Leisure Center, Amwaj Islands
Cost: BD7.5 per session, BD55 per month (eight sessions) or BD40 per month (eight sessions with your own boots)
Website
SEE ALSO: Parks and gardens in Bahrain 
Tribal Fitness
The name is a good indication of you'll be in for! From connecting with and exploring nature to gaining survival skills, this workout in nature has it all. You'll often find yourself in the desert or at the beach, making use of kettlebells, monkey bars, tires, TRX and other humans. Their ultimate purpose is to guide people to their true health through natural movement, food and living.  There are classes for adults and for kids.
Where: The Jungle is located along the Budaiya Highway / The Summit at Harbour Gate Mall
Cost: BHD30 one-time fee for the Tribal Foundation Session for new members and between BHD35 to BHD100 depending on how many group sessions (1-5 per week).
Website
Aqua Aerobics
Aerobics with a twist! Not only does involve cardio, but also resistance-training and buoyancy. It's a low-impact class, with water acting as a resistant, making your body work that much harder but without stressing your joints.
Where: Fitness First – East Riffa / Bahrain Trade Centre / Juffair Mall
Cost: Membership varies, please contact the club for more information.
Website
Similar without membership – Aqua Zumba offered at Hydro Spa & Salon, West Riffa / Al Areen Palace & Spa, Madinat Hamad
Website