Within 30 days of receiving your Permanent Residency, you must apply for your Civil ID card.
Posted on
15 July 2013
|
Last updated on 18 June 2017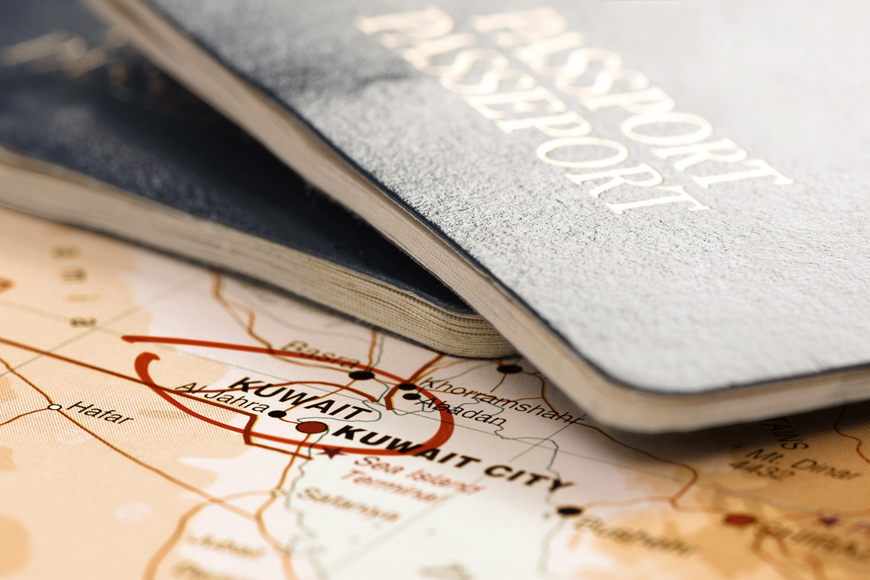 Within 30 days of receiving your Permanent Residency, you must apply for your Civil ID card. All residents of Kuwait must have a Civil ID card, regardless of their age. It takes about 10 days for this to be issued and then you will be able to open a bank account, buy a car, enrol children at school, etc. Again this involves security clearance, blood group test and an issue fee of 5KD when the card is collected.
Let's take a look at the whole process and procedure here...
Once you have obtained your residency visa, you must as an expat get a Civil Identity Card no matter what type of residency you are on. Civil ID Cards are issued by PACI, the Public Authority for Civil Information. After your first card has been issued, the holder's civil ID number remains the same even if you change sponsor and leave Kuwait and return at a later date on a different residency visa.
The civil ID card shows the holder's civil number, full name, date of birth, local address, blood group type, sponsor's name, type of visa, and expiry date of the card. When the card expires or a change sponsor occurs, residency i renewed or your address changes, your Civil ID card must be amended accordingly.
Photographs  
When applying for the first time or renewing or replacing your Civil ID card you will need four photographs, showing your face without glasses.
Registration Procedures  
To register for a Civil ID for the first time you will need the following documents:
Passport

Copy of passport pages showing personal details and residence stamp

Security clearance in the form of fingerprinting from those over 16 years olds

Original birth certificate if born in Kuwait

Blood group certificate for those over 5 years old

Proof of house address e.g. a rental agreement and rent receipts

Declaration signed by your sponsor
SEE ALSO: Where to live in Kuwait
When changing or renewing your Civil ID Card, you only need to submit a copy of your passport, showing personal details and the residence stamp pages and your sponsor's declaration. To have an amended card issued following a change of address, the current card plus proof of the new address e.g. rental agreement must be submitted. To replace lost card, a photocopy of the lost card and your passport is required.
First time applicants on a work or dependent's visa must go in person to the PACI office in Farwaniyah, as must all those who wish to replace a lost card. Those on a work or dependent's visa who are renewing or changing their civil IDs, and first time applicants for a document's servant's Civil ID, and applicants for the first Civil ID of a baby born in Kuwait, can buy the application form and special envelopes from "Express-Envelope" machines located in Coop supermarkets (250fils), follow the instructions and submit their applications in these special machines.
Charges, Time Limits & Penalties  
The fee for the Civil ID Card is KD5 when it is first issued and each time it is renewed. The charge is paid when the card is collected. The fee to replace a lost card is 20 KD, so keep it safe!
SEE ALSO: Kuwait culture and lifestyle
You have to apply for a Civil ID Card within 30 days of getting your residency visa. You must renew your card within 30 days after the expiry date. If you give birth in Kuwait, you must register the baby within 60 days of the birth. In practice, PACI only levy a one-off fine of KD 20.
Collection of Civil ID Card 
It takes about 10 days for your Civil ID Card to be processed.
To check the status of your application online, you can go to the PACI website.
Or you can call PACI's auotmated telephone service on 889988 and enter your Civil ID number for renewals or the serial number on the outside of the envelope in which the application was submitted for first time applicants.
The Civil ID Card can only be collected in person at the PACI office in South Surrah on the Sixth Ring Road next to the Ministry of Electricity and Water from an electronic dispensing machine. For renewals 5KD plus the old civil ID card must be put into the machine to get the new card.
---
Smart Civil ID Cards Launching in Batches for Expats
Director-General of the Public Authority for Civil Information (PACI) Musa'ed Al-Asousi announced that the authority has started issuing smart Civil ID cards to expatriates in batches.
Al-Asousi disclosed this during a press conference on Monday, emphasizing that the distribution started with the GCC nationals. The cards are being issued after expiration of the current Civil ID cards or upon request for amendment of data in the cards. He said the next stage will include another set of expatriates based on the type of residency.
He pointed out that the step was taken after the successful implementation and distribution of smart Civil ID cards to citizens.
He said the card can be used for personal identification, technical and security purposes to enable holders to travel freely within the GCC countries. He added that holders can use it for electronic signature and other future applications.
---
You might also be interested in:
---
He explained that the smart card has the same technical, security and structural specifications as the one issued to Kuwaitis, except for the color. He indicated that the card has electronic chip to save large data, including picture and fingerprint. He informed that the authority has contacted government departments to approve dealing with expatriates through the smart card alongside the current card until the smart card is issued to all expatriates.
With regard to the documents required for issuance of the card, he said the applicant should submit two recent passport photographs, copy of traveling passport (information and residency pages), blood group and other necessary documents for any amendment to the data.
He concluded that those who are interested to know more can call customer service at 1889988 for information through the Interactive Voice Response IVR or dial zero when prompted by IVR to have a direct discussion with a staff members from 7:00 am-11:00 pm. He expressed appreciation to everyone who contributed to the successful implementation of the system.
Here's what the smart cards look like....