Heavy rain has caused chaos across the Kingdom, with some dead and many trapped. Here are some pictures to show the extent of it.
Posted on
20 February 2017
|
Last updated on 12 September 2017
For the past week, many parts of Saudi Arabia saw heavy rains that caused floods and disrupted daily life. Some of the cities affected include Dammam, Riyadh, Khobar, Jubail, Al Ahsa and Al Khafji.
It was more severe in some areas than others. Two people have died, one in the Asir region and the other in Riyadh.  Additionally, there was 951 stuck in the flood water and needed rescuing. The majority of the people trapped were inside their cars.

Photo: arabnews.com
The General Directorate of Civil Defence has reported that it has received about 4,699 reports, of which 3,327 were from Riyadh, 960 in Asir and 412 in the Eastern Province.
SEE ALSO: Saudi Arabia aims to become solar powerhouse
Many schools were closed and companies saw a drop in employee attendance. It's rare to have this amount of rain in such a persistent manner in the Kingdom. The Governor of the Eastern Province stated he would review all the shortcomings in terms of the way authorities handled the rain. 
Here are some of the photos shared online to show you the extent of it.
A train in Dammam was derailed due to the floods...

Photo: Reuters
Many trapped in their vehicles

Photo: Sabq.com
Police officers were doing their best to help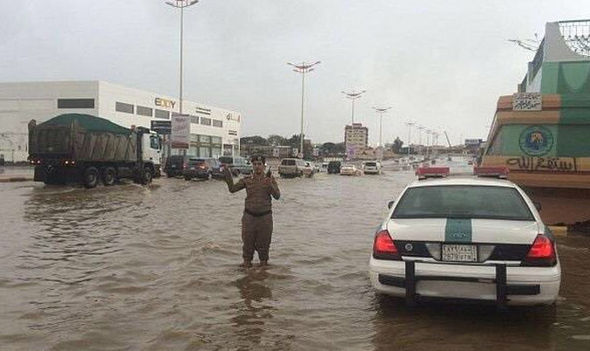 Photo: AP
It wasn't just outdoors, but malls were also flooded!

Photo: Twitter @KSANews9
It really caused chaos everywhere...