An Adorable 9 Year Old Moroccan Girl Just Won The Arab Reading Challenge
The winner of this prestigious award gets a prize of AED500,000
Posted on
31 October 2018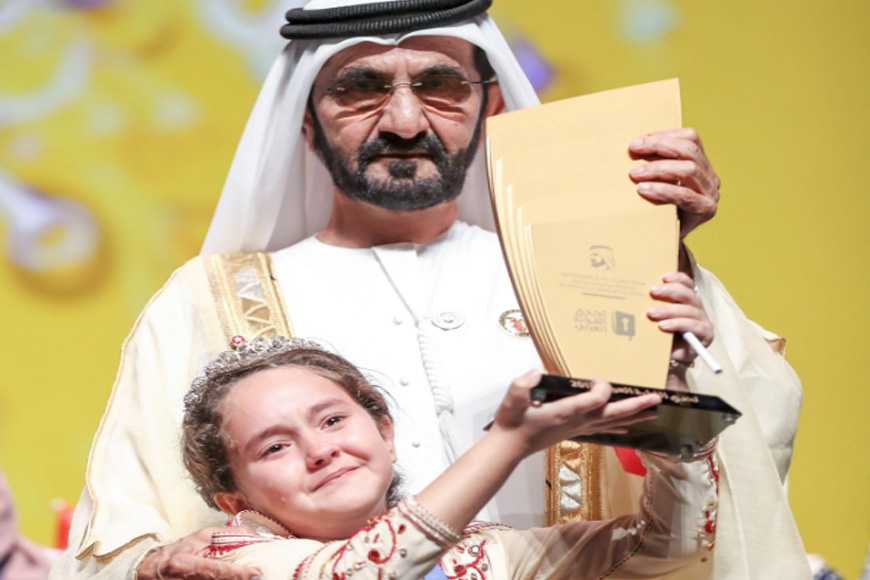 Moroccan little girl won the Arab Reading Challenge on Tuesday
Crowds cheered and clapped as a little girl was chosen as the winner of the Arab Reading Challenge.
Maryam Amjoun, a 9-year-old Moroccan girl, was announced as the champion on Tuesday in the world's largest Arab knowledge competition.
And with the prestigious title, Maryam Amjoun also walked away with a cash prize of AED500,000.
The news was announced on stage as HH Sheikh Mohammed bin Rashid Al Maktoum was standing by her side, Maryam was shocked by the news and burst into tears.
And an adorable moment that went viral afterwards was when Sheikh Mohammed took his ghutra (traditional Emirati head cover) and wiped the little girl's tears away.
"I was expecting to be the winner of the Arab reading challenge. The questions were easy and I was fully prepared. I was told that in every challenge there are hardships but I never gave up despite all the difficulties," said Maryam.
"I like to read books that treat problems, such as social books, in addition to reading history and scientific books, and books about morals and ethics.
"When I grow up, I would like to become an architect just like the Iraqi architect Zaha Hadid," she said.
Another winner was also announced during the competition – a teacher from Saudi Arabia, Aisha Al Tuwairqi, was chosen as the most outstanding teacher and won AED300,000.
The Arab Knowledge Competition
Running for a third year in Dubai, the competition saw over 10.5 million students from 52,000 schools from around 44 different countries.
Participants in the competition must be between the ages of 8 and 18 years old to qualify and must read a minimum of 50 Arabic books over the course of one year.
Then the pupils are tested on their knowledge of the books during the contest – in efforts to raise awareness on the importance of Arab books and knowledge and aims to enhance their education through self-learning and acquiring skills.