Luvabella Dolls in Dubai: How To Get One
It's predicted to be the hottest toy of 2017 for Christmas already…
Posted on
12 October 2017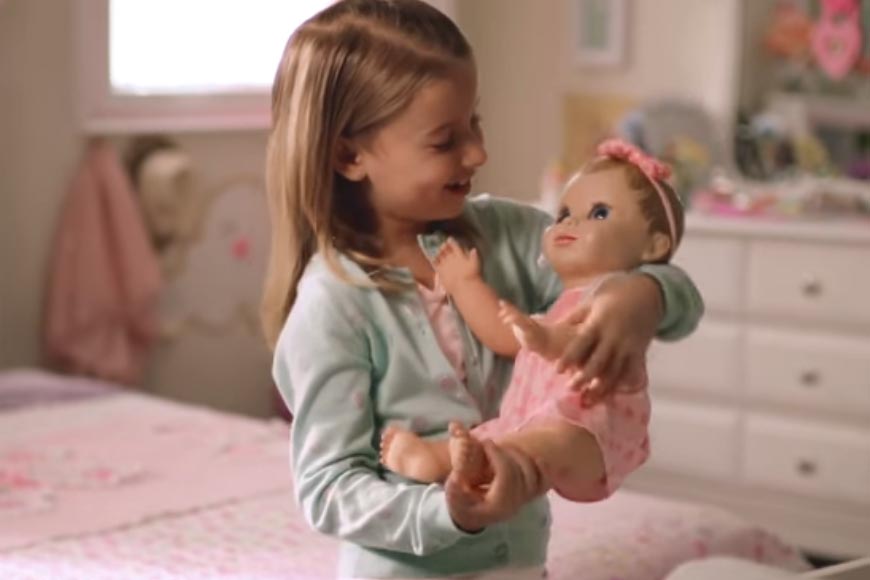 With her adorable features, realistic expressions and baby-like movements – it's no surprise why the Luvabella doll has quickly become the most wanted child's toy for Christmas this year oversees.
She's 2017's version of the Hatchimal – and comes with the equally as eye-watering price tag, too.
Priced at £99.99 in the UK, the Luvabella doll comes in 3 different ethnicities, and there's even a male Luvabeau version too.
The responsive dolls can play peek-a-boo, be tickled, react when spoon fed or given her soother – and even comes with a mini cuddly toy she can play with.
With supply in the UK already in short-supply due to the high-demand so far, we wouldn't be surprised to find that parents in the UAE will find it equally as difficult to get their hands on one for Christmas this year.
Funnily enough – the Luvabella is manufactured by Spin Master, the same guys that had all children addicted to the Hatchimal that was all the rage in 2016.
Linzi Walker, chief toy buyer for Argos in the UK, who started curating the top toy list with her team at the beginning of the year, said: "Dolls will have made Christmas memories for many children and this year is no different.
"Luvabella is an incredibly lifelike doll, with advanced animated features enabling it to drink milk from a bottle and fall asleep just as a real little one would."
Where you can buy Luvabella dolls in Dubai and the UAE
We've received confirmation from Hamley's UAE that the Luvabella dolls will be stocked in their stores across the UAE from the end of November.
We're yet to find news from other toy stores in Dubai, but alternatively, retail giants Amazon and John Lewis are selling and shipping them to the United Arab Emirates.
We are continually following-up to see when they'll arrive here – so do check back soon!


Otherwise if you can't wait for stocks to arrive here, you can order the Luvabella doll from Amazon for $119.99, which ships to the UAE – it works out around AED 462 for the doll with an additional AED 187 for the shipping. So in total, expect to pay AED 650 to buy and ship your Luvabella doll to the UAE.
You can also shop and ship a Luvabella doll from John Lewis – priced at £99.99, the store offers shipping to the UAE, too. However, the doll keeps going out of stock so make sure you sign up for alerts when items are available again!