3 New Hair Care Products To Try From Palmer's
Say goodbye to frizzy hair, even if you live in the UAE...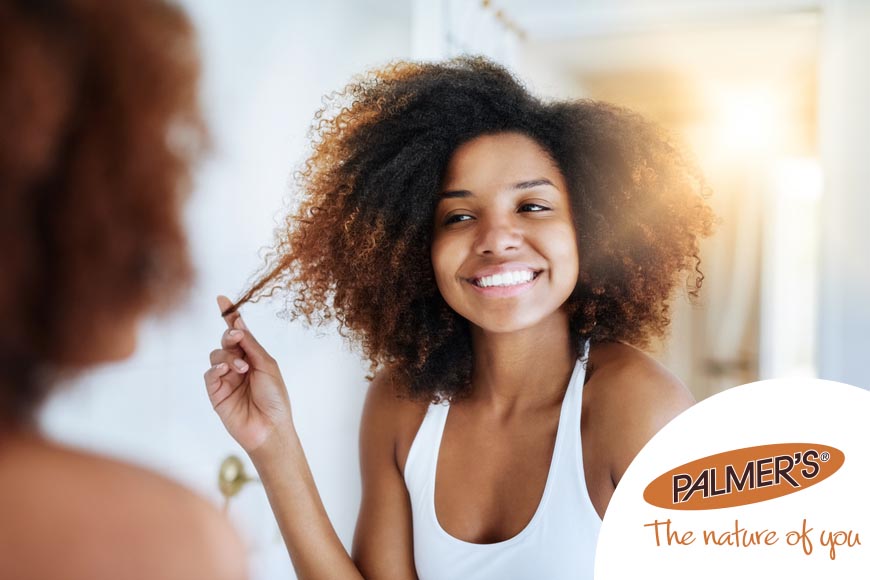 Brought to you by Palmer's.
Starting from the month of October, Palmer's are unveiling three NEW hair care rangesthat we're sure are going to fly off the shelves, all around UAE.
These products not only smell good, and are attractively packaged, but they genuinely work for all natural hair types.
Yes, armed with a good hair dryer and a comb, you too will be able to achieve a salon finish look with your hair smelling gorgeous and shinning beautifully; all from the comfort of your home.
After all, a large part of getting that perfect selfie, is having perfect hair; so allow us tell you how Palmer's can help you achieve just that.
1. Palmer's Olive Oil Formula
First in the hair care range is the Palmer's Olive Oil Formula, which comes with a Soothing Shampoo, Replenishing Conditioner and a spray Leave-in Conditioner. These products are enriched with an extensive blend of Extra Virgin Olive oil, from the olive trees of the Mediterranean regions. The products also contain a well-balanced blend of Vitamin E, Keratin and Jamaican Black Castor Oil.
We all know about the wonderful properties of Extra Virgin Olive oil, including medicinal, and how it helps to strengthen the hair and give it a lustrous finish. What we're most excited about is the addition of the Jamaican Black Castor Oil, known to help promote hair growth. Black Castor Oil is rich in Omega-3 Fatty acids, essential for keeping the hair moisturised, balance the pH of the scalp and therefore reduce breakage of the hair shaft. And if you've been in the Middle East for long enough, you know the struggle to tame the frizz-prone hair in this humidity is real, however worry not as the antioxidants in the Castor Oil are going to support the Keratin in your hair and help tame the frizz.
2. Palmer's Shea Formula
The next hair care range is the Palmer's Shea Formula, which comes with a Moisture Repair Raw Shea Shampoo and a Moisture Repair Raw Shea Conditioner. Please don't tell anyone we said this, but if you find yourself staring at either one of these bottles, the next time you are shopping for hair care essentials; very discretely pop open the lid and just smell the contents of the bottle. I promise you, it smells of richness and luxury.
The key ingredient of this range is the Raw Shea sourced sustainably from West Africa, along with Argan Oil and Grape Seed Oil. In order to promote hair growth and prevent hair loss, moisture is absolutely essential for the hair follicles, and these three precious commodities work together to do just that. Shea Butter alone is a rich source of moisture, vitamins (A, E and F) and essential fatty acids, necessary for nourishing your hair and scalp. Both, the Argan Oil and the Grape Seed Oil, are light, absorbing oils; again packed with vitamins and anti-oxidants, that help give the hair some extra moisture, resulting in shiny and lustrous hair.
3. Palmer's Manuka Formula
Last but not the least, is the Palmer's Manuka Formula range that comes with Manuka Flower Honey Strengthening Shampoo, Manuka Flower Honey Nourishing Conditioner and Manuka Flower Honey Leave-In Conditioner. The benefits and uses of honey can be traced back to the Ancient Egypt thanks to its antibacterial properties. Out of all the different types of honey, the Manuka Flower Honey has the highest antibacterial properties, making it an essential ingredient for promoting healthy hair and scalp.
Produced in New Zealand, Manuka Honey has an amazing nutritional profile; rich in amino acids, B vitamins and mineral content. These nutritious elements nourish the scalp and promote a healthy environment for optimal hair growth. This helps regenerate new healthy and shiny hair follicles, hence reducing the risk of premature hair thinning. The Palmer's Manuka Formula also contains Amla Oil, Cocoa and Shea Butter to moisturise the hair, fight frizz and prevent split ends and hair breakage by sealing cuticles.

The benefits of using Palmer's new hair care products
Apart from wonderful ingredients that nourish your hair and scalp, Palmer's hair care range contain:
No Parabens- used as preservatives, known to cause skin irritation.
No Phthalates – used as plasticisers, known to control the viscosity and emulsifying properties of beauty products, hence manipulating their texture and feel.
No Sulfates – used as foaming agents in frothy cleaning products, known to strip skin and hair of their natural moisture..
No Mineral Oil- used as a lubricant, known to disrupt healthy hair growth.
No Gluten- for users that are gluten- intolerant or sensitive to gluten..
Because a good hair product isn't simply one that lathers well or smells good when being used. It is one that uses well sourced natural ingredients in order to promote a healthy environment for the hair and scalp.
Where you can find Palmer's hair care products in the UAE
All new hair care products are now available in selected Boots branches in Dubai: Mall of the Emirates, The Dubai Mall, Al Barsha, Mirdif City Centre, Deira City Centre. and Al Wahda mall in Abu Dhabi. All prices starting from AED 14.
OR win your own hair care range by entering the competition below. Valid until October 19th, 2017.