Fun and Comfy Maternity Halloween Costumes for Mums-To-Be
Have a look at these stylish and spooky maternity Halloween outfits that are comfortable for any mum to wear
Posted on
30 September 2019

It's not too early to include your baby bump in this year's Halloween festivities
Pregnancy might limit your everyday closet options, but not with Halloween costumes. In fact, it's a great time to get creative and fun with the little one before they meet the world.
We've handpicked the best Halloween costumes for pregnant mums, ranging from Halloween-themed graphics shirts to festive maternity costumes. Most of the ones we've rounded up received heaps of positive, verified reviews online, praised for their unique take on Halloween outfits for mums-to-be, comfort, and look.
By the way, if you want to get your new Halloween maternity haul ASAP, why not sign up to be an Amazon Prime member so you can avail next-day delivery and free shipping. Here's a free trial on us.
1. Witch Baby Bump Pregnancy Tee
This comfy and adorable shirt is perfect if you want to keep it lowkey and simple this Halloween. Loved by over 25 verified Amazon reviews with an average 4.7/5-star rating. Best paired with a pair of skeleton pants, like this one from Amazon.
2. Long-sleeved Jack-o-Lantern Dress
Rated at 4.8./5-stars on Amazon and praised for its cute and comfy design, celebrate your little pumpkin this Halloween with this jack-o-lantern maternity dress.
Trusted Amazon review: "Love it! Not only is it cute but the shirt itself is actually really comfy. Doesn't drape/hang at the bottom like the picture. Fits snug to baby belly. Went up 1 size, usually 1x but went 2x, fits perfectly. Washes and dries well, no issues with the images peeling or cracking."
3. Baseball Bump
For mums and dads who are big baseball fans, this one is for you. The soft cotton material is also perfect for lounging around the house all October long watching the great sport. Couple it with a baseball cap, your favourite team's shirt, and a bat.
Trusted Amazon review: "Loved it. Lots of compliments. Super cute on. Worn at baseball game for gender reveal. Material not like most maternity shirts. Cotton and probably would stretch easily. Received a lot of compliments on it from many married couples and people admiring the baseball bump."
4. Avocado Pit Baby
Feeling a bit (witch)crafty this year? Turn your baby bump into an avocado seed with a little DIY. All you need is a comfy brown maternity shirt to mimic the pit, some green paints, and a presentation board.
If you don't have a brown maternity shirt, this one from Amazon has over 150 glowing reviews. Grab a large presentation board, cut out a hole for where the belly will be the "pit". Paint it with dark and light greens, then you're good to go! Don't forget to add some straps to the board so you won't have to keep carrying it.
If you don't want to DIY the outfit yourself, a ready-made costume is available here on Amazon for AED 101.95.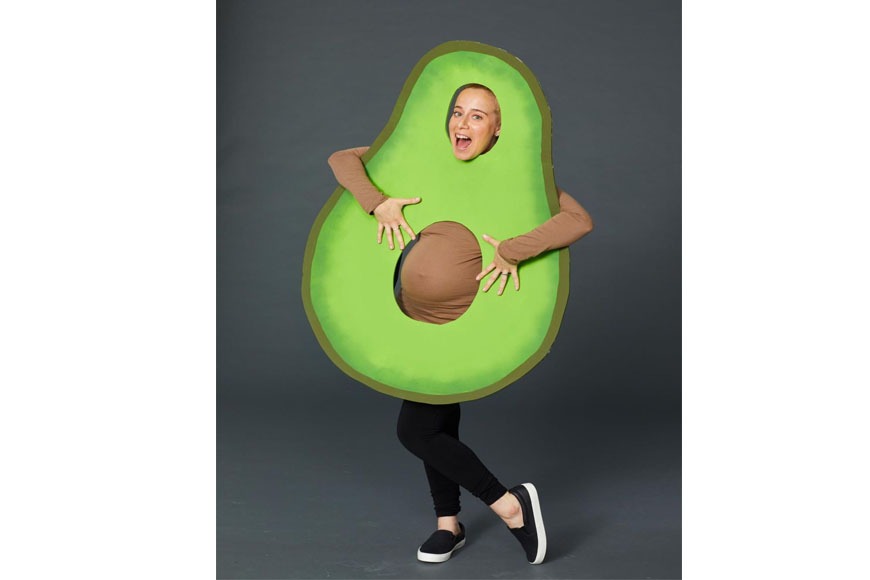 Photo credit: Mike Garten
5. Violet Beauregarde from Charlie and the Chocolate Factory
From your childhood, you might remember the gum-chewing champion Violet Beauregarde, who chewed an experimental Wonka gum and blew up into a large blueberry. Pregnant mums, you can recreate that iconic moment with a violet maternity dress and face paint.
Shop the look below: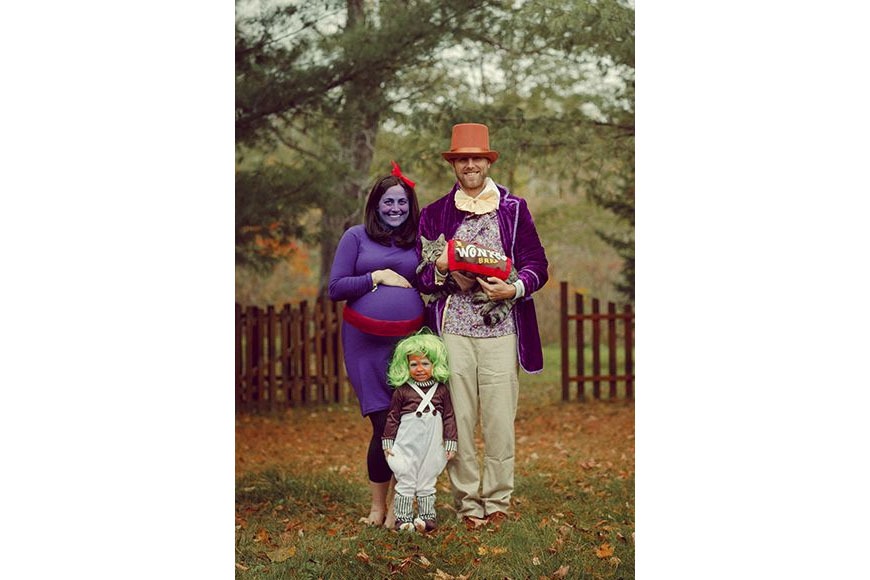 Photo credit: Harlow Bliss Photography
7. Bun-in-the-Oven Costume
Pregnant during Halloween? It's the perfect chance to take the idom "bun in the oven" literally.
8. Mummy Costume
Some take the whole "mummy-to-be" seriously, like Jessica Simpson in 2011. The best part about going as a mummy is that you can wrap the gauze however you and your bump are comfortable with.
All you need is a comfy white shirt and a lot of white gauze bandages.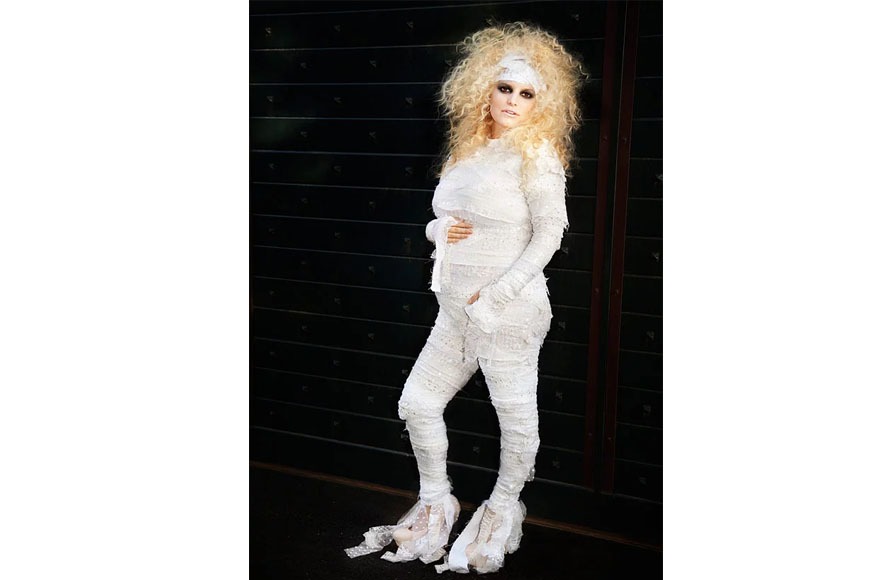 9. Juno and Paulie Costumes
Spending Halloween with the baby daddy this year? If you've seen the movie Juno and you're looking for something more humourous, opt for Juno and Paulie couples costume.
Shop the look below:

Photo credit: TheSpoiledMama
10. Pregnant Kangaroo Costume
Enjoy this Halloween with the little Joey in your pouch. It comes with an additional, roomy front pocket to store trick-or-treat candies. The kanga mama costume we've picked has over 20 verified reviews on Amazon and a glowing 4-star rating.
All products featured in this article are independently selected by our editors. However, when you buy something we may earn an affiliate commission. All prices are accurate at the time of publishing.