Interview: Jojo Chappell on Childhood Mindfulness and Creative Expression
We spoke with Jojo Chappell, Founder of Jojos Art House, on mindfulness, self-confidence and expression through art for children.
Posted on
22 February 2021
Meet one of this year's Emirates Airline Festival of Literature guests!
The ExpatWoman team caught up with UAE expat Jojo Chappell, founder of Jojos Art House, a creative hub promoting mindfulness, self-confidence and creative expression through art for children and adults. Originally from the UK, she now calls London and Dubai her two homes.
"I believe in the 'power of colour and creativity' and that everyone has the ability to be creative," said Jojo.
She added that it's her mission to enable children and adults to find their artistic confidence.
"Such practice, along with my bespoke mindful colouring sheets, I hope, will bring increased happiness and improved mental wellbeing."
Q. Do you remember when your interest in combining mindfulness with art started?
"Art has always been in my life, from a young child, learning techniques from my artist grandfather, through to proudly achieving an Art Degree at Manchester University."
According to Jojo, it was during the "Festival of Happiness", an event that she created in London to educate the creative industry on mental health and wellbeing, that her passion for mindfulness practice was ignited.

"The lightbulb moment occurred a year ago at the beginning of the pandemic during the first lockdown in London. The streets were grey and the mood was melancholic. All of a sudden amazing colourful rainbows appeared in windows and on the streets celebrating and applauding the courageous health workers.
I realised then the power of creativity, use of colour and how much those streets full of colour and art were positively impacting upon the mood and mental wellbeing of everyone who walked past and took part. The world had stopped but we were focused on the present – the here and now.
We appreciated each other more – both what we had lost, and what we needed to endure and persevere. Creativity, fun, smiles and laughter lifted the mood. "Mindfulness Escapism" - Jojos Art House was created."
Q. From London to Dubai – what motivated you to bring Jojo's Art House to the Emirate?
"I previously lived and worked in Dubai and my life has always been split across these two wonderful cities for many years."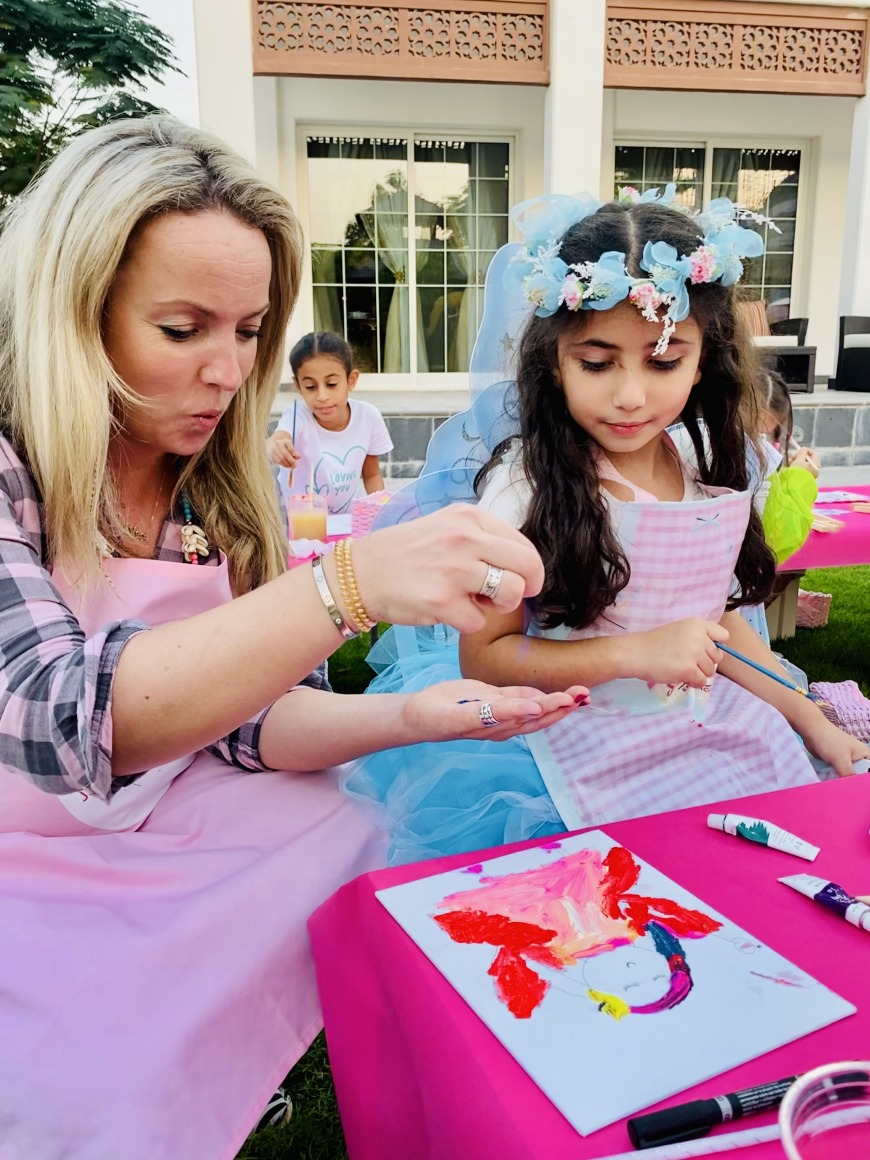 "The Dubai life and community has always been warm, friendly, and open to creativity and entrepreneurial spirit, so it was a great place to expand Jojos Art House.
The development and progress in Dubai and the UAE on so many levels, not least in the arts and culture sphere, has been illuminating and inspirational."
Q. Why is creative activity such a potent recipe for psychological well-being and expression among kids?
Jojo believes that art has the power to bring people together, regardless of skin colour, gender identity, politics, language, and other factors that may keep us divided.
"It has so many benefits for everyone, especially kids.
Creativity nurtures and builds a child's emotional development, feelings of achievement and pride, helping children better communicate their feelings and learning how to deal with them appropriately."
Creative activity provides opportunities for developing new interests and helps in developing a child's unique personality. Art exploration is not only fun and entertaining, but also educational and healthy."

"Children are naturally curious and adventurous - open to learning new skills. Art builds self-confidence and life skills. Free expression is known to be good for overall health and well-being," Jojo added.
Q. What are some common outcomes you have seen among children, after one of your art sessions?
"I love seeing the children's faces light up at the end of the class/workshop or event. They beam with a sense of achievement, pride, confidence and excitement to put their artwork on their wall or show parents, siblings and their peers.
Often a child who has started out as shy and nervous will open up when discussing their works and the ideas behind their creations. It is wonderful to watch the kids literally growing in confidence before your eyes. Children also learn many skills including problem solving and story-telling."
Q. You had a workshop at the Emirates Airline Festival of Literature this year, what type of material did you take on? How was the experience like with Stephanie Robert?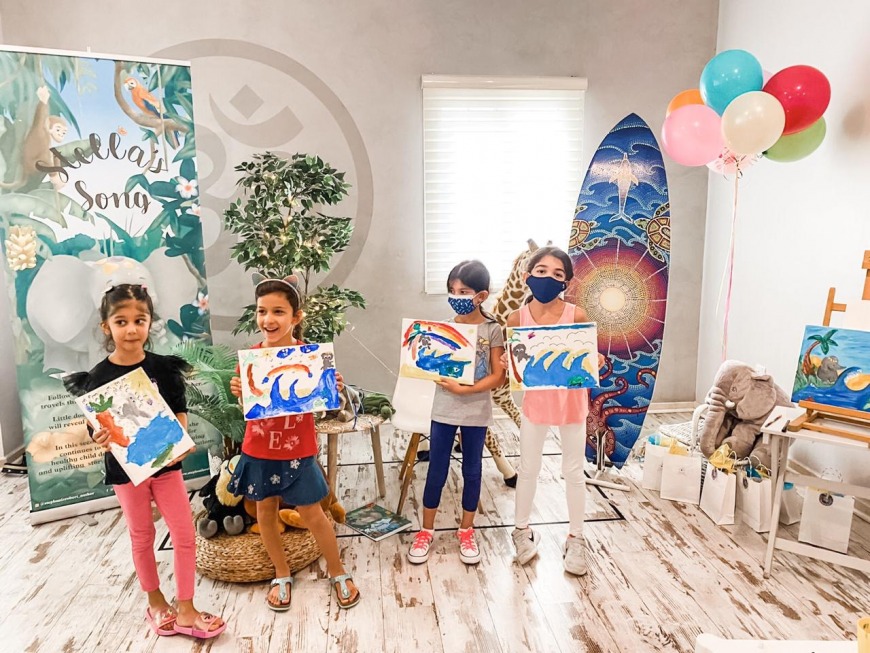 "The experience was truly wonderful, I feel so grateful that I was able to collaborate with the amazing children's author Stephanie Robert at such a prestigious festival.
Stephanie and I created a special 'Creative Mindful Workshop', where Stephanie gave an exclusive reading of her books, a jungle meditation and I created a bespoke art workshop where we 'brought to life' the characters from Stephanie Roberts' books on a canvas they could take home.
SEE ALSO: Improving Self-Esteem in Children Through Positive Psychology - An Interview With Stephanie Robert
Each child was gifted with a goodie bag with equipment for the class, to ensure Covid-19 safety."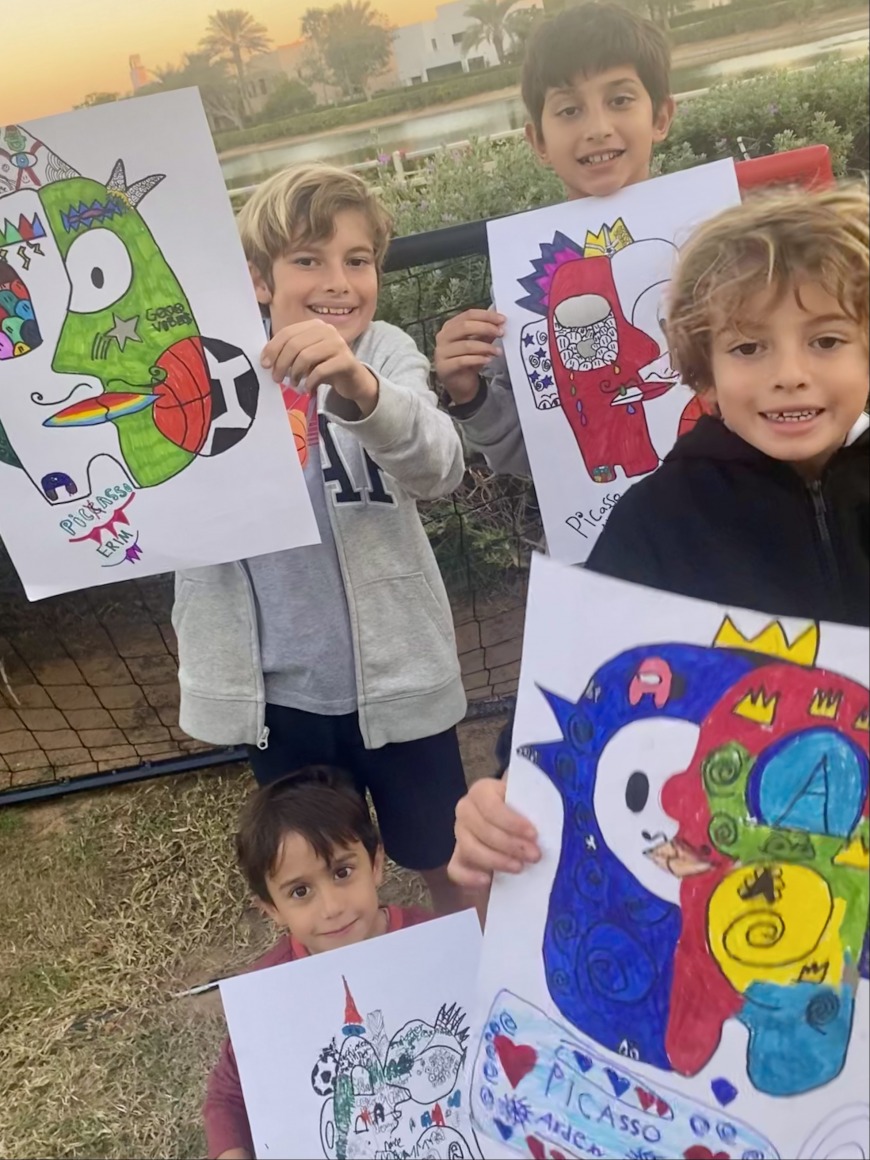 "The Emirates Airline Festival of Literature is a fantastic festival and truly needed for everyone's wellbeing this year."
"The festival is full of creativity and amazing literature by inspiring authors. I was also very impressed by all the precautions put in place to make the event a Covid-safe environment. Its 2021 'Change the Story' theme resonated with so many people and helped people reflect and feel inspired, ready for positive change and return to hope and normality."
Q. What is your best advice for parents in the UAE who wish to introduce art into the household and promote their children's wellbeing?
"Create an open and safe space where children feel confident enough to be open and expressive, ingraining into the children's psyche that there is no such thing as a mistake.
Ask them questions and engage them. Challenge students to go beyond the drawing or painting to understand what it means to be an individual artist.
Ask the child to tell their story through the exercise. Be positive and supportive in a safe and loving environment."

Q. Do you have any special rituals before an art class/workshop/party?
"I give everyone a Jojos Art House sticker at the beginning of the class and a colourful balloon at the end.
As I am a great believer in the power of colour, I always make sure I wear colourful clothes, my quirky jewellery and a Jojos Art House Pink Apron. I also encourage the children to sign my apron at the end of each class which they love."

Q. Jojos Art House is present in Dubai, where STEM/STEAM are often hailed as the golden subjects. Do you feel that creative or artistic kids are given enough support in UAE education? And if not, how do you suppose the country could improve?
"There is always room for improvement in this area and even more so in these extraordinarily challenging times.
Creativity, self-expression and mindfulness activities are so important for children's health and mental wellbeing. Creativity has the power to develop our emotional resilience during challenging times and it is also a great way to express your feelings.
Many studies have shown that expressing themselves through art benefits many people suffering from anxiety, stress, depression and even illness. Art helps with resilience, memory, reasoning and empathy.
However, I believe that creativity and STEM/STEAM perfectly compliment one another and skills can work hand in hand and can be transferable, such as the element of design which exists in both. Therefore, I feel like creativity needs to be seen as just as important."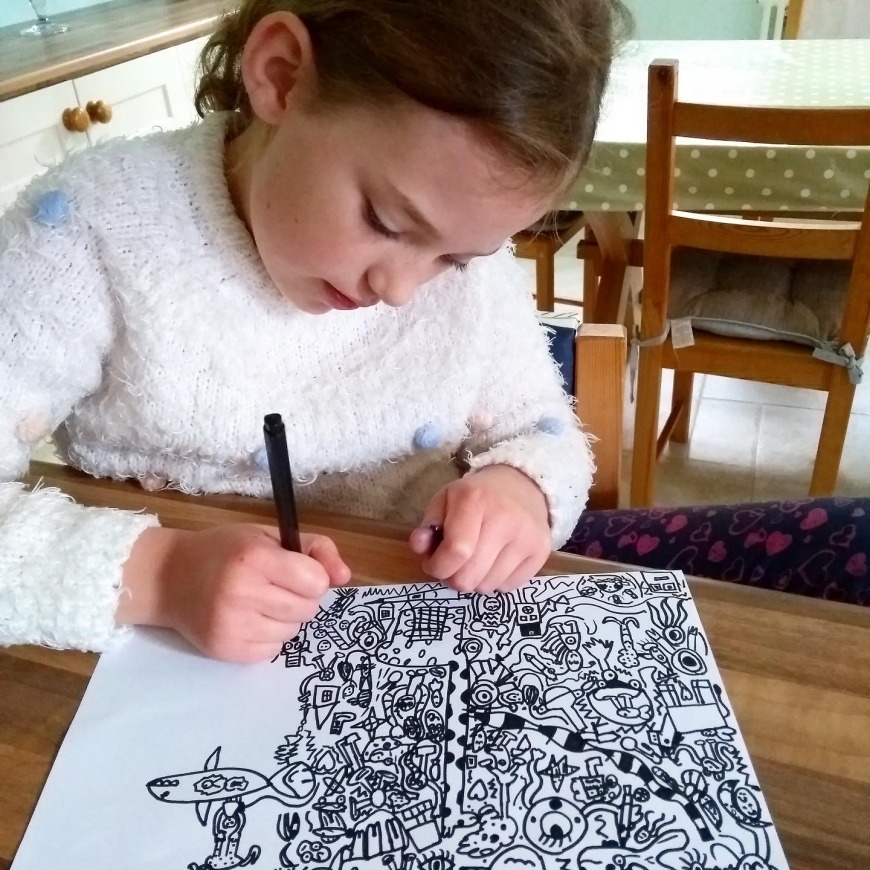 Q. If you could let people know anything else about you, what would it be?
"My "super power" is helping people find their creative confidence and I am so passionate about this.
Creativity has always been a massive part of my life and helped me in so many areas. Being dyslexic, I used drawings and visual techniques for revising when I was at school.
I found creativity to be a great stress reliever and it has empowered me as an individual, helped me problem solve and provided a form of escapism and mindfulness practice.
Creativity really enriches one's soul and I am determined to help everyone find their own individual creativity and self-expression."
Q. As the founder of Jojos Art House, what does an everyday life look like for you?
"Currently my everyday life consists of art classes, workshops (online and in person) and event planning in an ever-changing pandemic landscape.
Researching artists, exploring new art products and techniques ensuring classes are as dynamic and fun as possible and communicating with Jojos Art House Instagram (@jojosarthouse) and social media followers, too."

"During my free time, I love to paddle board, practice yoga, horse ride and visit art galleries."
Q. Following the Emirates Airline Festival of Literature, what is Jojos Art House up to these days?
"Looking to forward to continuing to spread creativity across the GCC, UK and soon to be Singapore. We've been taking part in more collaborations and continuing to work with acclaimed children's author, Stephanie Robert.
I'm also continuing my work with children's hospitals and other charities providing mindfulness colouring opportunities, as well as upcoming projects working with children of determination and children with Type 1 Diabetes.
Plus, I am excited about starting to explore combining art with an equestrian element, corporate team building and of course more, 'Jojos Colours Trails'!"
Visit jojosarthouse.com to find out more.