Baby Massage: How A Loving Touch Can Help Your Baby Thrive
Why massaging your baby is important...
Posted on
22 October 2017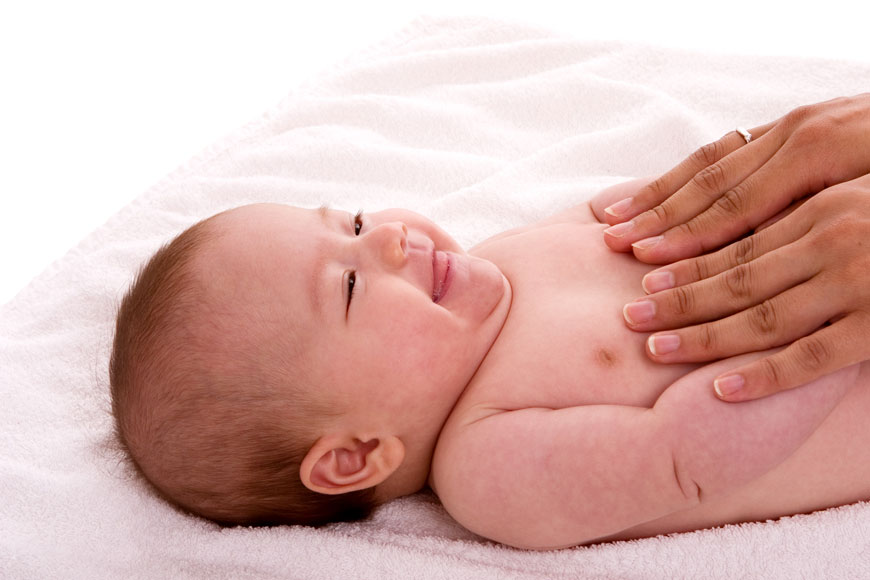 Touch is incredibly important; babies need it for their physical, emotional and social development. A soothing massage will help your baby thrive by improving their sleep, circulation, digestion and weight gain. It can even ease some of the discomfort that comes with teething.
This quality time will help the two of you bond. Think of the massage as a way of communicating with your baby, because you'll gain a better understanding of what they enjoy and dislike.
Baby massage can be deeply relaxing for both baby and parents. Massage is an opportunity to connect deeply, and the gentle rhythmic movements of your hands can be almost meditative, encouraging you to be absolutely present. There's evidence to suggest that baby massage can even help mothers with post natal depression.
Baby massage involves stroking your baby's body gently. There are many different techniques; you may decide to look for a baby massage class, or to search for videos and instructions online. With any technique you use, it's a good idea to follow a pattern so that your baby knows what to expect.
When Should You Massage Your Baby?
Choose a time when your baby is awake, settled and neither too hungry nor too full. It's best to do a massage between feeds but not right before naptime.
What You Need?
A warm, draught-free room where you won't be distracted
Towels
Clothes, so you can dress your baby after the massage
Relaxing music, or you can hum, sing or talk in soothing tones
Baby massage oil in an unbreakable container
Babies' skin is thinner, drier, more fragile and less resistant to bacteria and harmful substances than adults' skin, so choose an oil with the purest natural ingredients that is especially formulated for babies.
Palmer's Cocoa Butter Formula Baby Oil is a unique blend of pure cocoa butter, Vitamin E and other natural oils. This hypoallergenic baby oil softens and protects, and it's gentle enough for daily use. Pure cocoa butter is a rich natural moisturiser that leaves skin soft and silky. Vitamin E helps to smooth, moisturise and heal skin, soothing cradle cap and relieving eczema. Tested by dermatologists, Palmer's Baby Oil is free of parabens, phthalates and mineral oil. It's a great choice for baby massage because it's non-greasy and non-staining.
A Simple Technique To Get You Started
Lay your naked or minimally dressed baby, (diaper optional), on a towel.
Pour a little oil into your hands, and then warm it by rubbing your palms together.
Initially, you may want to concentrate on your baby's legs because they're familiar with having their legs touched when you change their diapers. Remember to use firm, gentle strokes throughout the massage, which
can last between 10 minutes and half an hour. Learn to recognise your baby's cues; when the baby stiffens or begins to cry, it's time to end the massage.
Start by rubbing the oil into your baby's legs
Squeeze your baby's thigh and calf one leg at a time, moving your hands down each leg as you squeeze
To massage the chest and tummy, (avoid this area until the cord has healed completely), position your hands flat against the centre of the baby's body, then move your hands out to the sides as if you're smoothing a sheet. Apply only a small amount of pressure. Keeping your hands flat, move your fingertips in small circles
Most importantly, remember to relax and make the most of this special time with your baby; they grow so fast. Happy massaging!