Where to Meet Santa in Dubai This Festive Season
Here's where you can visit Santa Claus in Dubai for 2020, and perhaps even walk away with a special present!
Posted on
18 November 2020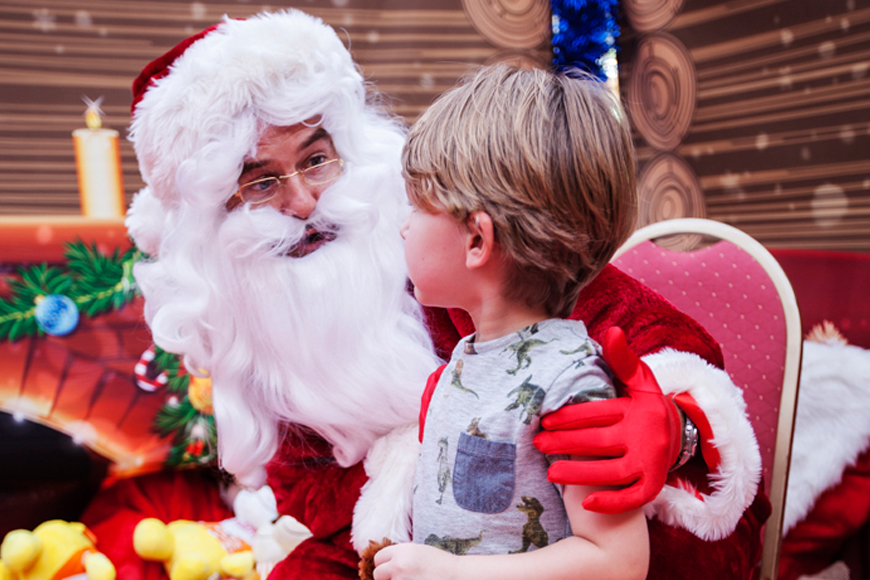 Santa Claus is coming to Dubai this year... And here's where you can find him!
It wouldn't be the holiday season without a chance to meet the main man himself. That's right, this December we're bringing back our hugely popular craft market at the ExpatWoman Craft Fair and as always, we're giving you and your little ones the chance to be one of the first to see Father Christmas in Dubai this year.
Happening on Saturday, December 12, our free-entry festive Craft Fair is coming to you at the Dubai Polo & Equestrian Club in Arabian Ranches.
SEE ALSO: What's happening at ExpatWoman's Craft Fair
Between all of the festive fun - from free kid's activities, My Little Pony breakfast, pony rides and Christmas shopping - visit Santa Claus at the polo club this year, while your kids share their Christmas lists with him.
Whether they're on the naughty or nice list, they'll walk away with a gift from Santa* and his elves.
Where to see Santa in Dubai
1. ExpatWoman festive Craft Fair
So, make sure to join us on Saturday 12th December 2020 at the Dubai Polo & Equestrian Club in Arabian Ranches. Santa's meet-and-greet will be open from 10:30 until 5:30 pm, after which, he'll be taking a stroll around to meet kids and their parents throughout the event.
Important details to know
When: Saturday 12th December, 2020
Where: Dubai Polo & Equestrian Club, Arabian Ranches
Time: 10:30am - 5:30pm
Location Map: Click here
*Please note: The Santa meet-and-greet experience tickets are available on-site and each child will receive a toy. We encourage you to arrive early to ensure you get a slot with Santa.
2. Wafi Mall
Every year Wafi Mall features a variety of festive activities from gingerbread-decorating workshops to Christmas performances, but the star is Santa's Grotto where kids can receive a framed family photo with Santa Claus and a cuddly stuffed toy.
Important details to know
Cost: Typically AED 100 or more
When: TBA
Where: Wafi Shopping Mall
Time: TBA
3. Ski Dubai
Ski Dubai is transforming into a festive-themed snow park, complete with a Santa Claus experience, 40-foot tree and carolers and elves.
Important details to know
Cost: From AED 125
When: December 1 - (TBA)
Where: Ski Dubai, Mall of the Emirates
Time: TBA

4. Dubai Festival City
Why meet just one Santa Claus in Dubai when you can run with hundreds of them? For some fit festive fun, why not join the family-friendly 5km Santa Run at Dubai Festival City. There will be a Best Dressed Santa competition and a meet-and-greet grotto.
Important details to know
Cost: From AED 105
When: Friday December 11
Where: Dubai Festival City
Time: 7:30 am
5. McGettigan's
You can meet Santa Claus at McGettigan's tree lighting celebration on November 23 - 24. From 5 PM, the popular expat hubs in Souk Madinat and JLT will also be welcoming families with a carol sing-a-long, live music, as well as free festive treats like minced pies for the kids and mulled grapes for mums and dads.
Important details to know
Cost: Free
When and Where: November 23 at McGettigan's Souk Madinat / November 24 at McGettigan's JLT
Time: From 5pm

6. Eggs and Soldiers
While you're not exactly meeting the big man in red at Eggs and Soldiers this year, the little eco-friendly store set up a postbox where children can send their wish lists, letters and drawings to Santa. They'll even get a special handwritten reply from Father Christmas himself.
Important details to know
Cost: Free
When: Now until December 18
Where: Eggs & Soldiers, Times Square Center
Time: During store hours
Keep checking back to this page as we'll update it with all the places you can see Santa in Dubai this year! Stay tuned...