5 Palmer's Products to Add to Your Pregnancy Skincare Routine
Say goodbye to your pregnancy acne, dryness, itchiness, and of course stretch marks...
Posted on
20 November 2017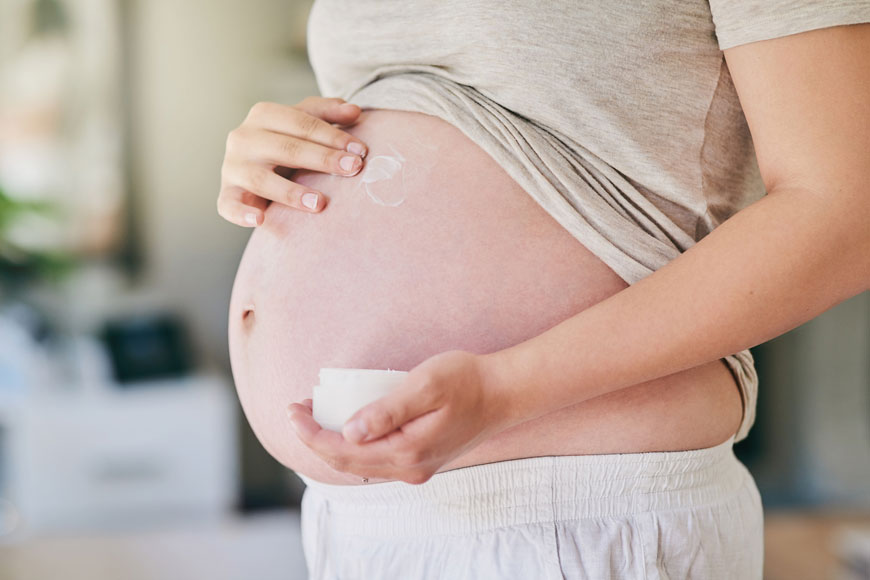 Motherhood is the most desired dream in your life as a woman. You expect your pregnancy complexion to reflect your radiating inner joy. However, pregnancy could prove to be a very tricky time for your skin, as the hormonal changes can cause a lot of skin complications such as acne, dryness, itchiness, and of course stretch marks.
At least half of pregnant women get stretch marks, your pregnancy skin care routine could make a lot of difference for you, but it could also be a challenge as you wonder which skin care products are okay to use and which ones aren't. You don't have to wonder anymore with the Palmer's pregnancy range!
Pregnancy Body Wash
Start your day by using Palmer's pregnancy body wash. It's specially designed for sensitive skin, our Pregnancy body wash is the first of its kind, developed especially for you. It's ultra-gentle, formulated with pure cocoa butter, vitamin E, collagen, elastin and shea butter to give deep long-lasting moisture to stretching skin. It will keep you refreshed and nourished throughout the day.
Stretch Mark Lotion
After your refreshing bath, move on to Palmer's stretch mark lotion, it's a light-weight lotion that makes it perfect for mornings as it is absorbed quickly, easily applied and you can dress immediately after.
Stretch Mark Cream
Make it a habit to use Palmer's stretch marks' cream throughout your day, it's a concentrated formula containing cocoa butter and vitamins. This cream is perfect for use on problem areas such as the belly, buttocks and bust area.
Tummy Butter
Fill your evenings with Palmer's lavender fragrant tummy butter that promotes relaxation. It moisturizes the skin to help keep its natural elasticity, hence, reducing stretch marks' appearance.
Skin Therapy Oil
Palmer's advanced multi-purpose skin perfection oil can be used any time of the day, it is a dry oil which means it absorbs quickly. You can use this all over your body. It is specially designed to reduce stretch marks appearance, scars, and uneven skin tone. Your skin will instantly look and feel soft and smooth with our unique, non-greasy, non-staining skin therapy oil.
All the products mentioned here are dermatologically tested, hypoallergenic without any harsh detergents, perfect for gentle cleansing and use. Because we care about what's good for you and your baby.