These Super Fun Activities Will Keep Your Toddler Busy For More Than 5 Minutes
No need to invest in expensive toys.

The first crucial year with your little angel is a thing of the past. By now, your tot has pretty much perfected the art of grabbing, throwing and wriggling – basically anything that's energetic and noisy.
Kids, at this age, are at their animated best. They like to mimic, laugh and show off their newfound freedom. The best part? You no longer feel as if you're the only one making efforts in this relationship. They respond back to your love with their adorable gestures like holding hands, hugging and cuddling.
Keeping them busy is a challenge cause let's be honest – they have an attention span of a bee. But there's no need to pull out a mountain of toys with all the bells and whistles. All you need is some bonding time and a few props to keep them engaged in fun activities that strengthen their motor and cognitive skills.
Need some ideas? We've got you covered. Check the list below and keep your finger crossed that they'll keep your young one busy for more than 5 minutes.
1. Sticker Line-up
Need a minute or let's say an hour of quite? Make this super easy sticker line up using a long paper, some zig zag and swirly lines and some coloured dotted stickers.
Show your toddler how the goal is to trace the line with stickers. The amount of focus required will keep them engaged for hours – and bonus: there's loads of learning going on here too!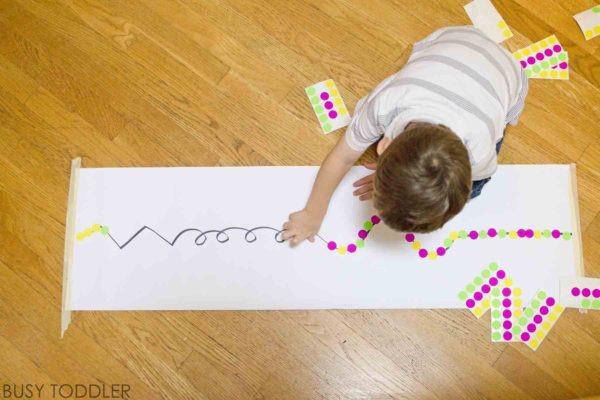 image credit: Pinterest
2. Stacking Cups
Before investing a good amount into buying stacking rings, see how your tot deals with a much cheaper option: paper cups.
Get all your disposable cups out and spread them in front of your toddler. Teach them how they can stack them, spread them or better yet, make pyramids.

image credit: Pinterest
3. Little Drummers
OK - this one will get noisy and that's what your kid will love the most. Take all your old utensils out - spoons, pots, pans and let your baby create his/her own music. Play with them and teach them basic beats and coordination.
You can also create DIY drums using old boxes and containers.