Celebrate Halloween With This Year's NEORUN
The scariest place to GLO is the perfect place to celebrate Halloween with your kiddies... Here's why!
Posted on
22 October 2018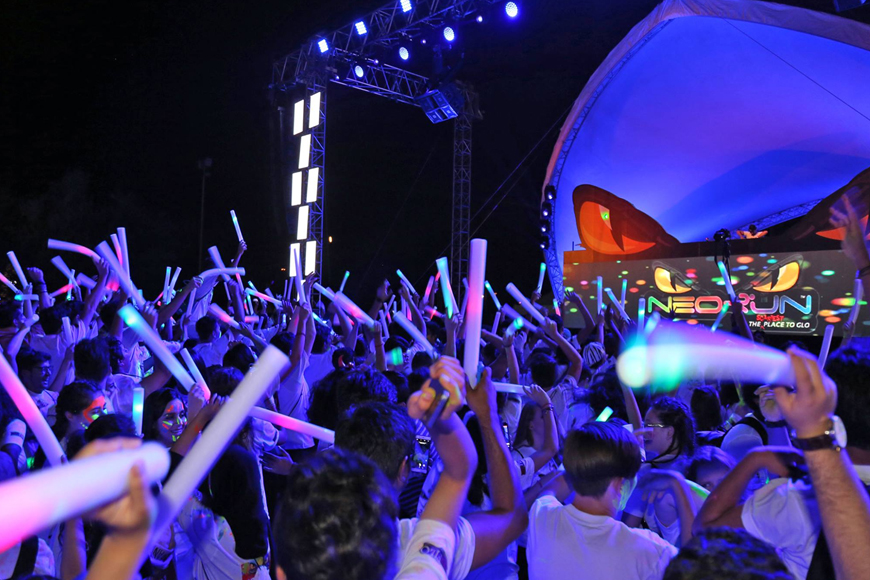 Let the kids unleash their inner witches and ghouls this Halloween at NEORUN: The Scariest Place to GLO!
Happening November 2nd at Yas Marina Circuit, Yas Island in the UAE's Capital, this year's hugely popular UV paint fun run is bringing a whole host of GLOTASTIC entertainment that we're sure your little ones will LOVE!
Suitably themed for Halloween this year, the NEORUN track has been upgraded and will be bringing a new DJ-line up to truly entertain participants throughout the night.
Doors open at 5pm, with the run starting at 7pm sharp - and the whole event is perfectly designed for 10 years and above.
So skip trick-or-treating this year with your mini monsters and werewolves, and instead head to NEORUN: The Scariest Place to GLO!
What's on at this year's event
Your pre-teens and teenagers will no doubt love taking their time as they run around and explore the several GLO-zones throughout the track.
They'll have the chance to discover ghoulish tricks and glo-tastic treats, and expect to see a lot of neon tutus and Halloween themed couture.
Not only that - but fancy dress for this event is a MUST! So parents, this is the perfect opportunity to prepare a family group Halloween costume theme. Ghostbusters? The Addams Family? Beetlejuice? The Flintstones? It's time to start planning.
Once you and the kids hit the finish line, you can jump straight into the psychedelic Enigma party happening and dance the night away as you GLO from head-to-toe.
How to sign-up for the NEORUN
Simply head to the official NEORUN website to buy your tickets and register your place.
Prices start at AED 200 per person for general admission, or you can sign up as a group of 4 at AED 180 per person. Or opt for the spooktacular package for AED 344 per person.
All runners will receive an amazing swag bag filled with glo-tastic treats, including an official NEORUN t-shirt, a neo bib and a neo sabre, to help you light up the night. Don't be afraid . . . Just GLO!