These Slime Toys Have Been Recalled in the UAE
ESMA recalls three different types of slime toys for non-compliance in the UAE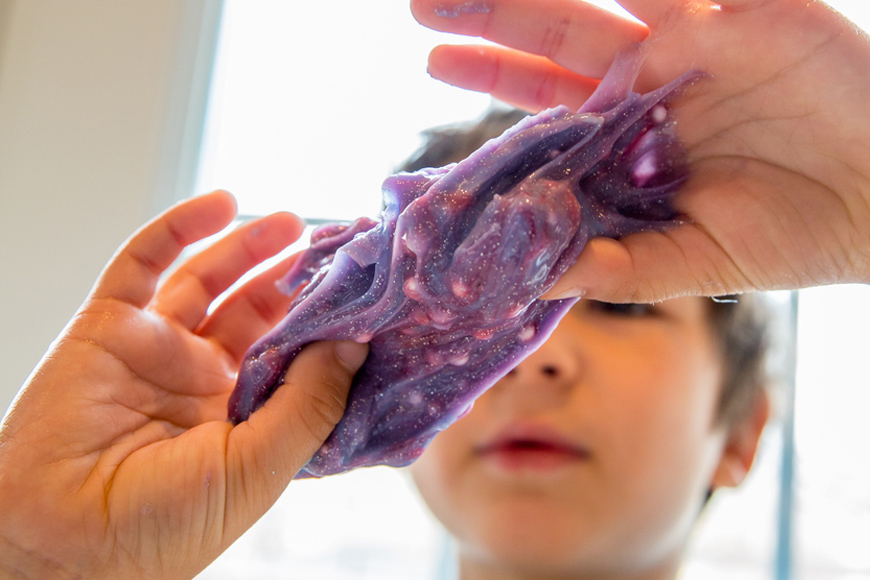 It might be fun for kids to play with, but following a recent recall by the Emirates Authority for Standardisation and Metrology (ESMA), your child's favourite slime toy may containa harmful, poisonous substance.
It is believed that three slime toys in the UAE contain boric acid.
Among the toys that have been recalled are So-Squishy, Magic Crystal Mud and Glitter Slime.
Retailers across the UAE have been ordered to remove these slime toys from their shelves, which are toy products that children can stretch and squish with their hands.
The recall by ESMA has been shared in an effort to ensure parents in the UAE don't allow their children to play with these toy products.
Why is boric acid harmful for your child?
The three products recalled by ESMA contain the boron element at higher levels than permissible, and thus the authority has urged enforcement and regulatory bodies, municipalities, and the Department of Economic Development to withdraw the products immediately, and have been permanently banned from the market, The National reported.
"The soft slime mixture toy is available in a variety of colours, textures, and sizes and we have seen that in most of these products Boron element exceeds the limit. Boric acid can be toxic for children if licked or swallowed. Children are more sensitive to boric acid toxicity than adults," said an Esma official, in a statement.
Boric acid is a dangerous poison, and poisoning from this chemical can be acute or chronic.
Acute boric acid poisoning normally occurs when a child swallows the substance, whereas chronic poisoning occurs when someone is repeatedly exposed to boric acid.
Symptoms of boric acid poisoning in children
Usually, boric acid is found in pesticides, antiseptics and other substances - in this instance, slime toys. If your child is exposed to this acid, emergency medical care is required if they exhibit any of the below symptoms:
Diarrhea
Blue-green vomit
Nausea
Skin rash
Drowsiness
Fever
Muscle spasms
If your child exhibits any of the above symptoms after coming in contact with any of the slime toys listed in this article in the UAE, please contact the emergency services immediately on 999 or your nearest doctor to seek treatment.