Fancy a picnic in the park this weekend with your family? Here's a guide to Dubai's top 10 parks that you must visit and enjoy
Posted on
24 September 2013
|
Last updated on 22 May 2017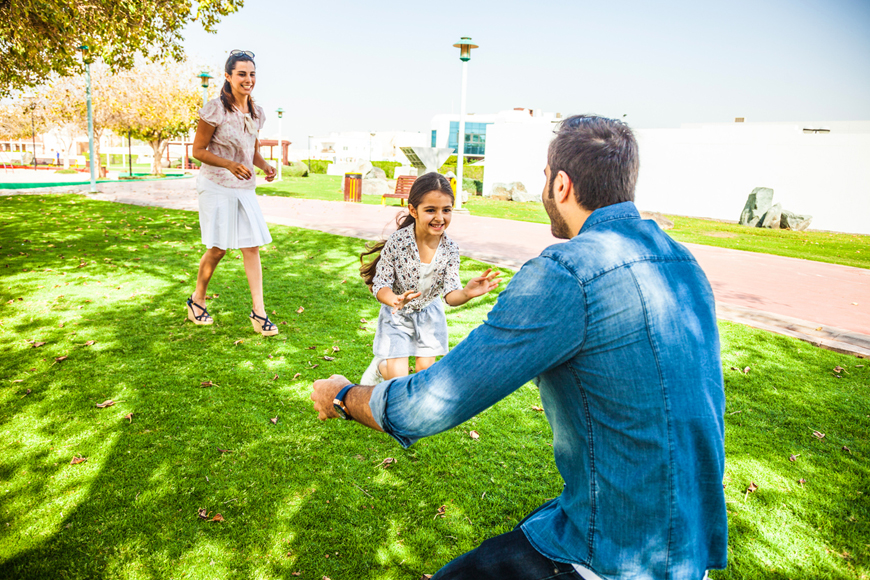 Despite living in the middle of the desert, there are some beautifully lush parks to be explored in Dubai...
Although we are living in one of the harshest desert climates, Dubai Municipality have made sure there are lots of green spaces and parks available to us- from inner city sanctuaries for a quick lunch hour break to giant, sprawlings parks that have to be driven around.
We take a close look at some of the best parks in Dubai and what you will find in them...

1. Safa Park
Created in 1975, Safa Park is a 150 acre urban park in Dubai, United Arab Emirates. The park is bordered by Sheikh Zayed Road, Al Wasl Road, Al Hadiqa Street and 55th Street. There are many facilities there including playgrounds, washrooms and a fun fair. It has abundant open areas that are perfect for picnics and games of rounders.
The park contains three lakes, over 200 species of birds, and 16,924 different trees and bushes. Within the park, one can find grassy lawns, which cover 80% of the whole park, a little forest and a hill to offer panoramic views of the park.
A waterfall flows out of the hill and into the largest lake which contains a fountain and touring boats. There are four entrances to the park, one from each road that borders it.
The park is also famous with walkers and runners and you will see them walking around the perimeter of the park.
SEE ALSO: A guide to Dubai Miracle Garden

2. Mamzar Beach Park
Also sometimes spelt Mamzer, Mamzar Beach Park is one of Dubai's best beach park. It is abolsutely massive- so big you can drive your car in! It has acres of open grassland and 5 beaches as well as a huge outdoor swimming pool. It's perfect for barbeques and picnics. It has great facilities including small cafes, small grocery stores, wash facilities, changing rooms, childrens play areas, bikes for hire and amazing views over the Sharjah Lagoons.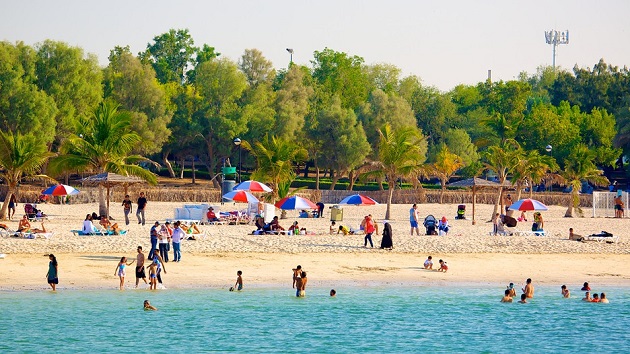 It is a little way out being on the way to Sharjah but it is so worth the trip! You really feel the cares melt away in this brilliant park. It gets very busy at the weekends and sometimes totally full over holiday weekends. There is a small fee to get in- 5 dhs per person if you are walking in and 40 Dhs per car if you are driving in. The pool charges a nominal fee for entry too- approx 10 Dhs. You can also hire chalets for the day which is great if there is a large group of you- gives you a base.

3. Al Barsha Park
One of Dubai's newest parks and part of the greening of Dubai Pond Parks project is Al Barsha Pond Park is proving to be very popular with local residents. The park is large and has giant ponds that have a walking or running track round them- perfect for exercising. You can also cycle round. There are loads of places for kids to play and also areas for relaxing and enjoying the outdoors. It has tennis courts, volleyball courts, football pitches, basketball courts and fitness machines- so a really great park to keep fit in.
Here's how to get there… If you are coming from the direction of  Lulu's on the Um Suqeium Road heading towards The Greens on the back road through Barsha, there are 2 large junctions, one with an Emirates Bank (you turn right there if you're going to MoE); the next junction has the Al Mawakeb School. If you turn left down at that junction, Al Barsha Pond Park is just past the school.

4. Mushrif Park
Mushrif Park is our past Mirdiff on the Khawaneej Road and is well worth a visit. The park has acres of woodland as it was orginally a ghaf forsest and can be/ needs to be driven around really.
There is a small zoo with goats and you can ride a camel or ponies there, train rides, a swimming pool you can pay to use as well as the It's A Small Small World replica house area featuring mini houses from all around the world! Sounds mad? It's great! We loved the "English House" and the Red Indian Teepee House! Entry is so cheap- it's 5 Dhs per eprson or 30 Dhs per car. It's a great place for family picnics as well as strolls under shady trees. There are also barbeque areas- so grab your braaing gear, get the gang together and go spend an amazing day at Mushrif Park.

5. Creek Park
Dubai Creek Park is in the heart of the old city on the shores of Dubai Creek. It is one of the oldest parks in Dubai and is still as popular today as it was then… families fill the park at the weekends and the evenings. The park has the benefit of being in the cool breeze from the creek and also has loads of plants and greenery along with mazes and a nature trail. There are also barbeque areas and childrens' play areas dotted throughout the park as well as the Children City Centre and Dubai Dolphinarium.
You can ride the cable car, ride the miniature train, rent bikes and visit the small but adequate café- you can also bring your own food for a picnic or a barbeque. There is a paved walk all along the shore of the creek which is great for roller skating… as is a large stone ampitheatre area.
There is a nominal entry fee that has to be paid to enter the park and you have to pay this even if you have tickets to Dubai Dolphinarium or are planning to go Children's City- but it's a small price to pay to spend time in this amazing park with great views over Dubai Creek and the old Dubai skyline.
SEE ALSO: Looking for the next big step in your career? Search jobs in Dubai

6. Safa Park 2
Not to be confused with Safa Park, Safa Park 2 is a much smaller and quieter, cute little park. It has lovely green spaces and a great play area for the kiddies.
How to find it... Come off Sheikh Zayed Road at the Al Manara Exit (heading west). Turn right onto Al Wasl Road, then first right (possibly 22nd Street). Then go to the end of this road,  Kangaroo Kids Nursery in front. Then turn Right and it is down a couple of hundred metres on your left.

7. Za'abeel Park
One of the largest parks in Dubai, Zaabeel Park is located in between Karama and the Za'abeel area.  The park is very busy during weekends due to its proximity to residential areas which is great to see. The park is cut in two by the Sheikh Zayed Road but has road bridges connecting the two halves.
It has a wide range of activities includes the StarGate children's entertainment zone. It also contains wide open spaces, an adventure playground, play areas, a lake with boat rides, sculptures including a giant chess inspired Rubik's cube type structure, a large amphitheatre area, covered areas for barbeques and picnics and some amazing flora.
It's hard to believe this trabquil park is straddling the busy highway of Sheikh Zayed Road... it's a great place to visit at the weekend with friends and family alike- get picnics together and organise some games for a wonderful weekend!

8. Al Rashidiya Park
Al Rashidiya Park is a small family park that is quite close to Dubai International Airport and is next to Rashidiya Metro Station on Dubai Airport Road. It is a quiet less hectic park than some and is great for a family outing.
There are lots of well- equipped playground  areas for the kids and plenty of seating in the shade for the grown- ups. There is a small entry fee and Wednesday's and Saturday's are for ladies and children only. Combine your visit with a trip to Bin Sougat Centre for a nice afternoon out.
---
You might also be interested in:
---
9. Satwa Park
Satwa Park is an inner city park that is situated behind Al Moosa Towers on Sheikh Zayed Road. The park has lots of green and shady areas, places to sit, kids playgrounds football pitches, basketball courts, volleyball courts and tennis courts.
There is also a proper, rubber running and jogging track for all the exercisers out there- it's 6 meters wide  and slightly raised so you can see into the park whilst running round the outside. There is a lovely central plaza with a fountain surrounded by palm trees which is a lovely place to sit, relax and read the newspaper.

10. Umm Sequiem Park
This small park is situated near to Jumeirah Beach Hotel and is a lovely green space to spend time in. It is a family park and only women and children are allowed in during the week.
Men are allowed in with their families at weekends though. So a great park if you want some peace and quiet away from the eyes of men. There is a small beach, a small café and children's play areas. Not a whole day park but good for a few hours getaway in the morning or afternoon. It is located on the shore just before you get to the open beach that leads to the Burj Al Arab.
---